Minor Move

– Harold "Tina" Brooks

A catchy medium-up song that alternates between minor and major tonalities. It comes from Tina Brooks' long-unissued first album as a leader.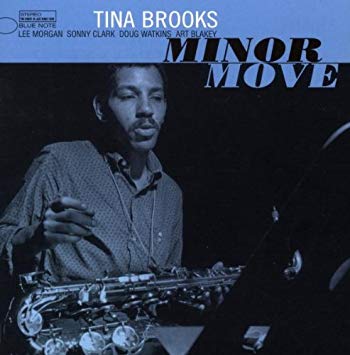 All selected items will be available for download after purchase.
Recording:

Tina Brooks - Minor Move

Recorded on:

March 16, 1958

Label:

Blue Note (22671)

Concert Key:

B-flat

Vocal Range:

, to

Style:

Latin/swing (medium up)
Trumpet - Lee Morgan
Tenor Sax - Tina Brooks
Piano - Sonny Clark
Bass - Doug Watkins
Drums - Art Blakey
This song presents three alternations: between parallel minor and major tonalities, between a Latin groove and swing, and (in the A section) between B♭ and B key centers. The melody starts out with yet another contrast, a catchy one-measure pickup followed by a whole note. The same phrase is then repeated a minor third higher, on C♯ minor following the initial B♭ minor; this resolves to B major in the fifth measure, followed by a II-V7 back to B♭ major. The melody remains in a B major tonality until the last beat of the sixth measure. From a Latin groove in the A section, the rhythm section goes to swing in the bridge. This bridge is 16 measures long, resulting in a 40-measure AABC form. A more rhythmic melody is introduced in the bridge, which modulates to D major and C major before establishing a B♭ major tonality and ending with chromatic approach II-V7s (C♯m7-F♯7-Cm7-F7). The melody in the second half of the bridge develops a little quote of the theme from the movie "Moon Over Miami." The solos swing throughout; the first A section and C section of the solo form end on B♭ minor, but the second A section ends in major. There is a coda that vamps and fades on B♭ major.

About the arrangement: A countermelody runs through the A section which descends mostly in half steps. It starts on A, the major 7th of B♭, but when it gets to the C♯ minor chord it starts on the tonic C♯. The tenor sax plays this countermelody, but joins the trumpet in unison for the pickup and second measure. The horns are also mostly harmonized on the bridge, but in unison for the ninth through twelfth measures. Notable piano comping rhythms are included in our Concert Condensed Score, which is also the rhythm section part.

For trumpet players, this is a good one for resting your chops (the highest note is only a B in the staff) and also for getting the lower part of the instrument together.


Tina Brooks' first recording session as a leader was unissued until it appeared on a Mosaic box set, released by the company founded by Michael Cuscuna and Charlie Lourie in 1975.
This is the second of only two albums where Lee Morgan and
Doug Watkins
appear alongside
Sonny Clark
; the other is Morgan's "Candy" recorded in November 1957 and February '58. Brooks and Art Blakey played together on two Jimmy Smith albums and two
Kenny Burrell
albums.
For a Jackie McLean recording session in September 1960, Tina wrote
Medina
, a song closely related to
Minor Move
.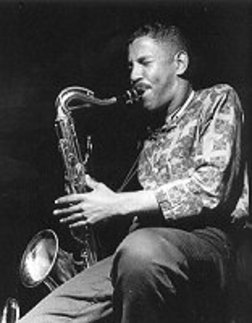 June 7, 1932 – August 15, 1973
Harold Floyd "Tina" Brooks and his twin brother Harry were born in Fayetteville, North Carolina, becoming the youngest of eight children. The family moved to NYC in 1944. By then, Harold was already being called Tina (pronounced Teena), a grade school nickname that came from his tiny or teensy size. Around this time, he started playing the C Melody saxophone, studying with his 10 year older brother David "Bubba" Brooks, Jr. Bubba had become an established R&B tenor saxophonist, and in late 1950, Tina subbed for Bubba for a few months in pianist Sonny Thompson's R&B band. Tina made his first recording with this band. Read more...