Joe Gordon
May 15, 1928 – November 4, 1963
| | |
| --- | --- |
| Instrument | trumpet |
| Birthplace | Boston, MA |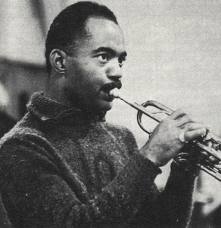 Trumpeter Joe Gordon was born and raised in Boston, Massachusetts. As a teenager, he became a fan of the Count Basie band, and especially trumpeter Harry "Sweets" Edison. Later, Joe was impressed by a live performance of "Little" Benny Harris with the Coleman Hawkins/Don Byas group. Soon after, he took a modern music class at the New England Conservatory taught by trumpeter Fred Berman.
Joe also worked as a sandwich boy on the railroad between Boston and Albany, and would take his trumpet along and make as many jam sessions as he could at stops along the way. His first gig seems to have been with vibraphonist Pete Diggs' band in Akron, Ohio. In Boston, pianist and bandleader Sabby Lewis heard Joe and asked him to join his band. Lewis had a high profile band in Boston, and this opportunity led to Joe's first record session, with alto saxophonist Charlie Mariano in December 1951. In December, 1952, Charlie Parker was in Boston. Joe, along with a rhythm section of Dick Twardzik (piano), Charles Mingus (bass) and drummer Roy Haynes, can be heard on a radio broadcast with Bird which is now available on a CD.
Joe's first New York recording session was with Art Blakey for Mercury Records (May 20, 1954). Less than four months later, on September 3 and 8, Joe went back in the studio for Mercury, this time recording his own first session as a leader ("Introducing Joe Gordon"). On December 2 he recorded on an interesting two-trumpet/tenor sax date under the leadership of Donald Byrd with Hank Mobley for the Transition label. In May and June of 1956 he did three recording sessions with Dizzy Gillespie's World Statesmen big band and toured the Middle East with that all star band. On July 2, 1956, he joined Hank Mobley in the front line to record three tracks on Horace Silver's "Silver's Blue" album for Columbia Records.
Joe moved to the West Coast (L.A.) and did his first recording with Barney Kessel the end of March 1959. The date also featured drummer Shelly Manne. In May, Joe made his first recording under Manne's leadership. In late September, the band made their first of a series of important recordings live at The Black Hawk in San Francisco. In the end of April, 1960, Joe was back at The Black Hawk, this time recording with Thelonious Monk for Riverside, alongside Harold Land and Billy Higgins. Less than three weeks later Joe was back in the studio recording on Harold Land's "West Coast Blues" session, (Terrain, Compulsion, Ursula). On July 11, 12 & 18, Joe did his last sessions as a leader (see Heleen).