Terra Firma Irma

– Joe Gordon

A hard swinging, peppy medium-up piece. Two arrangements available: the original sextet from Joe Gordon and the version by Brian Lynch's quintet. Lead sheets and parts available for each. Transcribed trumpet solos of both Gordon and Lynch available as well. Check out the Minus You practice tracks on the Unsung Heroes album, where you can practice any part accompanied by a professional ensemble.
All selected items will be available for download after purchase.
Recording:

Joe Gordon - Lookin' Good

Recorded on:

July 11, 12, and 18, 1961

Label:

Contemporary (M 3597)

Concert Key:

B-flat minor

Vocal Range:

, to

Style:

Swing (medium up)
Trumpet - Joe Gordon
Alto Sax - Jimmy Woods
Piano - Dick Whittington
Bass - Jimmy Bond
Drums - Milt Turner
This upbeat piece swings hard with a punchy, cheerful melody. Our audio exerpts start with the descending horn introduction over a rhythmic pedal, which also becomes the B section of this AAB format composition. Joe Gordon's composition was originally arranged for a quintet (trumpet, alto sax and rhythm section), but it shines just as much with Brian Lynch's three-horn arrangement (trumpet, alto sax, tenor sax, and rhythm section).

The horn arrangement harmonies are different so both the quintet (recorded by Joe Gordon) and the sextet (recorded by Brian Lynch) arrangements are available separately. Each arrangement also has a concert condensed score edition available which includes all horn parts and rhythmic hits, and we recommend that these parts are used for the rhythm section players. To accommodate varying front line instrumentations, we have various 1st part, 2nd part and 3rd part editions available.
Don Sickler: "As a trumpet player, Joe Gordon was definitely on the path to greatness, but unfortunately died at age 35. I've been meeting a lot of young players who aren't familiar with Joe. Brian and I are determined to change this situation! Joe Gordon's work should be known by all trumpet players. See
Heleen
, from Joe's
same recording session
, for more historical information and insight."
Terra Firma Irma
was written for Joe's wife, Irma.
Transcribed Trumpet Solo:
Check out the start of Joe Gordon's solo
trumpet
. Both Joe and Brian took great trumpet solos on their recordings, and both B-flat and C treble clef editions are available. Comparing their two versions is a particularly useful exercise—seeing how two trumpet masters interpret changes in their own way will help you develop your own style. Click on the Brian Lynch "Unsung Heroes" album cover for details.
All selected items will be available for download after purchase.
Recording:

Brian Lynch - Unsung Heroes, Volume 1

Recorded on:

October 12 & 13, 2008

Label:

Hollistic Music Works (HMW 1)

Concert Key:

B-flat minor

Vocal Range:

, to

Style:

Swing (medium up)
Trumpet - Brian Lynch
Alto Sax - Vincent Herring
Tenor Sax - Alex Hoffman
Piano - Rob Schneiderman
Bass - David Wong
Drums - Pete Van Nostrand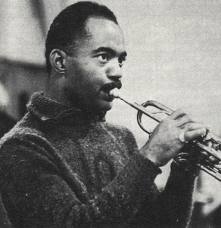 May 15, 1928 – November 4, 1963
Trumpeter Joe Gordon was born and raised in Boston, Massachusetts. As a teenager, he became a fan of the Count Basie band, and especially trumpeter Harry "Sweets" Edison. Later, Joe was impressed by a live performance of "Little" Benny Harris with the Coleman Hawkins/Don Byas group. Soon after, he took a modern music class at the New England Conservatory taught by trumpeter Fred Berman. Read more...