Denzil Best
April 27, 1917 – May 25, 1965
| | |
| --- | --- |
| Instrument | drums |
| Birthplace | New York, NY |
Available Leadsheets
Surgery

- Denzil Best

Swing (medium)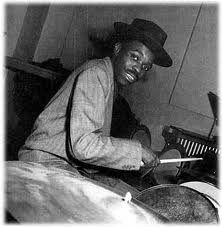 Drummer and composer Denzil Best started on the piano at age six. Then he took up trumpet and played trumpet with Chris Columbus in 1940, also in early sessions at Minton's. Denzil seemed to be on his way as a trumpet player until a lung disease in 1940 and 1941 put an end to that career. Denzil then started gigging on piano and bass, and in 1943 started concentrating on the drums. On February 8, 1944, he made his first recording on drums under the leadership of Ben Webster, with Hot Lips Page and Clyde Hart. On July 27, 1944, he started recording with Coleman Hawkins, first in a band with Charlie Shavers and Clyde Hart, and then with Buck Clayton on October 17. On October 18, he was on another Charlie Shavers session, this time with Coleman Hawkins as a sideman. And the next day, Best recorded with Coleman Hawkins as leader again, with Thelonious Monk on piano.
Before the end of the year, he was in the studio for at least three more sessions. The last one, on December 19, was Clyde Hart's Hot Seven session with Little Bennie Harris on trumpet along with Budd Johnson on tenor sax and Chuck Wayne on guitar. They recorded Denzil's own composition Dee Dee's Dance on this session.
In 1945 Best continued playing and recording with Coleman Hawkins as well as Don Byas. In 1946 he recorded with a variety of artists, including Eddie "Lockjaw" Davis, first in a quartet setting and then with Fats Navarro added on trumpet. In 1947 he recorded on Fats' own Savoy session and did his first recording with George Shearing, followed by a number of sessions that included Jimmy Jones, more Eddie "Lockjaw" Davis and Ben Webster, a couple of Billy Taylor sessions, singer sessions with Etta Jones and Helen Humes, and a Teddy Wilson date, before heading to Europe to tour with Chubby Jackson (late 1947-1948). Best returned to the US to record with Billie Holiday in December 1948. From 1949 through 1951 he recorded many more albums with Shearing, as well as albums with Serge Chaloff, Mary Lou Williams, Lennie Tristano and Lee Konitz. In 1953, another Teddy Wilson date, and a Bobby Hackett session. In 1954 Henry Renard/Al Cohn Quartet and Jack Teagarden. From 1955 to 1957 he was an important member of the Erroll Garner Trio, while still recording with Johnny Guarneri and George Wallington. In 1958 he recorded with Phineas Newborn, Jr., Stuff Smith, Tony Scott and Seldon Powell. His last recording was with Sheila Jordan (Portrait of Sheila) for Blue Note on October 12, 1962.
Denzil was also an excellent composer and several of his compositions have become jazz standards; these include Move, Wee (a/k/a Allen's Alley) and of course, Bemsha Swing with Thelonious Monk.