Surgery

– Denzil Best

A classic minor-key bebop riff tune at a laid-back medium tempo.

All selected items will be available for download after purchase.
Recording:

Eddie 'Lockjaw' Davis - Eddie Davis 78rpm

Recorded on:

May, 1946

Label:

Haven (801)

Concert Key:

C minor

Vocal Range:

, to

Style:

Swing (medium)
Tenor Sax - Eddie 'Lockjaw' Davis
Guitar - Bill DeArango
Piano - Sadik Hakim (Argonne Thornton)
Bass - Gene Ramey
Drums - Denzil Best
The audio clip starts from the beginning of the track with the counter melody, used as the introduction, played by the piano. The saxophone melody follows. The full voicing of the piano counter melody is written out in the C treble clef lead sheet. The 24-measure ABA form melody has a stop time section which ends the B section.

This is the
first
of two sessions Denzil did with tenor saxophonist
Eddie "Lockjaw" Davis
in 1946. Later, on December 18, Fats Navarro was added for a quintet date. On August 12, 1947, Denzil recorded another quartet session with "Lockjaw."
Best only started playing and recording on drums in 1944, but by 1946 he was already much in demand. We counted sixteen sessions he did that year.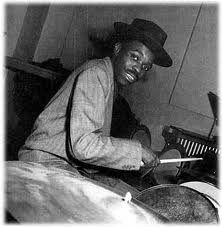 April 27, 1917 – May 25, 1965
Drummer and composer Denzil Best started on the piano at age six. Then he took up trumpet and played trumpet with Chris Columbus in 1940, also in early sessions at Minton's. Denzil seemed to be on his way as a trumpet player until a lung disease in 1940 and 1941 put an end to that career. Denzil then started gigging on piano and bass, and in 1943 started concentrating on the drums. On February 8, 1944, he made his first recording on drums under the leadership of Ben Webster, with Hot Lips Page and Clyde Hart. On July 27, 1944, he started recording with Coleman Hawkins, first in a band with Charlie Shavers and Clyde Hart, and then with Buck Clayton on October 17. On October 18, he was on another Charlie Shavers session, this time with Coleman Hawkins as a sideman. And the next day, Best recorded with Coleman Hawkins as leader again, with Thelonious Monk on piano. Read more...