Up, Over And Out

– Hank Mobley

This swinging 16-measure "blues" is a classic example of Hank's later style.
All selected items will be available for download after purchase.
Recording:

Hank Mobley - Reach Out!

Recorded on:

January 19, 1968

Label:

Blue Note (BST 84288)

Concert Key:

F minor

Vocal Range:

, to

Style:

Swing (uptempo)
Trumpet - Woody Shaw
Tenor Sax - Hank Mobley
Guitar - George Benson
Piano - Lamont Johnson
Bass - Bob Cranshaw
Drums - Billy Higgins
This swinging 16-bar song is idiomatic of later '60s hard bop. It could be called a 16-measure blues because the IV chord appears in the ninth measure, after eight measures of the tonic. The melody is almost entirely pentatonic, and begins with an ascending line as the title implies.

Our audio excerpt starts with the intro: another great Mobley two-measure rhythm section vamp figure, which also continues under the first eight measures of the melody. These figures are a "clave" pattern shifted over by one eighth note. To set off the first soloist, Hank wrote a swinging two-horn line while the rhythm section continues their two-measure figure. On the recording, Hank only uses this interlude to set of the first soloist, and for eight-measure exchanges with drums. The interlude can also be used to start any soloist. Both original horn parts are in all editions, so if you are playing it in a quartet format, the piano (or guitar) also play the bottom original horn part.

As you hear, this piece creates a lot of energy and excitement, making it a great set closer, or, if you really want to get your audience's attention, use it as a set opener.
"Reach Out"
was recorded at the legendary
Van Gelder Studio
in Englewood Cliffs.
"
Reach Out
" was Hank Mobley's third to last Blue Note album. The unlikely horn combination of Mobley and Woody Shaw also appeared on the last Blue Note recording under the former's leadership, "
Thinking Of Home
." The "Reach Out" session is also the only recording that either horn player did with George Benson, though Woody and George were both guests on
Dexter Gordon
's 1980 album "Gotham City."
George Benson
contributes extra drive to this arrangement by playing the top note of the piano voicings in the repeating 2-measure rhythm section hits as indicated. While the piano continues as the primary accompanist for the B section, George contributes some tastefully considered chordal stabs. After solos, he plays the same intro figure alongside the rhythm section as an interlude, trading eights with drummer Billy Higgins before the band takes the head out.
Just a few weeks after this Hank Mobley session, George Benson recorded with
Larry Young
on the organist's album "Heaven and Earth." To get a sense of Benson's immense range as a sideman, listen to
Call Me
from this album—an energetic, lurching bossa. While his comping here is much more dense and active than on
Up, Over and Out
, where he contributes mostly single note lines to supplement the piano voicings, he never fails to blend seamlessly with the rest of the band.
All selected items will be available for download after purchase.
Recording:

Sean Jones - The Connection Sessions: Up, Over And Out

Recorded on:

July 9, 2022

Label:

Conn Selmer (2022)

Concert Key:

F minor

Vocal Range:

, to

Style:

Swing (medium up)
Trumpet - Sean Jones, Summer Camargo
Alto Sax - Jaleel Shaw
Piano - Christian Sands
Bass - Yasushi Nakamura
Drums - Bryan Carter
A great concert or set closer for a sextet.
This 3-horn arrangement by jazzleadsheets.com's
Don Sickler
has the same form as the original recording. The horns are harmonized nearly throughout; the first part has the pickups alone in the 8th through 12th measures, and in the 13th measure the second and third parts hit with the rhythm section. For the interlude, the voicings are the same as in Hank Mobley's two-horn version with a middle note added to make triads throughout. As with the original version, the interlude is played once to start the first solo chorus, and twice as a send-off for the drums before the out head. As shown in our score and parts, on this recording the
fine
is one measure later than the original: as the horns hold the last chord, the rhythm section plays the second to last measure of hits and holds the "and" of beat 4.
We have a Concert Condensed Score which also works as the rhythm section part. In our list of available parts, the Trumpet 1st, Trumpet 2nd, and Alto Sax 3rd parts are indicated as the ones played on this recording. The first parts are actually the same as our B♭, E♭ and C treble clef lead sheets; if you're playing one of these in this arrangement, take the top notes in the harmonized interlude.
Don Sickler:
"The NYC jazz club "The Jazz Standard" put me in charge of presenting their 60 Year Anniversary Tribute to Blue Note Records, from January 19 to January 24, 1999. I immediately came up with the idea of building a band around drummer Billy Higgins, who, apart from Art Blakey, was the most recorded drummer on Blue Note Records. Billy had never done a leader date for Blue Note, so his leader status for this week-long gig would be more than well deserved. The club was completely enthusiastic about my idea.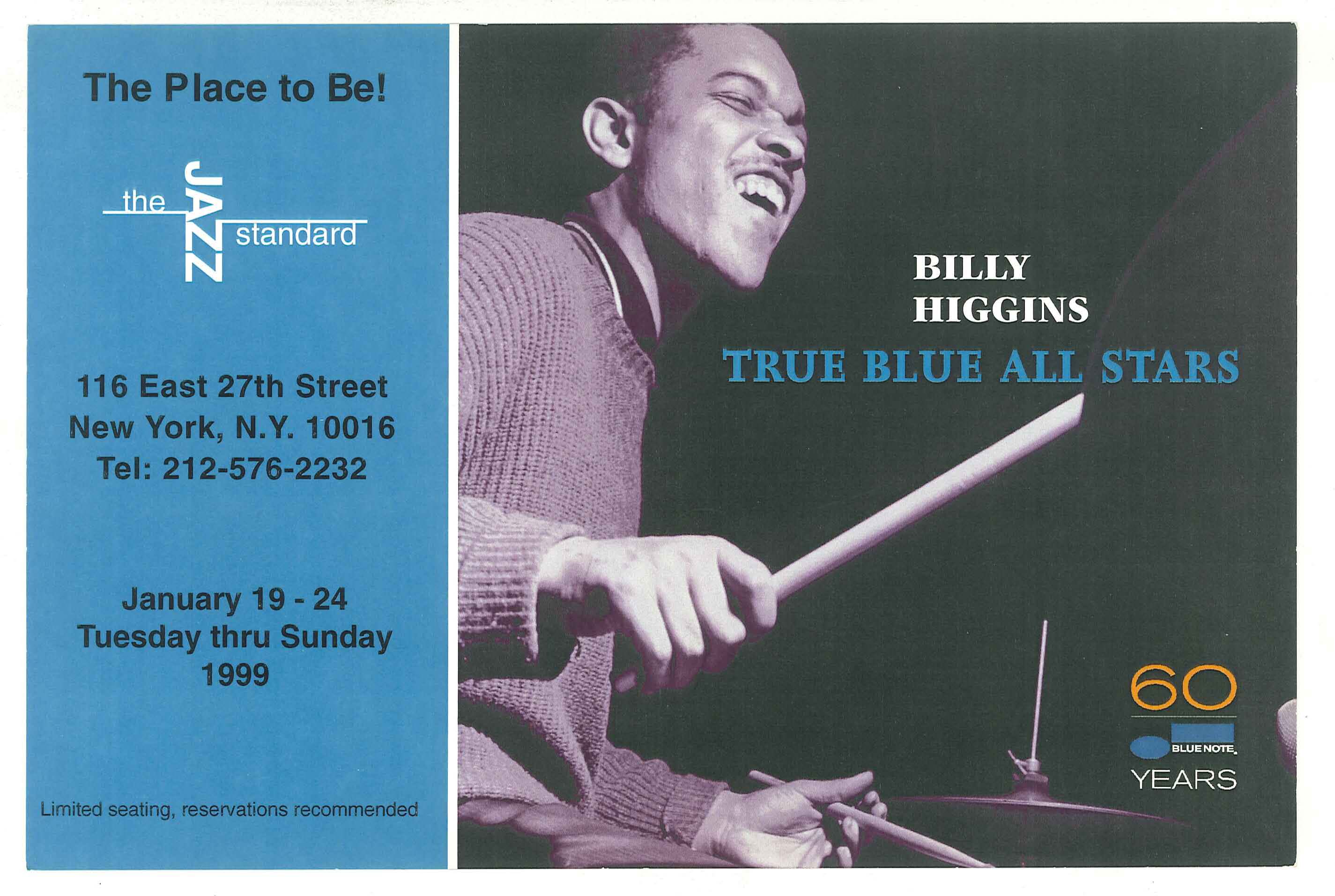 All the music we performed that week came from Blue Note recordings that featured Billy on drums. Billy recorded on many
Hank Mobley
Blue Note sessions, so we played a lot of Hank Mobley that week, along with the music of
Dexter Gordon
(Cheese Cake)
,
Kenny Dorham
(Blues For Jackie)
, and other Blue Note giants.
Up Over And Out
was a Billy Higgins must for the week. Billy thought it would be a great set closer, so for one of the sets each night we'd close with
Up Over and Out.
As I mentioned, the band for our Jazz Standard week was a sextet, with trombonist
Curtis Fuller
and saxophonist James Spaulding joining me in the front line. Since my sextet arrangement of
Up, Over And Out
was not previously recorded, I suggested it for The Connection Sessions recording. They liked the idea, so all I had to do was convert my original alto sax and trombone parts into 2nd trumpet and 3rd alto sax parts. Special thanks to Emily Payson-Smith from Conn Selmer who originally called me last year while I was at a session at the Van Gelder Recording Studio to see about booking the studio for a video/recording session for promotion of Conn Selmer instruments, which includes Bach trumpets, Selmer saxophones, Steinway pianos and Ludwig drums. Their Connection Session video features the incredible Van Gelder Studio, where the video was filmed and recorded. Check out
The CONNECTION SESSIONS Up Over And Out
on YouTube.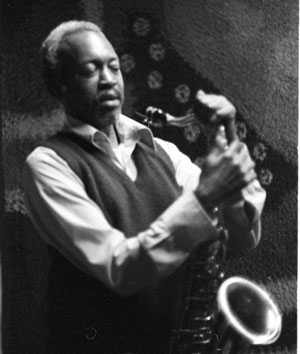 July 7, 1930 – May 30, 1986
Hank Mobley is one of the most acclaimed tenor saxophonists in modern jazz history. He is recognized by musicians and critics alike as one of the most important and eloquent jazz instrumentalists of all time. He recorded well over 100 of his own original compositions and left an indelible mark on the post-bop jazz scene. Read more...