Up, Over And Out

– Hank Mobley

This swinging 16-measure "blues" is a classic example of Hank's later style.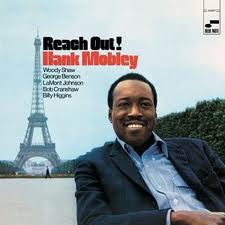 All selected items will be available for download after purchase.
Recording:

Hank Mobley - Reach Out!

Recorded on:

January 19, 1968

Label:

Blue Note (BST 84288)

Concert Key:

F minor

Vocal Range:

, to

Style:

Swing (uptempo)
Trumpet - Woody Shaw
Tenor Sax - Hank Mobley
Guitar - George Benson
Piano - Lamont Johnson
Bass - Bob Cranshaw
Drums - Billy Higgins
This swinging 16-bar song is idiomatic of later '60s hard bop. It could be called a 16-measure blues because the IV chord appears in the ninth measure, after eight measures of the tonic. The melody is almost entirely pentatonic, and begins with an ascending line as the title implies.

Our audio excerpt starts with the intro: another great Mobley two-measure rhythm section vamp figure, which also continues under the first eight measures of the melody. These figures are a "clave" pattern shifted over by one eighth note. To set off the first soloist, Hank wrote a swinging two-horn line while the rhythm section continues their two-measure figure. On the recording, Hank only uses this interlude to set of the first soloist, and for eight-measure exchanges with drums. The interlude can also be used to start any soloist. Both original horn parts are in all editions, so if you are playing it in a quartet format, the piano (or guitar) also play the bottom original horn part.

As you hear, this piece creates a lot of energy and excitement, making it a great set closer, or, if you really want to get your audience's attention, use it as a set opener.
"
Reach Out
" was Hank Mobley's third to last Blue Note album. The unlikely horn combination of Mobley and Woody Shaw also appeared on the last Blue Note recording under the former's leadership, "
Thinking Of Home
." The "Reach Out" session is also the only recording that either horn player did with George Benson, though Woody and George were both guests on
Dexter Gordon
's 1980 album "Gotham City."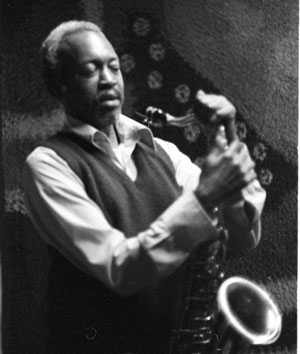 July 7, 1930 – May 30, 1986
Hank Mobley is one of the most acclaimed tenor saxophonists in modern jazz history. He is recognized by musicians and critics alike as one of the most important and eloquent jazz instrumentalists of all time. He recorded well over 100 of his own original compositions and left an indelible mark on the post-bop jazz scene. Read more...