There's No More Blue Time (vocal)

– Tadd Dameron & Georgie Fame

The vocal version of A Blue Time, an advanced and sophisticated blues to sing. It's been recorded twice by Georgie Fame, who wrote the lyrics, and also by Mark Murphy.
Recording:

Per Husby - If You Could See Me Now

Recorded on:

November 14-15, 1995

Label:

Gemini (GMCD 89)

Concert Key:

F

Vocal Range:

Tenor, B-flat3 to B-flat4

Style:

Swing (medium)
Vocals - Georgie Fame
Trumpet - Earl Gardner, Michael Leonhart
French Horn - Peter Gordon
Trombone - Jim Pugh
Tuba - Howard Johnson
Alto Sax - Jerome Richardson, Chris Potter
Tenor Sax, Flute - Frank Wess
Baritone Sax - Scott Robinson
Guitar - Bucky Pizzarelli
Piano - Ted Rosenthal
Bass - Jay Leonhart
Drums - Grady Tate
Taken at a faster tempo than the instrumental version
A Blue Time
, this vocal version brings out a different side of the song that may not be obvious in a slower instrumental setting. The original Blue Mitchell version of
A Blue Time
, arranged by Tadd, is stately and dramatic; Georgie Fame's lyrics make it hip and subtly sophisticated. It's not the kind of blues that has a classic "blues feeling," but a major-key song that just happens to be based on blues changes.
Lyric Description:
Like
Never Been In Love
, the lyric looks at love from two sides; before, when the blues were all-encompassing, and after, when love has conquered and the blues are vanquished.
If another key would be better for you, send the key you'd like to
Don
and we'll post the transposition on the website for purchase. If you're not sure which key is best, send us your range and we'll work with you to figure out the best key.
This arrangement presents
There's No More Blue Time
as part of a blues medley. Georgie Fame sings the melody in unison with the low brass on the first chorus, then with the saxes the second time and on the out head. Accordingly, he follows the melody as written without varying the rhythm—this is particularly noticeable on the fifth measure the first and second times. This medley also includes Taddd's
Just Plain Talkin'
and a
Gigi Gryce
shout chorus used in
Batland
.
This album is a sequel to "
Dedications
", a 1985 album with the same small big band instrumentation. Both feature vocalists
Georgie Fame
and
Karin Krog
with arrangements by Norwegian pianist Per Husby.
Shortly after writing the lyric, George Fame called the Second Floor Music/Twenty-Eighth Street Music office in New York to get our approval and arrange for a lyricist contract before recording the song.
Recording:

Mark Murphy - Some Time Ago

Recorded on:

December 27-28, 1999

Label:

HighNote (HCD 7048)

Concert Key:

F

Vocal Range:

Tenor, B-flat3 to B-flat4

Style:

Swing (medium)
Vocals - Mark Murphy
Alto Sax - Allen Mezquida
Piano - Lee Musiker
Bass - Steve LaSpina
Drums - Winard Harper
Vocalist
Mark Murphy
takes this song at a slightly faster tempo than the first Georgie Fame version. He takes more liberties with the melodic rhythm, for example in the fifth measure of the first verse. Here the B♭ that was on the "and" of beat 3 is moved to the "and" of 1, so the word "position" in the lyric is phrased more naturally.
You can also find the title song,
Sometime Ago
, from this Mark Murphy album on jazzleadsheets.com. Both
Sometime Ago
and
There's No More Blue Time
are in our print publication available in our
Sing JAZZ!
songbook, a collection of stunning, lesser-known vocal selections from the Second Floor Music repertoire (
Sing JAZZ! contents)
. It also contains two other songs Mark recorded on the album,
Life's Mosaic
(Cedar Walton/John & Paula Hackett) and
You're My Alter Ego
(James Williams/Pamela Baskin-Watson).
Our own
Don Sickler
produced this
Mark Murphy
session
Recording:

Georgie Fame - Lost In A Lover's Dream

Recorded on:

January 31, 2012

Label:

Three Line Whip (TLW 009)

Concert Key:

F

Vocal Range:

Tenor, B-flat3 to B-flat4

Style:

Swing (medium)
Vocals - Georgie Fame
Guitar - Primoz Grasic
Bass - Mario Mavrin
In this trio setting, it's particularly interesting to hear Georgie Fame interpret the melody nearly as straight as he does with the big band arrangement (click on leftmost album cover). It is again part of a medley with Breezin' All The Way, another bebop blues that was also in the earlier big band medley. This latter head he interprets freely, focusing more on the lyrics than the melody.
Seventeen years after he wrote and recorded the lyric, Georgie Fame recorded There's No More Blue Time again, this time accompanied by guitar and bass only.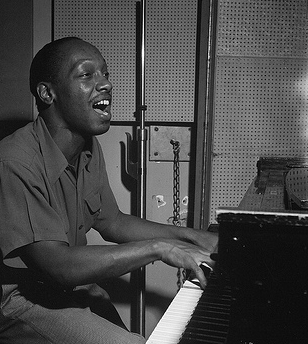 February 21, 1917 – March 8, 1965
A giant of the bebop era, Dameron had a wonderful melodic and harmonic imagination which he brought to compositions and arrangements for both small and big bands. Writing first for Harlan Leonard, Jimmy Lunceford, Count Basie and Billy Eckstine, in the late '40s Dameron started composing and arranging for Dizzy Gillespie's big band. He also recorded his own superb sextet for Blue Note Records in 1947 which featured trumpet great Fats Navarro. Read more...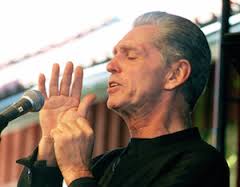 born on June 26, 1943
English vocalist and pianist Georgie Fame has had a busy career in both the jazz and R&B scenes. Born Clive Powell, he was renamed at age 16 by the impresario Larry Parnes. He gained early recognition in the '60s with his R&B band Georgie Fame And The Blue Flames; one of their biggest hits was Yeh, Yeh by Rodgers Grant . Read more...