Blue Time

– Tadd Dameron

Dameron's blues adventure. His personal melodic, harmonic and rhythmic vocabulary put the blues in a whole new and delightful "far away mood" setting.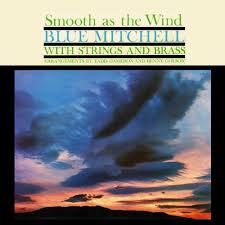 All selected items will be available for download after purchase.
Recording:

Blue Mitchell - Smooth As The Wind

Recorded on:

March 29 & 30, 1961

Label:

Riverside (RLP 367)

Concert Key:

F

Vocal Range:

, to

Style:

Ballad (walking)
Trumpet - Blue Mitchell, Clark Terry, Bernie Glow, Burt Collins
Trombone - Jimmy Cleveland, Urbie Green
French Horn - Willie Ruff
Piano - Tommy Flanagan
Bass - Tommy Williams
Drums - Philly Joe Jones
Arranger - Tadd Dameron
plus - string section led by Harry Lookofsky
Our lead sheet editions are actually labeled condensed scores, because after stating what would normally be the lead sheet—a very distinctive melody and chord progression which is actually a repeating 12-bar blues—our lead sheet takes you on the musical journey of Tadd's Blue Mitchell session arrangement, giving you more Dameron to contemplate and enjoy.
Before we start discussing Tadd's expanded approach to this song in his arrangement for the Blue Mitchell session, we want you to hear a few personal approaches to this, a Tadd Dameron blues, built over a distinctively Tadd Dameron chord progression. Note also, as these artists personalize the song, they also hear it at different tempos. We'll start with Tommy Flanagan, who recorded it on his
Eclypso
album and was also the pianist on the Blue Mitchell session
[>]
, Here is Johnny Coles
[>]
followed by Frank Wess
[>]
on the second chorus of the melody on their
Two At The Top
recording. Warren Vache hears it a little more bouncy
[>]
on his
The Best Thing For You
recording, and Tom Harrell, on
Number Five
, blows us away with a solo trumpet track
[>]
.
from Don Sickler:
Our audio excerpt is from the out chorus melody, because I believe it most clearly explains the music which was sent to the copyright office by the original publisher:

I'm sure this manuscript isn't in Tadd's hand, but I am confident that it was copied from something that Tadd had written down, maybe from the score or a part from the recording session. Anyway, when I first saw this manuscript from the publisher, I was confused, since the French horn player who first states the melody on the recording plays the melody much more laid back than it looks on the manuscript
[audio of the first 4 measures of French Horn)
. Listening to how the strings play the melody on the second chorus, you hear that they get into the fifth melody note quicker, but then in measure two, it sounds almost like regular eighth-note triplets going into a second-beat half note.
[excerpt: first two measures of string melody]
. When you hear the out chorus trumpet melody
(out audio excerpt)
you see why the manuscript is written the way it was for the first three measures.
Music notation is very limiting, and I believe the manuscript more clearly shows how Tadd would want you to think about the melody as you personalize it yourself. That's the way you see it represented in our Condensed Score editions.
Since the melody is actually only a repeating 12-bar blues (with Tadd's altered chord progression), we feel it is also interesting for you to see both Tadd's background chorus and his four-measure send off for the return of Blue Mitchell's trumpet solo which goes into the trumpet-lead out melody chorus, so those are included in our lead sheet (condensed score) editions. I ended our initial audio excerpt before the 10th measure of Tadd's blues melody so I could illustrate one of his masterful and unmistakable composing and orchestrating techniques. The opening two melody choruses use the following progression
[audio french horn meas 10]
. On the out chorus
(audio out brass meas 10 excerpt)
, Tadd substituted one of his signature harmonic progressions with accents on the second and fourth beats—another of his trademark techniques. I often like to substitute Tadd's 10th measure alternate approach to melody and harmony in the repeat of the opening blues chorus when I perform it as just a blues.
The Blue Mitchell recording fades out halfway through the out head; on our Condensed Score we use the term
D. S. al fade
to reflect this.
Check out vocalist Georgie Fame's lyric version. Georgie wrote and recorded
There's No More Blue Time
first in 1995.
Like
Smooth As The Wind
, this song was also recorded in a trio setting by pianist Tommy Flanagan. Frank Wess, alto sax, and Johnny Coles, flugelhorn, also did a version on their 1983 album "Two At The Top," and English guitarist Dave Cliff recorded it on a 1996 Dameron tribute album. A rather remarkable version was recorded in 2011 by Tom Harrell on his album "Number Five." In the key of E-flat, this is a solo flugelhorn version that beautifully illustrates Harrell's sound and improvisation with no accompaniment. (You can hear excerpts from these recordings as well as Warren Vache's more bouncy version by clicking on the play buttons in the text of the Description tab.)
The original Blue Mitchell recording is really a showcase for Tadd's arranging. Tadd did perhaps more than anyone else in his time to establish the modern jazz writing style for large ensembles. His distinctive rich open voicings, chromatic root motions in reharmonizations, and contrapuntal voice leading in inner voices (a good example here is the third measure of the brass "send-off") inspired countless bebop and post-bop arrangers. Benny Golson,
Slide Hampton
and Jimmy Heath have always paid homage to Tadd, and his influence can be felt even in the work of such individualistic writers as Oliver Nelson, Thad Jones, and
Bob Brookmeyer
.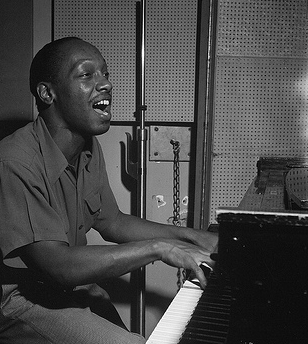 February 21, 1917 – March 8, 1965
A giant of the bebop era, Dameron had a wonderful melodic and harmonic imagination which he brought to compositions and arrangements for both small and big bands. Writing first for Harlan Leonard, Jimmy Lunceford, Count Basie and Billy Eckstine, in the late '40s Dameron started composing and arranging for Dizzy Gillespie's big band. He also recorded his own superb sextet for Blue Note Records in 1947 which featured trumpet great Fats Navarro. Read more...