Smooth As The Wind

– Tadd Dameron

This majestic Dameron composition deserves to be more widely known. It was a favorite of pianist Tommy Flanagan, and we have a melody transcription of a solo version he did for Billy Taylor's TV show.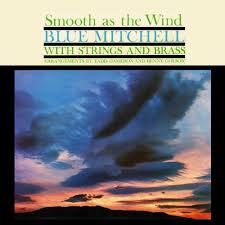 All selected items will be available for download after purchase.
Recording:

Blue Mitchell - Smooth As The Wind

Recorded on:

March 29 & 30, 1961

Label:

Riverside (RLP 367)

Concert Key:

F

Vocal Range:

, to

Style:

Swing (medium)
Trumpet - Blue Mitchell, Clark Terry, Bernie Glow, Burt Collins
Trombone - Jimmy Cleveland, Urbie Green
French Horn - Willie Ruff
Piano - Tommy Flanagan
Bass - Tommy Williams
Drums - Philly Joe Jones
Arranger - Tadd Dameron
plus - string section led by Harry Lookofsky
Don Sickler: This is another incredible Tadd Dameron composition that deserves serious in-depth investigation. Rather than delving into the big picture of this composition now, on Tadd's 100th birthday celebration, first check out our carefully researched lead sheet; you'll get the essence of this great composition. Later this year we'll get more deeply into Tadd's arrangement for this marvelous Blue Mitchell recording. To whet your appetite, you can check out (and watch) Tommy Flanagan's solo piano interpretation. Click on the video play button above.

This song is a 32-measure AABC form with a majestic melody in the classic later Dameron style. The second and fourth measures have a chord on each beat, in cycles of fourths. The bridge modulates to A♭ major and C major. In this arrangement as well as in Tommy Flanagan's version, there's an intro, an interlude before the solos, and a shout chorus/sendoff; the first two of these are included in the Tommy Flanagan melody transcription, and all will be included in the forthcoming Condensed Score of Tadd's arrangement for the Blue Mitchell session.

The changes of Smooth As The Wind are similar to another Dameron composition, Gnid, from the classic Tadd Dameron/John Coltrane quartet album. In particular, the bridge changes are nearly identical, though the melody is quite different.
This Blue Mitchell album contains two Dameron originals (also see
A Blue Time
) and five other Dameron arrangements, including pianist Horace Silver's
Strollin'
, first recorded only five months earlier in Rudy Van Gelder's studio with Blue Mitchell for Horace Silver's "Horace-Scope" Blue Note recording. Horace's composition
Peace
is also on Blue's session; it was arranged by Benny Golson, who did two other arrangements for that session. Blue was also on the first recording of "Peace" (August 29, 1959), which the Horace Silver Quintet had also previously performed at the Newport Jazz Festival the month before (July 3, 1959).
Another great Dameron champion was on Blue's "Smooth As The Wind" session:
Philly Joe Jones
.
Note from Don Sickler:
One of my big regrets is that I was unable to finish adapting
Smooth As The Wind
for Philly Joe's Dameronia instrumentation before Joe passed. I finally finished my adaptation for the Dameronia nonet instrumentation when Columbia University honored me as guest soloist for a 25th Anniversary Concert (2011), and I performed it again, as a tribute to Philly Joe, when we put Dameronia together again for his 90th birthday tribute at the Jazz Standard in NYC (2013).
Tommy Flanagan loved Tadd Dameron's compositions. Being the pianist on the original recording of this song (on the Blue Mitchell session) made this song very special for Tommy. He always loved playing this song.

Our Piano Melody Transcription shows the melodic interpretation and all voicings from the solo Tommy Flanagan broadcast version (see video above), for the intro, in head, and interlude. A forthcoming Piano Solo Transcription will include the out head and coda.

Tommy starts the intro with a single line, the melody. Left hand voicings come in in the fifth measure, and in the middle of the seventh measure there are two-handed voicings. The A section melody is mostly voiced, primarily in tenths and in four-note drop 2 voicings. As a stylistic quirk, Tommy rolls all two-handed D minor chords wherever they are in the melody, which is mostly where the melody note is the 9th or 11th, for a grandiose effect that perfectly complements the majesty of the song.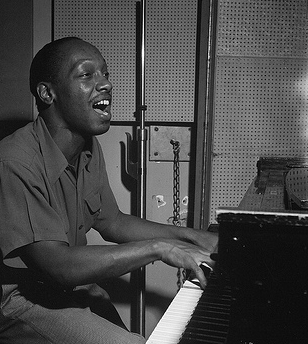 February 21, 1917 – March 8, 1965
A giant of the bebop era, Dameron had a wonderful melodic and harmonic imagination which he brought to compositions and arrangements for both small and big bands. Writing first for Harlan Leonard, Jimmy Lunceford, Count Basie and Billy Eckstine, in the late '40s Dameron started composing and arranging for Dizzy Gillespie's big band. He also recorded his own superb sextet for Blue Note Records in 1947 which featured trumpet great Fats Navarro. Read more...