Reflections

– Harold Land

A fascinating Land classic with a simple melody but a tricky form. The head and solo forms are slightly different. First and second parts are available as well as a separate bass part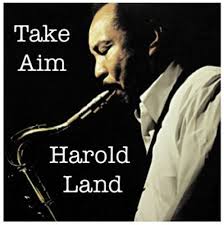 All selected items will be available for download after purchase.
Recording:

Harold Land - Take Aim

Recorded on:

July 25, 1960

Label:

Blue Note (LT 1057)

Concert Key:

No key center

Vocal Range:

, to

Style:

Swing (medium)
Trumpet - Martin Banks
Tenor Sax - Harold Land
Piano - Amos Trice
Bass - Clarence Jones
Drums - Leon Petties
Reflections,
like many of Harold Land's early '60s compositions, presents some intriguing challenges. As with
Compulsion
and
Ursula
, the form is uneven; unlike those songs, which have A sections longer than eight measures, the A section of
Reflections
is shorter. It is 6 measures long on the head (A and C) and solos (D and F), but on the head the last measure of the section is in 6/4. A separate solo section is written out for each edition.
The changes are also unusual: the song appears to be in D minor or F major, as implied by the melody, but there is never a D minor chord, and only one F major (measure 7 of the bridge). The chords of the A-section move around a series of descending half-steps with some ascending 4ths (a cycle of 4ths with some tritone substitution), resolving on G minor in the head and E♭ major in the solos. Two sets of changes are indicated in the fourth measure of the A section; on the recording, the rhythm section freely alternates between them.
About the arrangement:
The horns are harmonized throughout the melody; except for the pick-up at the beginning, every note of the A-section melody is caught as a "hit" by the rhythm section. Each A section has a dynamic rise and fall. In the bridge the rhythm section walks, but catches a few hits with the melody.
A separate Bass part is available; pianists and drummers should use the Concert Condensed Score.
Trades on the recording:
One chorus is 26 measures long [6-6-8-6] which doesn't work trading 4s. However, two choruses is 52 measures, which can divide into 4s. Knowing Harold as Don Sickler did, he's not surprised that Harold challenged everyone with four chorus of trading. The first two choruses, tenor sax and trumpet trade fours, then, for the next two choruses the drummer is also added into the exchanges, leaving the trumpet to come out of his last four with the pickups to the out melody. Pretty tricky!
The sidemen on this album are all pretty obscure. Trumpeter Martin Banks never recorded as a leader, but worked extensively with Ray Charles and with Jimmy Witherspoon; he also appeared on albums by
Dexter Gordon
, Hubert Laws,
Rahsaan Roland Kirk
, Booker Ervin and Archie Shepp. He came to know Second Floor Music when he subbed for Virgil Jones on a few gigs with Philly Joe Jones' Dameronia band alongside Don Sickler.
Pianist Amos Trice seems to have had a very short career; no recordings are known after 1962. Live recordings with Charlie Parker and Wardell Gray from 1952 and
Sonny Stitt
's 1959 album "The Hard Swing" are among the highlights of Trice's career. Both Trice and bassist Clarence Jones played on Land's album from earlier in July 1960, "Eastward Ho!" co-led with
Kenny Dorham
.
As with Trice, nothing is known of Jones, or Leon Petties on drums, past the early '60s; Jones also recorded with Witherspoon and with Curtis Amy. Petties recorded quite a lot with Land, including the latter's first sessions as a leader in 1949 as well as albums by David Amram, Carmell Jones, Red Mitchell, and Shorty Rogers.
For more from this album, check out
As You Like It
.

February 18, 1928 – July 27, 2001
Many people only know of Harold Land as the great tenor saxophone soloist who made the classic quintet recordings with the Clifford Brown - Max Roach Quintet: Joy Spring, Daahoud, The Blues Walk and other classics—many of which are available from jazzleadsheets.com. Harold is far more than just a great tenor saxophonist sideman. Read more...