Blues Walk

– Clifford Brown

A bouncy, jaunty blues head. Clifford Brown's trumpet solo from both the master and alternate takes are available in B-flat and C editions.

All selected items will be available for download after purchase.
Recording:

Clifford Brown and Max Roach - Clifford Brown And Max Roach

Recorded on:

August 6, 1954

Label:

EmArcy (MG 36036)

Concert Key:

B-flat

Vocal Range:

, to

Style:

Swing (uptempo)
Trumpet - Clifford Brown
Tenor Sax - Harold Land
Piano - Richie Powell
Bass - George Morrow
Drums - Max Roach
The lead sheets for this classic start with Clifford's introduction and also show Clifford's horn backgrounds and the set up for Max Roach's drum choruses.

There are two recorded takes of this classic. Clifford Brown's solo from each take is available here. For years, only the incredible master take was available. The alternate take was first issued in Japan on "More Study In Brown" and was the first one recorded. Clifford and Harold Land tried something very challenging. After the last soloist (drums), before the out melody, the horns decided to exchange four-measure phrases, then two measures each, then one each and then a half measure each before starting the out melody. After they got through the first take, they decided to try it again. The exchanges were incredible on the retake, so it became the master take. Check out other titles recorded on that
album
.
Transcribed Trumpet Solo: Our audio excerpt lets you compare the start of both takes. First you hear Clifford's break from the master take trumpet and then his break from the first take they recorded that day, which is now the alternate take. Although the rhythmic content of the the two breaks is essentially the same, the notes certainly are different. It's great that we have two solos to compare.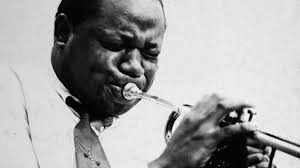 October 30, 1930 – June 27, 1956
Clifford Brown was a legendary and influential trumpet player who had everything going for him: an incredible sound, dazzling technique and ideas, and a great compositional gift. Brown was in the limelight for just five years (he died in a car accident at age 25) yet his mark on jazz is indelible. Early performances at jam sessions with Dizzy Gillespie, Charlie Parker and Fats Navarro (his major influences) led to work with R&B bandleader Chris Powell, which included his first commercial recording (March 21, 1952). His second commercial recording was with Lou Donaldson for Blue Note Records (June 9, 1953), a session that also included Philly Joe Jones and Elmo Hope (Carvin' The Rock, De-Dah and Bellarosa). On this session, Clifford also got to record one of his own compositions (Brownie Speaks), which became his first recorded composition. Read more...