As You Like It

– Harold Land

Almost a "rhythm changes" head—but not quite! Another classic Harold Land workout.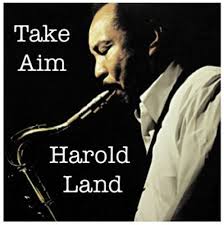 All selected items will be available for download after purchase.
Recording:

Harold Land - Take Aim

Recorded on:

July 25, 1960

Label:

Blue Note (LT 1057)

Concert Key:

F

Vocal Range:

, to

Style:

Swing (uptempo)
Trumpet - Martin Banks
Tenor Sax - Harold Land
Piano - Amos Trice
Bass - Clarence Jones
Drums - Leon Petties
A bebop-ish workout in Land's distinctive style. The changes of the A sections on the head are almost "rhythm changes" but the sixth measure is (on the recording) usually played as B♭m7 to E♭7; on the solos it is standard rhythm changes. The bridge begins with a II-V to B♭, but the F7 on the first measure is replaced by F♯m7 and B7, a tritone sub II-V. The melody on this measure is the same as on the preceding measure, a tritone lower. The second half of the bridge has a series of II-Vs descending in half-steps from Bm7; the Am7 becomes a III-VI-II-V back to F. This chromatic motion also appears in the intro, which features one two-measure melodic phrase three times, a half-step lower each time over D, C♯ and C pedal points.
Recorded as quintet, we're also making second parts available, but it will work great in a quartet setting.
Harold Land's compositions are often satisfying challenges:
Compulsion
and
Landslide
are wild pieces that require technical achievement to master.
As You Like It
is no different: with its lightning-fast, bop-influenced head, this piece is a firecracker!
Our audio clip begins with the eight-bar introduction and continues through the head, fading out midway through the bridge.
The spring and summer of 1960 were a very busy time for Harold Land. -- On April 14th he recorded with vocalist King Pleasure, in a sextet including
Matthew Gee
and
Gerald Wiggins
.
-- At the end of that month Land and
Joe Gordon
sat in with Thelonious Monk's quartet at the Blackhawk in San Francisco; recordings from this gig have been issued as "Thelonious Monk Quartet Plus Two At The Blackhawk."
-- May 3rd was the date of one session featuring Land on Shorty Rogers' album "The Swinging Nutcracker" featuring jazz arrangements of Tchaikovsky's Nutcracker suite.
-- Land next recorded three albums as a leader in three different cities! "
West Coast Blues
" was the first, in San Francisco on May 17th and 18th. Then came "Eastward Ho!" in New York on July 5th and 8th, with trumpeter
Kenny Dorham
, followed by a return to L.A. to record "Take Aim" on July 25th.
Harold Land and Kenny Dorham had recorded together one time before, in March 1957 for a Herb Geller date, but with the entire continental US in between them, the pair never recorded again after the 1960 session.

February 18, 1928 – July 27, 2001
Many people only know of Harold Land as the great tenor saxophone soloist who made the classic quintet recordings with the Clifford Brown - Max Roach Quintet: Joy Spring, Daahoud, The Blues Walk and other classics—many of which are available from jazzleadsheets.com. Harold is far more than just a great tenor saxophonist sideman. Read more...