Landslide

– Harold Land

This Harold Land composition is a real technical workout! Lead sheets, second parts and bass part available.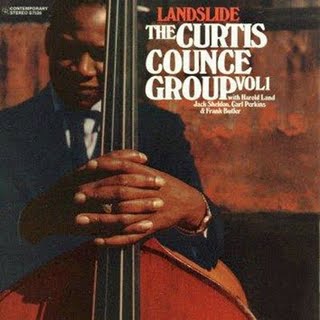 All selected items will be available for download after purchase.
Recording:

Curtis Counce - Landslide

Recorded on:

October 8, 1956

Label:

Contemporary (C 3526)

Concert Key:

F minor

Vocal Range:

, to

Style:

Swing (medium)
Trumpet - Jack Sheldon
Tenor Sax - Harold Land
Piano - Carl Perkins
Bass - Curtis Counce
Drums - Frank Butler
Our audio excerpt starts with the melody. The recording starts with an eight-measure tenor sax and bass intro, indicated on all lead sheets. Although the stop-and-go rhythm section patterns are shown in the C treble clef lead sheet, for reading ease we've also made available a separate Bass part.

The A section of the melody is a good technical workout for the trumpet. Listen to Jack Sheldon fly through it! What appears to be an interlude after the AABA melody is actually the first four measures of the first tenor sax chorus on the recording. This is clearly indicated in all parts. The interesting coda is also written as recorded. Melody lead sheets, second parts and bass part are available.
This was Harold Land's first recording session after his tenure with the
Clifford Brown
-Max Roach Quintet. This is also Harold's first recording session with bassist
Curtis Counce's group
, with whom he would record through 1958. Harold also invited Counce to play one of Harold's own 1959 sessions. Curtis Counce unfortunately died young, at age 37 in the early 1960s. Jazzleadsheets.com has two other selections from this album posted:
Mia
by Carl Perkins, and
A Fifth For Frank
by Gerald Wiggins.
Essential Bass (Curtis Counce) [ LEVEL 1]
Landslide would be a great challenge for a bassist trying to push into level 2 territory. The part stays mostly in the lower register of the instrument, but the syncopation of the bass line will keep your attention. The tune also has some great rhythmic hits in the bridge that move nicely with the harmony. Once you get walking for the solos, it's a fun exercise to navigate through the expected ii-Vs in the A sections, along with with some unexpected ii-Vs in the B sections.

February 18, 1928 – July 27, 2001
Many people only know of Harold Land as the great tenor saxophone soloist who made the classic quintet recordings with the Clifford Brown - Max Roach Quintet: Joy Spring, Daahoud, The Blues Walk and other classics—many of which are available from jazzleadsheets.com. Harold is far more than just a great tenor saxophonist sideman. Read more...