NWPT

– J.J. Johnson

A medium up swinger—rhythm changes with a twist and an elegant example of J.J.'s composing and arranging. Lead sheets and the original quintet arrangement are both available.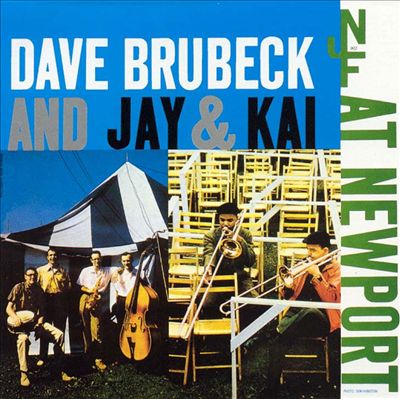 All selected items will be available for download after purchase.
Recording:

J.J. Johnson / Kay Winding - Jay And Kai At Newport

Recorded on:

July 6, 1956

Label:

Columbia (CL 932)

Concert Key:

B-flat

Vocal Range:

, to

Style:

Swing (medium up)
Trombone - J.J. Johnson, Kai Winding
Piano - Dick Katz
Bass - Bill Crow
Drums - Rudy Collins
This is almost a "rhythm changes" song, but not quite. Instead of moving toward the IV chord in the fifth and sixth measures, it goes directly to the ♯IV (E♮) for a series of descending II-Vs with one tritone substitution - E♭ instead of A. The melody, like many of J.J.'s, is simple and rhythmic with a lot of hits, similar to his improvising style. It is definitely an interesting quintet arrangement, but also works great simply as an AABA head to play and solo on.

About the arrangement: J.J.'s quintet arrangement for two trombones and rhythm section starts with an eight-measure intro, an expansion of the descending II-Vs of the A section. In the first three measures the trombones are in counterpoint, but then come rhythmically together for some harmonized hits. The two-horn voicings in the head are very tight, mostly thirds and seconds.

The last chorus begins with a piano solo, with the trombones playing half notes in harmony softly for the second four measures before playing rhythmic send-off figures for the first four measures of the second A-section and the bridge. The piano fills in the rest, and the last A-section is arranged the same as the first A of the head, with a classic ascending figure at the end that is a J.J. trademark.
This is the only known recording of this song; it was probably written specifically for the Newport Jazz Festival. J.J. Johnson and Kai Winding, with their quintet, established a trombone equivalent to the great tenor saxophone pairings of
Gene Ammons
and
Sonny Stitt
,
Al Cohn
and Zoot Sims, and
Johnny Griffin
and
Eddie "Lockjaw" Davis
. With their mellow, elegant sound, J.J. and Kai were most like Al and Zoot, out of these combinations; however, the two trombonists had very different sounds. J.J. was the smooth one, and though Kai could be smooth, his improvising was a bit more overtly exciting and trumpet-like.
The rhythm section is not well-known. Pianist Dick Katz was never tied to one particular band or leader; he is also on the recording of another song we're releasing this week, Ernie Wilkins'
Far Out East
. Drummer Rudy Collins is mostly known for his work with Dizzy Gillespie, with whom he played from 1962 to 1965. As you can see from his playing here, he deserves to be better known; with Dizzy he was instrumental in developing the samba and several other Latin grooves for drumset. We haven't found any information about the bassist, Bill Brown, other than that he also played on a studio session with the same J.J.-Kai quintet.
J.J. had a habit of naming his compositions in a very practical way. When he got a computer and started using sequencing software to compose, the first song he sent to Second Floor Music was called
Save Often.
Everyone from the early computer days understands what that means! From George Avakian's liner notes: "J.J.'s contribution is the closing piece, which he hadn't titled when he gave it to his copyist. The latter unwitting provided a name for it, albeit a difficult one to pronounce, when he stamped 'NWPT' on the parts as a means of identifying the composition. J.J. took one look and decided that that was the title from now on."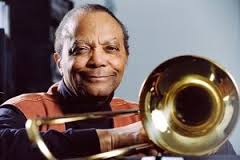 January 22, 1924 – February 4, 2001
J.J. Johnson is arguably the most influential bop and post-swing trombonist and also one of the great composers and arrangers in jazz. He was one of the first trombonists to embrace bebop; his playing continues to exert a strong influence on other musicians. He started his recording career in 1942 in Benny Carter's big band. On July 2, 1944, J.J was on the first Jazz At The Philharmonic concert. He recorded with the Count Basie Orchestra beginning in 1945. Read more...