Future Was Now

– Bill Mobley

A complex, intricate song with an extended form that switches several times between swing and samba, with quite a few pedal points and other rhythm section activity. Second parts and a condensed score are available for the quintet arrangement; the latter also works as a rhythm section part.

All selected items will be available for download after purchase.
Recording:

Billy Pierce - Give And Take

Recorded on:

June 6, 1987

Label:

Sunnyside (SSC 1026)

Concert Key:

No key center

Vocal Range:

, to

Style:

Swing (medium up)
Trumpet - Terence Blanchard
Soprano Sax - Billy Pierce
Piano - Mulgrew Miller
Bass - Ira Coleman
Drums - Tony Reedus
A complex, colorful song with no key center, The Future Was Now (originally recorded as The Future Is Now) has a soaring, lyrical melody that connects the many harmonic and rhythmic shifts. Dynamic contrasts add further definition to this song through its extended form. Sixty measures in total, the form is ABCABD with each section 12 measures long except the B sections which are six measures. The feel switches between swing and samba several times within a chorus: A is swing (2-feel), B is samba, and C starts with swing but goes to samba in the last four measures. D stays swing, with a bass pedal in the first eight measures. At C the bass has similar pedal-like figures to D, but with the chords changing. In the D section, modes are indicated instead of chord symbols; these alternate between C aeolian (natural minor) and C lydian.

Though the two A sections are identical, and likewise the two B sections, we have chosen to write out the entire head with no repeats rather than showing C as a first ending and D as a second ending; we feel it's easier to read straight through rather than having to go back so far for the second half.

Solos are on the same form, with the changes slightly simplified but retaining many of the rhythm section hits and pedal figures, and all the feel changes, from the head. There is an intro, which is the same as the D section of the head with just the rhythm section. This intro is notated on two staves with the bass line in our Concert Condensed Score which is also the rhythm section part. Our lead sheets and parts show the piano top line of the intro.

About the arrangement: Second parts are available for the two-horn arrangement. The horns begin in unison but harmonize on many important longer melody notes; the D section is mostly voiced in fourths. On the recording, the soprano sax plays harmony below the trumpet. We have a soprano sax second part as recorded; almost throughout, this part isn't too high for tenor sax so our tenor sax second part is in the same register. However, it is too high for trombone; our trombone second part is written an octave lower. The harmonies are quite tight; this trombone second part only works with the first part in the same register, such as another trombone reading the C bass clef lead sheet. For two guitars, we have a guitar lead sheet written an octave above the standard C treble clef lead sheet, with a guitar second part sounding in the same register as the soprano sax second part.
For more from "
Give And Take
" check out
Bill Pierce
's own composition
Myles
and
Donald Brown
's
The Moment You've All Been Waiting For
. Bill Mobley doesn't play on this album, but "Give And Take" was recorded the day after the two sessions for Mobley's own debut recording, Donald Brown's "
Early Bird
." Mobley and Pierce first recorded together on another debut: pianist
Geoffrey Keezer
's first album as a leader, "
Waiting In The Wings,
" in 1988.
On this recording, the title of this song is shown as
The Future Is Now.
Bill Mobley's original manuscript shows
The Future Was Now,
giving jazzleadsheets.com a great opportunity to establish the correct title, the way Bill intended.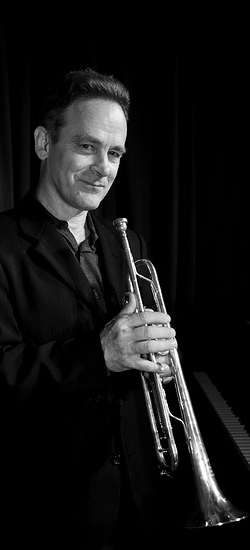 born on April 7, 1953
Bill Mobley has been a fixture of New York's straight-ahead and modern jazz scene for over 30 years as a trumpeter, composer, and bandleader. Originally from Memphis, he studied at Memphis University alongside pianists James Williams, Donald Brown and Mulgrew Miller, all three of whom he would go on to record with in New York after moving there in 1987. Read more...