Exhibit A

– Gigi Gryce

A "rhythm changes" line with a different bridge, this song was recorded four times in 1957. Lead sheets plus Gigi's arrangement from this recording (the last one in 1957) are available at this time.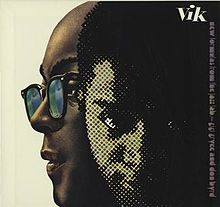 All selected items will be available for download after purchase.
Recording:

Donald Byrd / Gigi Gryce - New Formulas From The Jazz Lab

Recorded on:

July 30, 1957

Label:

RCA Victor (RCA 6015)

Concert Key:

F

Vocal Range:

, to

Style:

Swing (medium up)
Trumpet - Donald Byrd
Alto Sax - Gigi Gryce
Piano - Hank Jones
Bass - Paul Chambers
Drums - Art Taylor
This song is classic Gigi Gryce. It is essentially "rhythm changes" in F, but with different and intriguing changes in the bridge. Specifically, the first chord of the bridge is the IV (B♭7), returning to the tonic via E♭7 instead of a more expected B diminished chord. The fifth and sixth measures of the bridge go to A♭ before heading back to the tonic.
About the arrangement:
There are four recordings of this song, all recorded in 1957. For now, we're concentrating on the last of these recordings, the only one that included Gigi's playing (our 2nd part, on alto sax). We're also working on some special jazzleadsheets.com editions involving the other three recordings (along with this recording) centered around playing on "rhythm changes." Though this recording differs the most from the other ones that year, with the composer on hand playing his own arrangement, we feel it's always best to first play and learn this arrangement.
All the recordings begin with a double-time feel from the rhythm section and a sort of "pedal point" vamp. In this case the vamp is basically an "oompa" in the bass and piano [bass-chord-bass-chord, etc], with the drums playing even eighth notes and the horns improvising together once the vamp is established. On the recording, Donald and Gigi quote the Jewish wedding song
Hava Nagila
and then keep going for eight more measures before going into Gigi's melody. There is a six-measure interlude
clip
(four measures of stop-time figures and then a solo break) that is used here to launch the bass solo. You can also insert this interlude to set up any soloist. After the drum solo, the drums immediately start the original intro,
Hava Nagila
and all, leading into a shout chorus with a new triplet-based treatment of the melody
clip
. Then it's back to Gigi's original bridge and C section, which leads to the coda which is based on the hits. Check out the Historical Notes for more about the arrangement of the head's last two measures.
This is the fourth recording of
Exhibit A
. The first was from February 11th of the same year, on Art Blakey's album, now referred to as "Ritual." Blakey's quintet at the time featured trumpeter
Bill Hardman
, alto saxophonist Jackie McLean, pianist Sam Dockery and bassist Spanky DeBrest. (For more from this band, check out
Bill Hardman
's
Cranky Spanky
and another Gryce composision,
Casino
.) The next recording was only two weeks later, on February 25th for Art Taylor's album "Taylor's Wailers." This recording also featured Jackie McLean, alongside Donald Byrd, Charlie Rouse,
Ray Bryant
, bassist Wendell Marshall, and Taylor. Blakey next recorded it in April for the Cadet label, again with Hardman, McLean, Dockery and DeBrest; this album is titled "Tough!" The last recording that month, from the Jazz Lab, is the only one to feature the composer playing his own composition.
In 1951, Bud Powell first recorded one of his classic compositions,
Parisian Thoroughfare.
In 1954, the Clifford Brown/Max Roach quintet (with Bud Powell's younger brother Richie, as pianist), paid tribute to Bud with their own marvelous arrangement of
Parisian Throughfare.
. They took the composition's title one step further, by creating a double time intro section depicting the hustle and bustle of the busy Paris streets. If you don't know this arrangement, you should check it out. We know Donald Byrd loved this arrangement, because in 1955 he modeled his own arrangement after it for his Transition label recording.
Don Sickler:
"Gigi was very close to Clifford Brown. I'd like to believe that losing his good friend Clifford along with Bud Powell's brother, Richie, only a year previously in an automobile crash, got him thinking about writing his own tribute to them.
Exhibit A
is exactly that, with an introduction format very similar to
Parisian Throughfare
setting up Gigi's own new melody. This song becomes classic Gigi Gryce. After the solos, Gigi always liked to create something different for the A sections before returning to his original bridge and ending. For his new out melody treatment he pays further tribute to Bud by writing his melody in triplets, as Bud did with the melody of
Parisian Thoroughfare.
This makes for an exquisite tribute to all three of them."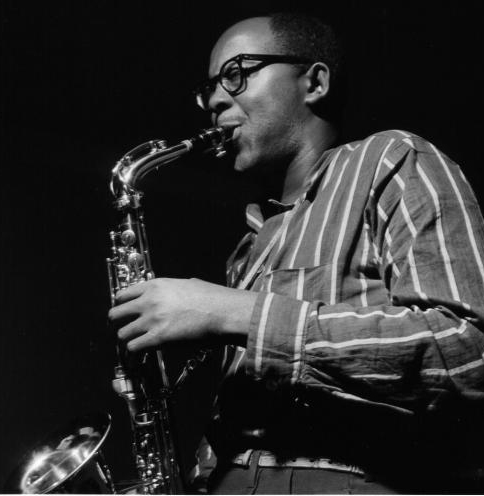 November 28, 1925 – March 17, 1983
Gigi Gryce was a fine altoist in the 1950s, but it was his writing skills, both composing and arranging (including composing the standard Minority) that were considered most notable. After growing up in Hartford, CT, and studying at the Boston Conservatory and in Paris, Gryce worked in New York with Max Roach, Tadd Dameron, and Clifford Brown. He toured Europe in 1953 with Lionel Hampton and led several sessions in France on that trip. Read more...