Wardell Gray
February 13, 1921 – May 25, 1955
| | |
| --- | --- |
| Instrument | tenor sax |
| Birthplace | Oklahoma City, OK |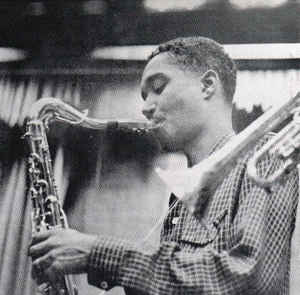 Though sometimes overlooked, even to this day—perhaps due to his all-too-brief career or his extensive work in swing big bands —Wardell Gray was among the most important jazz musicians of the bebop era. He was one of the first tenor saxophonists, along with Dexter Gordon , Gene Ammons, and Lucky Thompson, to establish an original voice on the instrument in the bebop style.
Wardell's primary influence, like so many saxophonists of his generation, was Lester Young. He developed a unique sound that combined Young's elegant, linear melodic sense with a distinctively dark and rich timbre. He is best known for Twisted, a blues head he recorded in 1949; this song, with Wardell's solo, was given lyrics by Annie Ross and has been recorded by many singers in different genres, most notably Joni Mitchell.
Wardell Gray's career was as varied and exciting as any jazz musician's, especially considering that it spanned little over one decade. He was one of the few musicians to become established in both East Coast and West Coast scenes in the late 1940s and early '50s. Wardell was born in Oklahoma City and raised in Detroit. He began his career playing in local clubs, and joined Earl Hines' big band when they passed through in 1943. Wardell spent three years touring around the country in Hines' band; while they were in New York in 1944, he made his first recording in a new big band led by Billy Eckstine. Wardell left Hines in 1946 and settled in Los Angeles, drawn to the emerging bebop scene. Wardell recorded his first session as a leader in November 1946, with an all-star rhythm section of Dodo Marmarosa on piano, Red Callender on bass, and Harold "Doc" West on drums.
In February 1947, Wardell recorded with Charlie Parker, who had just been released from a six-month stay at Camarillo State Mental Hospital. This legendary session included Parker's classic blues Relaxin' At Camarillo. Another important recording from this period of Wardell's career was The Chase, an extended tenor battle with Dexter Gordon. Dexter and Wardell frequently played together in the "Just Jazz" concerts, a series of all-star jam sessions organized by promoter Gene Norman.
In 1948, Wardell joined Benny Goodman's new bebop septet. His touring with this group (and later, Goodman's big band) brought him to New York, where he became very busy among bebop's original elite. He made more recordings as a leader (including Twisted), as well as with Tadd Dameron and several others. While in New York, he started playing in Count Basie's big band. Wardell left the Goodman band and toured with Basie, in both big band and septet settings, until 1951. He then moved back to L.A., where he became something of a mentor to younger local musicians, notably including trumpeter Art Farmer. Wardell recorded with Art in January 1952; this session includes the first recording of Art's blues Farmer's Market. Sadly, increasing drug abuse lowered Wardell's profile as he began touring extensively in 1954. He died under mysterious circumstances in May 1955, near Las Vegas.
A more detailed bio of Wardell Gray can be found on wardellgray.org. A TV appearance of Wardell in Count Basie's septet can be found on YouTube.