Ronnie Ball
December 22, 1927 – October 3, 1984
| | |
| --- | --- |
| Instrument | piano |
| Birthplace | Birmingham, United Kingdom |
Available Leadsheets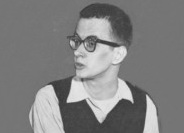 Ronnie Ball was born in Birmingham, United Kingdom, where he played local gigs from the age of fifteen before moving to London in 1948. There he worked with Tony Kinsey and Reggie Goff's Sextet as well as leading his own trio. He worked on the Queen Mary on the transatlantic cruise run to New York from 1949 to 1951, studying with Lennie Tristano on New York stopovers.
In London he worked as part of the house trio at the Studio 51 club, where at one time or another, he accompanied virtually all of the leading British modern jazzmen. He recorded with many of them and made a few records under his own name.
In 1952 he decided to leave the UK for New York. He wanted to work with followers of Lennie Tristano whose piano playing was such a big influence on him. By 1954 he was working and recording with alto saxophonist Lee Konitz, another Tristano follower. In 1956 he began to work with tenor saxophonist Warne Marsh, also a Tristano follower, and made several important records with Marsh. In the late '50s he worked with swing drummer Gene Krupa's Trio and the Roy Eldridge Quartet as well as touring with Jazz at the Philharmonic and Buddy Rich.
Among the other musicians Ball played with are Chuck Wayne, Dizzy Gillespie, Eddie Costa, Kenny Clarke, Hank Mobley, Doug Watkins, Art Pepper, J.J. Johnson, Kai Winding, Paul Chambers, and Philly Joe Jones. From 1961 to '63 he sometimes accompanied vocalist Chris Connor and recorded with her on several occasions. He only did one recording date after that, in L.A., in 1965. He quit playing to work doing transcriptions for a music publisher.
Don Sickler: I originally met Ronnie in the early 1970s when I was doing freelance music publishing work for Big 3 Music. A little later, I became the Production Manager for United Artists Music, which included Big 3, and Ronnie was still in the editorial department. He said he preferred the steady paycheck to the hectic life as a freelance jazz pianist. I'm honored to publish his music and now make it available on jazzleadsheets.com. As a pianist sideman, Ronnie was already on jazzleadsheets.com. You can check him out with Hank Mobley on Hank's gorgeous ballad Madeline and on Al Cohn's Night Bird.