Herbie Nichols
January 3, 1919 – April 12, 1963
| | |
| --- | --- |
| Instrument | piano |
| Birthplace | New York, NY |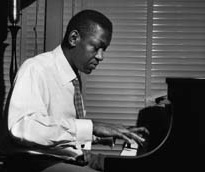 Two years ago (January 3, 2019) we were at the Van Gelder Recording Studio celebrating Herbie's 100th birthday with his family and pianists Frank Kimbrough and Glenn Zaleski. Both Frank and Glenn each recorded a previously unrecorded Herbie Nichols composition, on the same piano Herbie played for his Blue Note sessions. These were the initial recordings that started my new project, the Herbie Nichols Solo Piano Summit.
We'll soon be releasing, not just the above two recordings and lead sheets, but 24 previously unrecorded Herbie Nichols compositions recorded by 23 different great pianists (encompassing eight generations!) in our special Herbie Nichols Solo Piano Summit project. All were recorded at the Rudy Van Gelder Studio on the same famous Steinway B piano that Herbie and so many famous jazz pianists (Thelonious Monk, Bud Powell, Herbie Hancock, McCoy Tyner, and many others) recorded on. As a producer, it was a great honor for me to work with these 23 pianists, who, in turn, all said they were honored to get to pay tribute to this great pianist/composer Herbie Nichols. I'm anxious for everyone to get to hear these new, previously unrecorded Herbie Nichols compositions. Look for more announcements about the specifics of the project from jazzleadsheets.com.
Herbie Nichols is a classic example of a visionary jazz composer whose music was way ahead of its time. His life story and music have some parallels to those of Thelonious Monk, whom he knew well. Like Monk, Nichols wrote music in the 1940s and '50s that was much more advanced and idiosyncratic than the mainstream of jazz at the time. However, whereas Monk's music became widely known later in his life, Nichols did not live long enough to see such recognition.
During his lifetime, he was mostly known as a Dixieland, rhythm and blues, and swing pianist and as the composer of Lady Sings The Blues, a classic ballad that Billie Holiday added lyrics to and recorded in 1956. Only after his death (at age 44) did the larger jazz community start to discover more of his music. Nichols recorded only seven sessions as a leader. The first was in 1952, later released on the Savoy label; this was a quartet session of standards and blues and included his first recorded composition, Who's Blues. The three instrumental tracks from this session only happened because there was time left over after the main two vocal tracks were recorded (bassist/vocalist Chocolate Williams and the Chocolateers).
In 1955 and 1956 he did five sessions for Blue Note, his best-known recordings. Almost entirely comprising original compositions, these sessions featured Nichols in trio settings with Al McKibbon or Teddy Kotick on bass, and Art Blakey or Max Roach on drums. These recordings, some of which were not released until the 1990s, are the definitive examples of Nichols' playing and composing styles. His songs are playful and endlessly inventive, while mostly keeping AABA-based forms. The melodic and harmonic language is at times quirky like Monk's, but often bluesier and not as jagged-edged; many of his melodies are quite singable. However, Herbie also had tremendous "chops" and could really fly over the keyboard.
Nichols' soloing on these Blue Note recordings is quite unusual: not purely improvisation, most of the time he simply plays variations on his melodies—something Monk would also do, but not as much as Nichols did. Nichols' last recording as a leader was the Bethlehem album "Love, Gloom, Cash, Love", recorded in 1957 with George Duvivier on bass and Dannie Richmond on drums.
In the 1980s and '90s, several musicians started playing Herbie Nichols' compositions. Trombonist Roswell Rudd, who knew Nichols in the '60s, published a book of some of Nichols' songs that were not recorded in his lifetime. Rudd recorded these, as did the Herbie Nichols Project, a group led by pianist Frank Kimbrough and bassist Ben Allison which recorded three albums in 1995-96, 1999, and 2001. Others who have recorded and/or performed Nichols' songs include Steve Lacy, Vijay Iyer, and Julian Priester. Many of Nichols' other compositions, however, have yet to be recorded.
Don Sickler: I first read about Herbie Nichols in A.B. Spellman's great book, "Black Music." Later, when Herbie's grand nephew Lawrence Sealey came on the scene, I learned a lot more about Herbie from Mark Miller's fantastic portrait, "Herbie Nichols: A Jazzist's Life."