Who's Blues

– Herbie Nichols

The essence of Herbie Nichols, condensed into a neat blues head. This song comes from Nichols' little-known first recording session as a leader. A piano melody transcription is available for the in and out heads.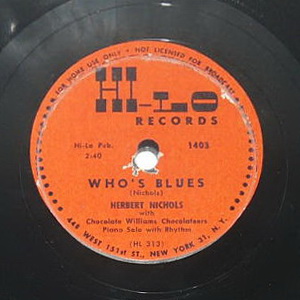 All selected items will be available for download after purchase.
Recording:

Herbie Nichols - Who's Blues

Recorded on:

March 6, 1952

Label:

Hi-Low Records (1403)

Concert Key:

B-flat

Vocal Range:

, to

Style:

Swing (medium)
Piano - Herbie Nichols
Guitar - Danny Barker
Bass - Chocolate Williams
Drums - Shadow Wilson
Fortunately there was time at the end of a Chocolate Williams and his Chocolateers session to feature Chocolate's pianist Herbie Nichols, thereby creating four Herbie Nichols Quartet tracks, one being Who's Blues. Our lead sheet comes from Herbie's original lead sheet, fortunately preserved. Our Piano Melody Transcription shows how Herbie recorded and expanded his melodic ideas from his original lead sheet notation. See the Piano Corner tab for more explanation.

analysis
This blues head is a miniature summary of Herbie Nichols' unique style. In particular, Nichols' rhythmic feel, more of a slink than a lope or a lilt, is written right into the melody; the melodic direction dictates the proper accents. The stop-and-start rhythms, with subtly different placement of the phrases' beginnings and ends, are classic Nichols. The melodic material is triadic, with an almost Monkish sound; the phrases pivot between upper structure triads united by common tones. These common tones are the ninths of the I, IV, and V chords, but the phrases are far from transpositions of each other. The first four measures arpeggiate F, C, and A♭ major triads, with C at the top and bottom. On the fifth and sixth measures, the same triads a fourth higher are played in a closer intervallic structure, with the connecting F on all upbeats. The ninth and tenth measures use a similar phrase but with the intervallic structure in retrograde; the common tone G is played on the "ands" of beats 2 and 4, and different triads are used such as C minor. The last two measures have a contrasting ascending phrase, mostly stepwise. It's remarkable how much melodic subtlety is contained in these 12 measures of blues.

As can be expected from Herbie Nichols, there is an intro that is also used as a coda. There is no drum break as became a tradition in his later recordings, but instead a two-measure piano solo break at the end of the eight-measure phrase. This phrase repeats a chromatic "turnaround" over a tonic pedal point. Herbie voices these chromatically descending chords in thick voicings, mostly 13ths with ♯11ths. A piano melody transcription is available with both the in head (which is played twice) and the out head (once); click on the Piano Corner tab for more details.
Who's Blues
was the first Herbie Nichols composition to be recorded, and the only original from this session.
Nichols And Dimes
, also recorded at this session and credited to Nichols, is actually a themeless blues improvisation. It is notable that Nichols' solo on
Who's Blues
does not contain the allusions to and variations of the melody that characterized his improvisation on his later recordings.
We do have Herbie's original manuscript of this composition, which he sent to himself by registered mail thinking that was a way to protect his composition. This "poor man's copyright" approach never stood up in a court of law, so by the copyright revision act, it becomes a 1978 copyright. Herbie titled his original manuscript
Blue Notation (Whose Blues)
. The record company used the title
Who's Blues
, so we've chosen to retain that for the jazzleadsheets.com edition. See the Piano Corner tab to see how his original lead sheet varies from his recording a year later.
This song was first released on a 78 rpm, and then on a compilation for the Savoy label titled "I Just Love Jazz Piano;" the rest of this album contained tracks by Paul Smith, Hampton Hawes, and John Mehegan. Another Savoy compilation placed songs from this Nichols session alongside Bud Powell, Lennie Tristano, George Wallington, Dodo Marmarosa, and Horace Silver recordings. A third Savoy issue put the five songs from Nichols' session alongside a 1955
Gigi Gryce
/Thelonious Monk quartet session that includes the first recording of
Nica's Tempo
. Check out the Historical Notes of the slightly later Art Farmer version for details.
The Piano Melody Transcription is a two-staff transcription that shows exactly how Herbie Nichols played the intro, in head, out head, and coda. After the intro in ever-expanding voicings, Nichols plays the head mostly in two-handed octaves, the left hand often omitting melody notes. He never quite plays the melody exactly as he had written it in his own original lead sheet, but all the important elements are there. He plays fills between the melody phrases, with several fast runs in the second repeat of the in head and in the out head (there is another in the last measure of the intro). These runs, characteristic of Nichols, have a peculiar quality somewhere between Ellington and Monk. The final break in the coda is a simple closing phrase with the hands three octaves apart, concluded with an isolated bass note on the last beat.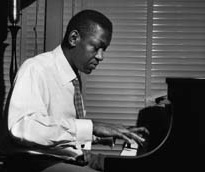 January 3, 1919 – April 12, 1963
Two years ago (January 3, 2019) we were at the Van Gelder Recording Studio celebrating Herbie's 100th birthday with his family and pianists Frank Kimbrough and Glenn Zaleski. Both Frank and Glenn each recorded a previously unrecorded Herbie Nichols composition, on the same piano Herbie played for his Blue Note sessions. These were the initial recordings that started my new project, the Herbie Nichols Solo Piano Summit. Read more...