Sunday Stroll

– Herbie Nichols

Despite its advanced changes, this song is rather bluesy with a slight Dixieland influence. It's the slowest song from Herbie Nichols' Blue Note sessions. A 2-stave Piano Melody Transcription is available.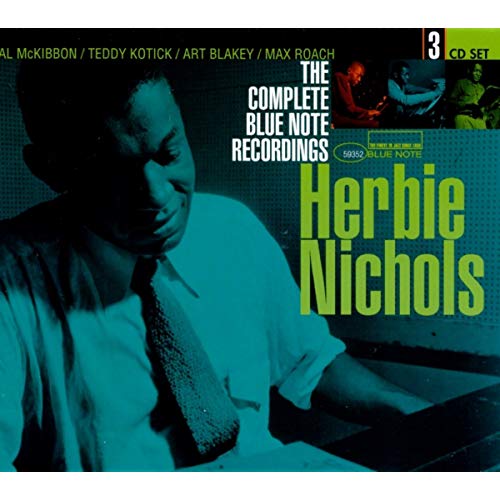 All selected items will be available for download after purchase.
Recording:

Herbie Nichols - Complete Blue Note Recordings of Herbie Nichols

Recorded on:

August 7, 1955

Label:

Mosaic (MR5-118)

Concert Key:

F, No key center

Vocal Range:

, to

Style:

Swing (medium)
Piano - Herbie Nichols
Bass - Al McKibbon
Drums - Max Roach
For quartet playing, separate Trumpet and Tenor Sax lead sheets are available along with our other usual lead sheet editions. Your Sunday Stroll can gently swing or shuffle along as it usually leads to a melodic syncopation. The bridge is set up and continues to emphasize a contrasting rhythmic element (the fourth beat of the bar). When discussing Herbie Nichols with drummer Kenny Washington, he brought up this song as being one of his favorites.

Analysis:
This laid-back swinger is the slowest song from Herbie Nichols' five Blue Note sessions. This song simultaneously looks forward and back, with bluesy phrases that imply a vague influence of Dixieland or swing, contrasted with the advanced and idiosyncratic harmonies peculiar to Nichols. The melody has those convolutions that Nichols often used, but here they sound somehow more old-fashioned; the slower tempo accentuates this quality. The key center appears to be F, but there is enough chromatic motion that our lead sheets show no key signature. The opening C7(♯11) and F7 chords lead to a B major tonality, which is followed by a similar passage in A before the last two measures of the A section suddenly resolve back to F. The melody on these last two measures is slightly bluesy and establishes the F tonality while the changes move in fourths. The C7(♯11) tonality at the beginning of the A section is always anticipated by one beat of Gm(maj7), the same chord quality with the fifth in the bass. This chord results in some unexpected voice leading: it's preceded by A♭7 to go into the second A section, and planed into from F♯m(maj7) to go into the C section.

The bridge also has a quite idiosyncratic voice leading, with three chords per measure in a descending sequence that leads from D♭7 down to E major. The bridge melody is also slightly bluesy, with a more complex diversion in the last two measures. The C section ends the same as the first A section. The fourth measure of the bridge has a stepwise "walk-up" as a brief countermelody, indicated in the lead sheet. Though not overtly a boogie-woogie figure, this "walk-up" has a similar effect to the boogie-woogie bass line in the third measure of the bridge of Thelonious Monk's Ruby, My Dear.

Though Herbie's original manuscript shows the chord in the third measure as B augmented, he always plays a major chord here so our lead sheet shows B major. The chord of the fifth measure, however, is A augmented.

The intro is only distantly related to the head. The one-beat anticipation of Gm(maj7), which starts the head, is here used to lead into another vaguely Dixieland-sounding texture, with a Cm7 chord played lightly on each offbeat. This two-measure phrase is repeated twice, with no drum break leading into the head. However, when it reappears as a coda, it is bracketed by two four-measure drum breaks. Max Roach plays an unusual groove in the intro, with quarter-note triplets on the hi-hat added to the swing time on the cymbal. His last break in the coda also uses this texture.

A Piano Melody Transcription is available for the in and out heads; click on Piano Corner for more details.
Herbie recorded only one take of Sunday Stroll. This song's alternate title, shown on his original manuscript, is Revelations. Clusone 3, a Dutch trio with the instrumentation of alto sax, cello, and drums, recorded Sunday Stroll on their eponymous debut album in 1991. German pianist Simon Nabatov also recorded a version on "Spinning Songs of Herbie Nichols," a solo piano album of Nichols songs from 2007.
Our 6-page Piano Melody Transcription shows how Herbie played the in and out heads. His articulation and swing are subtly varied throughout; we have chosen not to notate all the nuance, but some notable accents are included. At this slower tempo, Herbie's swing eighth notes are often exaggerated into a shuffle feel, alternating quarter-note and eighth-note triplets or dotted eighth notes and sixteenth notes. The left hand voicings are simple though rhythmically varied; the last two measures of the A section are voiced in the right hand. The bridge also has simple right-hand voicings; many of these are actually only the upper extensions over the root, with no third or seventh.

For the out head, Herbie begins the melody in octaves in the right hand, one and two octaves above the register of the in head; this first A section is swung particularly heavily, so it is written with dotted eighth/sixteenth note rhythms. Herbie improvises on the second A section and returns to the melody at the bridge, with an interesting rhythmic variation. The out C section also begins with slightly different rhythms.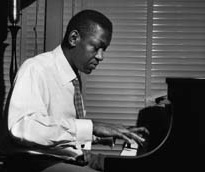 January 3, 1919 – April 12, 1963
Two years ago (January 3, 2019) we were at the Van Gelder Recording Studio celebrating Herbie's 100th birthday with his family and pianists Frank Kimbrough and Glenn Zaleski. Both Frank and Glenn each recorded a previously unrecorded Herbie Nichols composition, on the same piano Herbie played for his Blue Note sessions. These were the initial recordings that started my new project, the Herbie Nichols Solo Piano Summit. Read more...