'Orse At Safari

– Herbie Nichols

A medium-up swinger with stop-and-start rhythms in a slightly Monkish vein. Lead sheets and a 2-stave Piano Melody Transcription are available, as well as a transcription of Herbie's solo..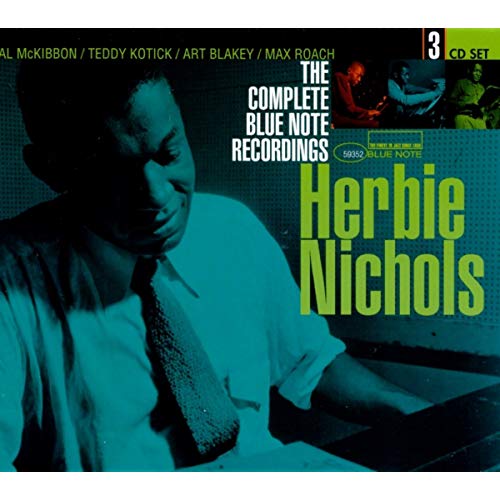 All selected items will be available for download after purchase.
Recording:

Herbie Nichols - Complete Blue Note Recordings of Herbie Nichols

Recorded on:

August 7, 1955

Label:

Mosaic (MR5-118)

Concert Key:

C

Vocal Range:

, to

Style:

Swing (medium up)
Piano - Herbie Nichols
Bass - Al McKibbon
Drums - Max Roach
With its stop-and-start rhythms in a conversational pattern, this song has a slightly Monkish quality. It's also reminiscent of Monk in its angular melody and the harmonic structure, with the chords of the A section creeping up and down in half steps. The opening motif is harmonized by C going to D♭7, and appears three times, each time with a different pickup; the second repeat is a variation that goes down to B7. The last two measures move to a contrasting A♭7. The bridge repeats a melodic phrase twice, a classic Nichols line with skips down and then steps up; it's harmonized differently each time, with resolutions to F and to G both involving tritone substitute V7 chords. The C section is 10 measures long; the A♭7 resolves with one more melody phrase back to C.

In several places the melody has a winding interval structure, such as the seventh measure of the bridge which alternates ascending half steps with descending whole steps. A similar phrase appears in the fourth measure of the A section, while the last phrase on the 8th measure of the C section mostly alternates ascending thirds and descending whole steps. Our lead sheet includes one short phrase that Herbie plays but isn't in Herbie's original manuscript; it's on the third and fourth beats of the seventh measure in the first A section. This passage is a variation of that in the same place in the second A section, which does appear in the manuscript.

The intro is only tangentially related to the head; it is an intervallic expansion of the winding structures that appear in a few places in the head, here alternating descending fourths and ascending thirds. These fourths are also an inversion of the ascending fourths that begin the head. There are no chords here, but a bass line also based on fourths; in the coda Herbie plays voicings of stacked fourths. Four measures long, the intro is followed by a four-measure drum break; when it reappears as a coda, it is both preceded and followed by four measures of drums. Max Roach actually plays the same break after the intro and after the coda, though the one preceding the coda is different. On the recording, the bass does not walk in the A and C sections of the head, instead playing the roots in a rhythm that lines up with the melody; this is notated in the lead sheet.

A Piano Melody Transcription is available for the in and out heads; , as well as a transcription of Herbie's solo; click on the Piano Corner and Solos tabs for more details.
The now- obscure title refers to Floyd "Horsecollar" Williams, a saxophonist whom Herbie played with at a club called Safari. Horsecollar is probably best known for his playing with trumpeter/vocalist Hot Lips Page. Only one take of 'Orse At Safari was recorded at this 1955 session. Jurg Bucher and Marty Krystall, both tenor saxophonists, coincidentally recorded their own versions of this song in 1999—both on albums entirely consisting of Herbie Nichols songs.
clip
A 9-page solo transcription is available, for a fascinating insight into Herbie Nichols' unique improvisation style. His solos constantly allude to his melodies, often simplified or rhythmically varied, with occasional forays into a well-defined, idiosyncratic vocabulary of varied eighth-note lines. Herbie plays five choruses. In many of the faster songs on his Blue Note recordings, he solos, trades with the drums for a chorus (or lets the drummer solo the entire chorus), and then continues soloing.
'Orse At Safari
contains no trading or drum solo, but Herbie's third chorus is sort of a dialogue with the drums. He plays sparse, comping-like figures, and Max Roach subtly fills in around these while continuing time on the cymbal. This middle chorus gives definition to the form of Herbie's solo. The first two choruses are closely related to the melody, with some very intriguing rhythmic displacement especially in the bridge of the first chorus. After the third chorus, Herbie starts using more of his eighth-note lines, flying over a wide range with dramatic leaps. The C sections of these two choruses feature more rhythmic displacement and transformation of the melody.
Don Sickler:
As you'll hear, Herbie has great energetic solo chops with nuances that make his personal musical language unique. Notating his energy is an impossible task. But not trying to indicate some of his personal nuances makes absolutely no sense to me. He's mostly not just running swing 8th notes; when he exaggerates the swing feel, we've indicated them as dotted 8ths to 16ths. We're also using two different sizes of accents; we could use three or four different sizes to try to define his energy, but that would make it too complicated for this first look at one of his solos. For this transcription we've shown some ghosted notes (x) and some general dynamics, but we've not made an attempt to document his world of dynamics. Herbie definitely has his own style, and how his energy defines this solo is worth a careful listen.
Our Piano Melody Transcription shows exactly how Herbie played the in and out head. His left hand voicings in the in head are very simple, mostly open fifths with a few single notes in the bridge. The out head is much more varied. He begins with the first phrase two octaves higher than the in head, with the left hand doubling two octaves below in the original register:
outheadclip
For the rest of the two A sections, he continues switching octaves and occasionally doubling the melody in the left hand two octaves below, alternated with comping. The bridge melody is also an octave above where it is in the in head, returning to the lower octave for the C section. The phrases on beats 3 and 4 of the seventh measure in both A sections are omitted in the out head; the eighth measure of the first A section is punctuated by a playfully widespread G7 chord on the second beat (this G7 is generally left out and appears in the lead sheet in parentheses). This transcription has articulations and accents clearly marked; small accent marks are used for notes that are just slightly more forceful than those around them, without being obviously accented.
Fortunately Herbie's own handwritten manuscripts still exist. Studying them, along with transcriptions of his recorded melodies (both right and left hand transcriptions), and in this case, also his nine-page solo transcription, provides insight into his enormous compositional vocabulary as well as into his tremendous piano chops. He and Monk are of the same generation; they were friends and played for each other. They have certain similarities, but careful study shows they both also developed their own language.
Thanks to
Ethan Iverson's Do The Math
blog you can get a fascinating look at these two giants together in an interview and article Herbie did with Monk back in 1946, when Monk was still a sideman in Coleman Hawkins' group. Monk and Nichols alongside
Elmo Hope
and a few others were great influences on each other.
https://ethaniverson.com/2017/11/07/herbie-nichols-on-thelonious-monk/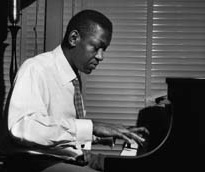 January 3, 1919 – April 12, 1963
Two years ago (January 3, 2019) we were at the Van Gelder Recording Studio celebrating Herbie's 100th birthday with his family and pianists Frank Kimbrough and Glenn Zaleski. Both Frank and Glenn each recorded a previously unrecorded Herbie Nichols composition, on the same piano Herbie played for his Blue Note sessions. These were the initial recordings that started my new project, the Herbie Nichols Solo Piano Summit. Read more...