Carl Perkins
August 16, 1928 – March 18, 1958
| | |
| --- | --- |
| Instrument | piano |
| Birthplace | Indianapolis, IN |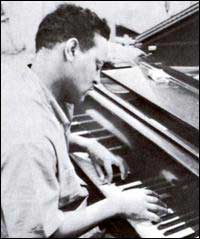 Do not confuse this Carl Perkins with the rockabilly guitarist with the same name. This Carl Perkins was an exceptional pianist who developed a unique style of playing the piano with an inimitable left-hand technique. Not much is known about him, despite the fact that one of his compositions, Grooveyard, went on to become rather famous. Born in Indianapolis, IN, he worked with Tiny Bradshaw and Big Jay McNeely (1948-1949) there, then moved to Los Angeles, CA, in 1949. He did his first recording session (his own date) that year in Los Angeles for Savoy Records.
He recorded his first sessions with Illinois Jacquet in 1951 and Oscar Moore (in 1954) and also a "live" Max Roach concert session (with Clifford Brown) in 1954. He was active on the West Coast recording scene from 1955 until two months before his death. His last session (a Harold Land date for Contemporary Records) produced his best known composition, Grooveyard, which has been recorded many times after his death.
Liner notes from Lester Koenig on a 2006 Curtis Counce compilation release suggested that Carl may have suffered from polio, which caused him to develop his unusual style. Carl himself explained his unorthodox left-hand technique this way: "When I was small, my hand was too little to make bass chords so I turned my hand around and used my elbow to make them."