Early Bird

– Carl Perkins

A medium swing head with a bluesy melody.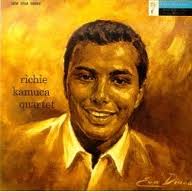 All selected items will be available for download after purchase.
Recording:

Richie Kamuca - The Richie Kamuca Quartet

Recorded on:

June, 1957

Label:

Mode (MOD LP 102)

Concert Key:

E-flat

Vocal Range:

, to

Style:

Swing (medium)
Tenor Sax - Richie Kamuca
Piano - Carl Perkins
Bass - Leroy Vinegar
Drums - Stan Levy
Our audio excerpt starts with a four-measure introduction by composer/pianist Carl Perkins to set up the melody. His intro is notated in the C treble clef lead sheet. The melody is played by tenor sax on the recording, but we've also made a trumpet edition. This is a 32-measure AABA form composition. There's an optional melody written for the bridge, or you can improvise on the bridge changes.

Mode Records was a very short-lived West Coast label (our research indicates they started recording in June of 1957, and stopped recording in September of 1957). Within these four months, however, they recorded around 30 albums. The first Mode album was numbered 100, a Herbie Harper session. Richie Kamuca was a sideman on Mode's second session, with drummer/leader Stan Levey (Mode 101). This led to Richie's own album next
(Mode 102
with composer/pianist Carl Perkins).
After the Kamuca recording, we know that Carl did a television broadcast with leader Herbie Mann (KABC-TV "Stars of Jazz" Show, LA) on July 8, 1957. Next, on July 12, Carl played on Pepper Adams' Mode session (Mode 112). Three days later, on July 15, Carl recorded on a Leroy Vinnegar session for Contemporary Records.
Carl's twenty-ninth birthday was on August 16. After doing a Curtis Counce session, also for Contemporary, on August 29, he was back in the studio for Mode in September, first as a sideman for Victor Feldman (Mode 120). Next came his own solo piano session on September 13, where he recorded four tracks for a Piano Playhouse project (Mode 128).
For more information about recordings of
Carl Perkins
, check out Noal Cohen's Jazz History website.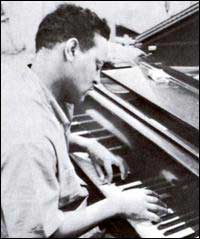 August 16, 1928 – March 18, 1958
Do not confuse this Carl Perkins with the rockabilly guitarist with the same name. This Carl Perkins was an exceptional pianist who developed a unique style of playing the piano with an inimitable left-hand technique. Not much is known about him, despite the fact that one of his compositions, Grooveyard, went on to become rather famous. Born in Indianapolis, IN, he worked with Tiny Bradshaw and Big Jay McNeely (1948-1949) there, then moved to Los Angeles, CA, in 1949. He did his first recording session (his own date) that year in Los Angeles for Savoy Records. Read more...