Fire One

– Carl Perkins

This bluesy head has an 18-bar form. To learn Carl Perkins's response fills to the melody, make sure to get the C lead sheet.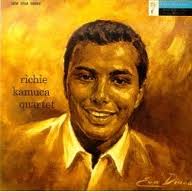 All selected items will be available for download after purchase.
Recording:

Richie Kamuca - The Richie Kamuca Quartet

Recorded on:

June, 1957

Label:

Mode (MOD LP 102)

Concert Key:

F minor

Vocal Range:

, to

Style:

Swing (medium)
Tenor Sax - Richie Kamuca
Piano - Carl Perkins
Bass - Leroy Vinegar
Drums - Stan Levy
Our audio clip starts right at the beginning of the track with the melody. Composer/pianist Carl Perkins' answering melodic fills to the melody are notated in the C treble clef lead sheet. The melody and solos are on an 18-measure form. The solo section is notated separately on all lead sheets.

This composition was recorded on the
same album
as
Early Bird
. Check out the historical notes there for some interesting facts about Carl and the record company. Carl, one of the great "groove" players and composers in the 1950s, worked mainly on the West Coast scene, playing and recording with Clifford Brown, Harold Land and others active in that area.
For information about
Carl Perkins
's recordings, check out Noal Cohen's Jazz History website.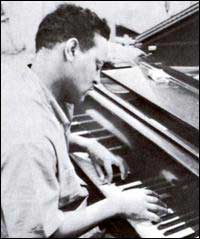 August 16, 1928 – March 18, 1958
Do not confuse this Carl Perkins with the rockabilly guitarist with the same name. This Carl Perkins was an exceptional pianist who developed a unique style of playing the piano with an inimitable left-hand technique. Not much is known about him, despite the fact that one of his compositions, Grooveyard, went on to become rather famous. Born in Indianapolis, IN, he worked with Tiny Bradshaw and Big Jay McNeely (1948-1949) there, then moved to Los Angeles, CA, in 1949. He did his first recording session (his own date) that year in Los Angeles for Savoy Records. Read more...