Carl's Blues

– Carl Perkins

A slow blues in the unusual key of A-flat. Lead sheets and second parts available.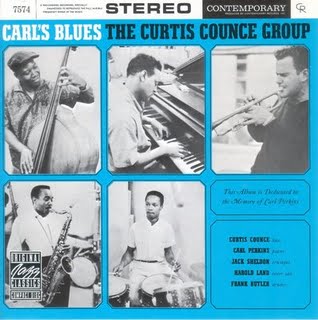 All selected items will be available for download after purchase.
Recording:

Curtis Counce - Carl's Blues

Recorded on:

January 6, 1958

Label:

Contemporary (M 3574)

Concert Key:

A-flat

Vocal Range:

, to

Style:

Swing (medium slow)
Trumpet - Gerald Wilson
Tenor Sax - Harold Land
Piano - Carl Perkins
Bass - Curtis Counce
Drums - Frank Butler
Our audio excerpts starts with the melody. The recording itself starts with four measures of rhythm section. Carl's great mood-setting piano improvisation from the beginning is notated in the C treble clef lead sheet. They take it at a groovy slow tempo that's always a challenge to keep from rushing. Here's your chance to get your concert A-flat blues chops together.

In the beginning of 1957, Carl was still 28. He didn't turn 29 until August 16 of that year. But by 1957 he had already become quite in demand, recording at least 25 sessions that year as well as appearing on four television broadcasts. He only recorded 3 more sessions, in January, 1958, and died at 29 on March 17, 1958. A tragic loss of an artist at a young age.
Note that his earlier recording of
Carl's Blues
on "Introducing Carl Perkins - 1956" was not this song, but a different one with the same title.
For more information about recordings of
Carl Perkins
, check out Noal Cohen's Jazz History website.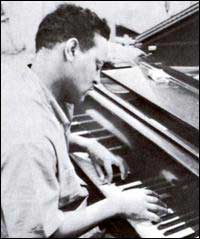 August 16, 1928 – March 18, 1958
Do not confuse this Carl Perkins with the rockabilly guitarist with the same name. This Carl Perkins was an exceptional pianist who developed a unique style of playing the piano with an inimitable left-hand technique. Not much is known about him, despite the fact that one of his compositions, Grooveyard, went on to become rather famous. Born in Indianapolis, IN, he worked with Tiny Bradshaw and Big Jay McNeely (1948-1949) there, then moved to Los Angeles, CA, in 1949. He did his first recording session (his own date) that year in Los Angeles for Savoy Records. Read more...