Chitlins Con Carne

– Kenny Burrell

This riff blues head from Kenny Burrell's iconic "Midnight Blue" album combines a tough, funky low-register melody and a tasty groove—probably his most most recognizable title, covered by many other artists.
Recording:

Kenny Burrell - Midnight Blue

Recorded on:

January 8, 1963

Label:

Blue Note (BLP 4123)

Concert Key:

C minor

Vocal Range:

, to

Style:

Latin (groove - medium)
Tenor Sax - Stanley Turrentine
Guitar - Kenny Burrell
Bass - Major Holley
Drums - Bill English
Conga - Ray Barretto
This simple, funky riff blues head is an iconic example of early '60s soul-jazz. Though it's written in C minor, it's really a "major" blues with the tonic chord C7; Kenny Burrell comps C7(♯9) around the melody. Our lead sheet includes the rhythms of Kenny's comping figures that fill in around the melody phrases, which he also plays. We also include the bass line of the intro; in the head the bass switches to a simpler 2-feel.

The groove on this recording is distinctive - like a relaxed bossa but slightly swung. The head is all low register, with unison guitar and tenor sax in the bottom of the latter's range, resulting in a rich, tough ensemble sound.
After a rare, month-long break from recording in the studio, Kenny Burrell arrived at Van Gelder Studio on January 8th, 1963, for a double-header, recording both Jack McDuff's "
"Something Slick
with
Harold Vick
, Joe Dukes, and Eric Dixon (which features Vick's
Our Miss Brooks
) and his own
Midnight Blue
. It's on this
latter album
, Burrell's most popular one as leader and debatably his magnum opus, that
Chitlins Con Carne
was first recorded. Among the many recordings of this song is one on another '60s Blue Note album recorded at Van Gelder Studio: organist Big John Patton's "Understanding" from 1968.
On
Chitlins Con Carne
,
Burrell
is a master of taste and restraint, carving out chorus after chorus of forceful and lyrical blues phrases over the swirling accompaniment of Major Holley, Ray Barretto, and Bill English.
Burrell's touch is especially notable, with the vastly different volumes within the call-and-response between his chord stabs and linear statements demonstrating immense control over dynamics and melodic development. His sensitive touch is also apparent during the melody statements, in which he alternates between perfectly blending with saxophonist Stanley Turrentine's burly sound and inserting chordal punctuations.
Recording:

Jimmy Smith - The Master

Recorded on:

December 24-25, 1993

Label:

Blue Note (CDP8-30451-2)

Concert Key:

F minor

Vocal Range:

, to

Style:

Swing (medium)
Guitar - Kenny Burrell
Organ - Jimmy Smith
Drums - Jimmie Smith
A swinging version of Chitlins Con Carne, faster than the original recording, leaning towards medium up swing, and in the key of F minor. The melody is slightly different: each phrase has one fewer eighth note at the beginning, starting on the "and" of beat 2 instead of on 2.

Jimmy Smith starts the melody by himself, with Kenny Burrell comping at first and joining him on the melody at the turnaround of the first chorus. The second chorus and both choruses of the out head have guitar and organ unison melody. The last four measures are tagged twice. Our audio except starts with the second melody chorus.

Only the C treble clef lead sheet for this version is available now. More than one lead sheet for a song definitely tends to confuse people. "Which is the correct lead sheet?" There are a lot of ways this piece has been explored. We want you to also be able to see this version, since it's also a Burrell recording, and this version is a "swinger."
This live recording is from Osaka, Japan. Organist Jimmy Smith and drummer Jimmie Smith first recorded together with Kenny Burrell on the latter's two 1975 albums "Ellington Is Forever," volumes 1 and 2.

The decision to play Chitlins Con Carne in F instead of the original key of C is a great example of the kind of off-the-cuff choices that can happen in a live performance setting. Jimmy starts the song by himself—just one among the countless blues heads in his memory; F must have felt like the natural key for this song in this moment. This song, like many blues heads, works just as well in a different key.
While the original recording of
Chitlins Con Carne
featured a slower, funky groove, this take from organist Jimmy Smith's album "
The Master
" transports the tune to a peppier medium swing. With our lead sheet for this version, you can replicate the dynamic phrasing of Smith and Burrell. Also included is the tag that the band plays to end the song. This is a great resource for beginner to intermediate guitarists looking to work on a jazz blues.
Recording:

Jeanfrançois Prins - Three Guitars Playing

Recorded on:

April 4, 2008

Label:

jazzleadsheets.com (JLS 1047)

Concert Key:

C minor

Vocal Range:

, to

Style:

Latin (groove - medium)
Guitars - Ben Cassorla and Jeanfrançois Prins
Part of our "
Three Guitars
" series, this arrangement of Kenny Burrell's
Chitlins Con Carne
is a wonderful way for beginner guitarists to improve their time-feel and reading abilities in a musical setting. Guitarists can take turns playing either the melody, bass line or chord part in order to develop their pulse, articulation, finger dexterity and sight reading. Indeed, guitarists might surprise themselves with just how groovy they'll sound playing this arrangement in a short time.
Tablature for all three parts as well as play-along recordings that allow for the first or second parts to be removed are provided to assist with the practicing process.
This 3-guitar arrangement is modeled after Kenny's classic version found on his "
Midnight Blue
" album.
This is a composition by the legendary jazz guitarist Kenny Burrell, this time arranged for three guitars alone. Each part also has Tablature staves.

Our audio excerpt starts with the intro (guitars 2 & 3 setting up the melody entrance for guitar 1). Our Full Score edition shows how the three parts fit together.

If you are an inexperienced jazz guitarist, we'd recommend learning the Guitar 3 part first. See the Guitar Corner tab for more.
Suggestions for the Inexperienced Guitarist:
The easiest way for you to get started would be to explore the Guitar 1 part and the MP3 no guitar 1 track
clip
. First you want to make sure you have the notes together on the guitar, so just make sure you're able to play the part note after note, not worrying about the rhythms until you've got the notes together. Once you have the notes on the guitar, just put on the MP3 track and go for it! Make sure you lock in the melody with Guitar 2's comping and Guitar 3's bassline.
Once Guitar 1 is comfortable for you, check out Guitar 2, where you are playing the chordal accompaniment. Try the same procedure, using the MP3 no Guitar 2
clip
.
When Guitar 2 is comfortable, get Guitar 3 together in the same way. There is no minus Guitar 3 track. You need Guitar 3 (the bass part) to start the arrangement, and hold the other 2 parts together. Once you've learned the Guitar 3 part, play it along with Guitar 3 using the Complete Mix track.
Another fun way to use the Guitar 2 and Guitar 3 parts is to figure out how to play them with Kenny's original recording. Locking in with this classic recording will really help you get this type of phrasing together.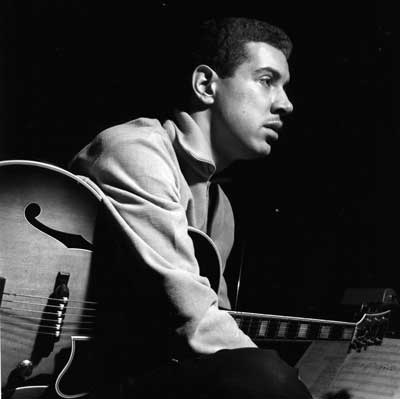 born on July 31, 1931
Duke Ellington's favorite guitar player, Kenny Burrell has influenced musicians worldwide. His career spans decades, from his first recording session with Dizzy Gillespie at the age of twenty to his current job as head of the jazz program at UCLA. Read more...