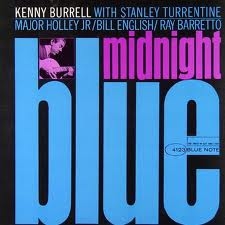 Midnight Blue
Leader: Kenny Burrell
Label: Blue Note (BLP 4123)
Recorded at the legendary Van Gelder Studio in Englewood Cliffs on January 8th, 1963.
Personnel: Guitar - Kenny Burrell Tenor Sax - Stanley Turrentine Bass - Major Holley Drums - Bill English Congas - Ray Barretto
Kenny's Sound
was recorded on the same session at the Van Gelder Recording Studio on January 8, 1963, but it did not appear on the original LP. It is, however, available on the CD edition of "Midnight Blue:" Blue Note 7-46399-2 .