Midnight Blue

– Kenny Burrell

A medium groove piece with a classic early '60s mellow sound.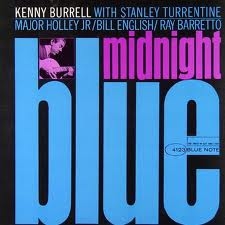 All selected items will be available for download after purchase.
Recording:

Kenny Burrell - Midnight Blue

Recorded on:

January 8, 1963

Label:

Blue Note (BLP 4123)

Concert Key:

F minor

Vocal Range:

, to

Style:

Swing (groove - medium)
Guitar - Kenny Burrell
Bass - Major Holley
Drums - Bill English
Conga - Ray Barretto
Midnight Blue is full of the early '60s groove—that cool, laid back sound. It recalls a minor blues, but eschews the standard form: the A section is harmonically static and the B section contrasts with harmonic motion (but does not venture from F minor). The static eight-bars of the A section produces interesting solo content as it forces the musicians to explore the scale without support of harmonic motion. Our audio excerpt starts with Kenny's classic groove introduction which sets up the melody. The intro is clearly notated in our C treble clef lead sheet.

This album was a favorite of Alfred Lion's, the owner and founder of Blue Note Records. The label still remembers the album as a capture of Blue Note's "golden era." "It justifiably occupies a place in the jazz canon, a common entry on countless essential listening lists," wrote Aidan Levy (jazz critic of the Village Voice). To read more of Levy's thoughts on this seminal release, check out his
post
on Blue Note's blog.
At the jazzleadsheets.com studio, engineer Rudy Van Gelder recalls the "Midnight Blue" session: "The studio was just the way it was when it was built, before the days of isolation booths. A big space with nice natural sound. Kenny's groovy music and his sound happened to fit very well with that room. When I go back to the atmosphere of that session, I remember that they wanted to get a good feeling. It was a performance of the moment."
Coming out of the tradition of extended minor stomps that let musicians straddle the line between deep blues and bop steeplechase (think Bobby Timmons' Moanin', Charles Mingus' Jump Monk, Eddie Durham and Edgar Battle's Topsy, etc.),
Burrell
's
Midnight Blue
is not only a groovy ear-worm, but a showcase for his wide grasp on the whole language of jazz guitar up to that point in time.
From scintilating bursts of double-time bebop, to filthy, blues-drenched double stops, to sophisticated chord-soloing, Burrell covers the entire continuum of the guitar vocabulary with supreme taste and musicality to spare.
Get the C treble clef lead sheet to enjoy!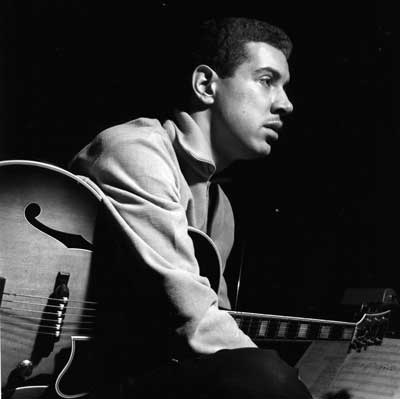 born on July 31, 1931
Duke Ellington's favorite guitar player, Kenny Burrell has influenced musicians worldwide. His career spans decades, from his first recording session with Dizzy Gillespie at the age of twenty to his current job as head of the jazz program at UCLA. Read more...