Kenny's Sound

– Kenny Burrell

A "rhythm changes" riff head with stop-time pedal figures. The bridge changes are different in Kenny Burrell's and Jimmy Smith's recordings; both are shown on our lead sheet.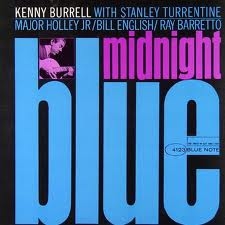 All selected items will be available for download after purchase.
Recording:

Kenny Burrell - Midnight Blue

Recorded on:

January 8, 1963

Label:

Blue Note (BLP 4123)

Concert Key:

B-flat

Vocal Range:

, to

Style:

Swing (uptempo)
Tenor Sax - Stanley Turrentine
Guitar - Kenny Burrell
Bass - Major Holley
Drums - Bill English
Conga - Ray Barretto
This "rhythm changes" riff head is spiced with pedal stop-time figures in the first four measures. The melody combines diatonic swing-to-bebop vocabulary with more angular lines based on 4ths, including a rising series of 4ths in the last two measures of each A section.

The bridge changes are different from the standard "rhythm changes" bridge; on this recording the bridge goes to E♭ and then D♭.

On this recording, tenor sax and guitar have the melody in unison on the A section (plus guitar octaves in the last two measures). Kenny plays the bridge melody in block chords, with the top line in unison with the tenor. A one-measure coda is added with a melody break and final hit.

Our lead sheet shows both the bridge changes from this version and Jimmy Smith's (alternate changes are below the staff). The bridge melody could conceivably work with the alternate changes, though it's not played on the Jimmy Smith recording.
Kenny's Sound
took a while to be heard. Kenny Burrell first recorded it around 1950 on an obscure 78 with his local band in Detroit, the Four Sharps—also the first recording of pianist Tommy Flanagan! Kenny recorded it again in 1957 at the session for his third Prestige album, "Blue Moods" (featuring Flanagan, Elvin Jones,
Cecil Payne
and
Doug Watkins
) but this track was never issued.
The version from the 1963 "
Midnight Blue
" session was unissued until the CD release in 1986. The first widely available recording of
Kenny's Sound
came later in 1963, when Kenny recorded it with Jimmy Smith on the Verve album "Blue Bash."
It's interesting to hear how
Kenny Burrell
translates his melody, which goes between fourths-based A sections and a simple, diatonic B section, onto the guitar in this otherwise chordless context. On the A sections, he sets an understated atmosphere, playing the melody entirely in unison with tenor saxophonist Stanley Turrentine (plus a few octaves at the end of each A) atop a sparse rhythm section. However, Burrell explodes into the B sections, transforming the melody into a chordal salvo alongside Turrentine.
Burrell's solo on this song, which has "rhythm changes" A sections and a simple, descending bridge, is a hallmark showcase of his characteristic tastefulness and rich tone, seamlessly weaving between bluesy stabs and bebop threading in a manner that reflects a mastery of both.
With no piano present, Burrell also lays down some grooving and driving comping behind Turrentine's solo, making frequent use of bluesy double stops and repeating rhythms to lock in the band beneath Turrentine's preaching.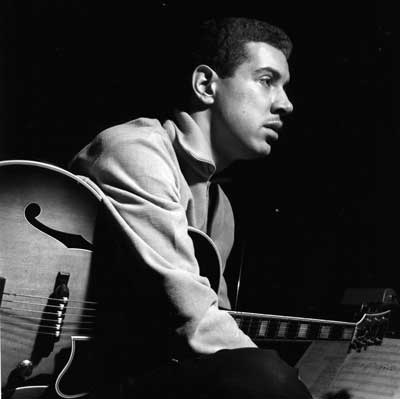 born on July 31, 1931
Duke Ellington's favorite guitar player, Kenny Burrell has influenced musicians worldwide. His career spans decades, from his first recording session with Dizzy Gillespie at the age of twenty to his current job as head of the jazz program at UCLA. Read more...