Kenny Dorham
August 30, 1924 – December 15, 1972
| | |
| --- | --- |
| Instrument | trumpet |
| Birthplace | Fairfield, TX |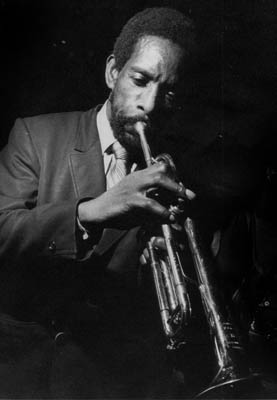 Trumpeter/composer Kenny Dorham was very much on the jazz scene from the mid-1940s through most of the 1960s. He worked and recorded with all the major figures in the modern jazz movement, which includes the legendary Billy Eckstine big band, Dizzy Gillespie, Art Blakey, Bud Powell, Charlie Parker, Thelonious Monk and Max Roach as well as Kenny Clarke, Sonny Stitt, Fats Navarro, J.J. Johnson and many other giants of that period.
Dorham, known as K.D., continued in the '50s and '60s to play and record with the who's who of the hard bop era as well, developing important associations with Hank Mobley, Jackie McLean, Joe Henderson and so many more. Always kept in the highest regard by the musicians he worked with, Kenny never got the public attention that he deserved. Jackie McLean says it very well: "Kenny during his whole lifetime never got the accolades and never got the roses that he should have received for all that he gave us."
A personal note from Don Sickler: K.D. wasn't just a great individual trumpet stylist who developed his own sound and linear harmonic language (listen to Kenny's "turnbacks"—how he gets to the end of the harmonic progression—and you'll certainly know what I'm talking about). He was also a great composer and arranger who created new rhythm section textures, often giving each rhythm section player his own distinctive part. I can see that one of my long term goals is going to be fulfilled with jazzleadsheets.com: it's given me the opportunity to help you study Kenny Dorham's music in depth.