Sao Paulo

– Kenny Dorham

A funky Latin Kenny Dorham composition with a laid-back vibe. This great arrangement has separate parts for the rhythm section (piano, bass and drums), along with melody and second parts, all downloadable here. Also check out Kenny Dorham's transcribed trumpet solo, available in B-flat and C editions, for new soloing ideas.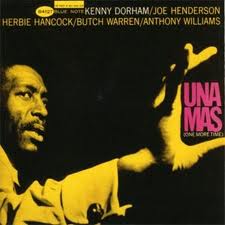 All selected items will be available for download after purchase.
Recording:

Kenny Dorham - Una Mas

Recorded on:

April 1, 1963

Label:

Blue Note (BLP 4127)

Concert Key:

A-flat minor

Vocal Range:

, to

Style:

Latin (Funky)
Trumpet - Kenny Dorham
Tenor Sax - Joe Henderson
Piano - Herbie Hancock
Bass - Butch Warren
Drums - Tony Williams
Video
Al Foster (d), Doug Weiss (b), Jorge Rossy (marimba)
Mike Sailors (tpt), Elias Haslanger (ts), David Mesquitic (p), Ryan Hagler (b), Daniel Dufour (d), Live in Austin, Texas
HardBop Sextet: Sergio Wagner (tpt), Juan Ignacio Méndez (ts), Juan Canosa (tb), Alan Zimmerman (p), Germán Lamonega (b), Sebastián Groshaus (d), 2/23/12
As with many of
Kenny Dorham's
compositions, a C treble clef lead sheet can only give you an approximation of the complex instrumental interactions Kenny wrote. As in this composition, often the rhythm section players have very specific roles requiring individual parts. This composition has a four-page piano part, for example.
Everyone in the rhythm section has their own role; you can hear it in our audio excerpt which starts at the melody. The melody is set up beautifully by a 20-measure intro, starting with the rhythm section alone for eight measures. The horns enter softly for twelve measures of harmonies (with tremolos). The form of the melody is AAB, ending with a 6/4 measure that sets up an eleven-measure Interlude to introduce the first soloist. The Interlude is played again between soloists.
The solo form is the same, 12(A)-12(A)-9(B), except the first four measures of the A section and the B section are swing (instead of all Latin as in the melody. The last measure of the B section returns to the 6/4 melody measure that either sets up another solo chorus or returns to the interlude. The Interlude can set up the next soloist or, after the last soloist, the out melody. The composition ends with a Coda that utilizes the tremolo horn effect again. This is another masterpiece from the
landmark session
that also produced
Una Mas
and
Straight Ahead
.
"Una Mas"
was recorded at the legendary
Van Gelder Studio
in Englewood Cliffs.
Don Sickler: "I had the honor of working on two recording projects with two of my major trumpet heroes, Freddie Hubbard and Woody Shaw. They wanted to pay tribute to some of the important trumpet players they admired. K.D. (Kenny Dorham) was one of those, and they paid tribute to him on each of their albums together. For the first album, Freddie suggested
Lotus Blossom
, and for the second, Woody said he always wanted to do
Sao Paulo,
which quickly became a unanimous choice. Aside from that recording, and
K.D.'s recording
, I don't know of any others. Now that the music is available, maybe you'll be the next one to record it."
To dig deeper into Kenny's music, get pianist
Walter Davis Jr.
's book of piano arrangements for 30 Dorham titles
K.D.: 30 Compositions by Kenny Dorham.
Walter was a close friend and playing companion of Kenny's and his piano arrangements show the intricate interaction between melody, harmony and rhythm that makes Dorham compositions so unique and compelling.
Transcribed Trumpet Solo:
Providing an audio clip for the solo serves two purposes here. First, you get a glimpse of Kenny's great solo
trumpet
. Second, you can hear how the ending 6/4 measure of the melody moves directly into swing to start the soloists. After four measures, it returns to Latin.
Piano Comping Voicings à la series
On Kenny Dorham's
Sao Paulo
, we can see great examples of classic Herbie Hancock voicings, including large two-handed chords with upper structure triads, and clever orchestrations of 13th chords and melodic minor scales. Although he has many hip voicings to work with, at the end of every B section he always plays the same voicings and rhythms. This is a noteworthy musical decision, as this tricky section in the form needs to be clearly articulated.
The
à la
series (in the style of) provides a sample chorus of voicings drawn from the song's original recording, but notated as
footballs
: simple whole notes and half notes, or the basic harmonic rhythm of the chord progression of the solo section. They are also annotated, showing the original chord symbol above the voicing, as well as any extensions below the voicing. The idea is that these voicings could be of varied uses to any level of pianist—a beginner pianist could play the music exactly as on the page and provide a supportive and harmonically hip sounding accompaniment to a soloist, while a more advanced pianist could use these same voicings with varied rhythms in the style of the recording. Ultimately, a pianist would be able to absorb how these voicings were derived from the chord symbols, and then be able to create their own.
Essential Bass part LEVEL 4 (Butch Warren, bassist)
Trumpeter/composer Kenny Dorham loved to explore rhythms from other parts of the world. This particular tune is his dedication to the largest city in Brazil, Sao Paulo. He decided to challenge the bassist, Butch Warren, by giving him this tricky counter melody in thumb position in the key of C-flat. A serious challenge for any bassist!

There are many different and very specific sections to the bass part—it's a fun read. And once the trumpet solo hits and they begin to swing, if you're playing along, you've got an unbeatable rhythm section of Herbie Hancock on piano and Tony Williams on drums (who at this point in time were just about to join forces in Miles Davis's second great quintet rhythm section!)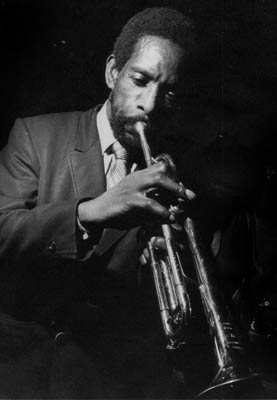 August 30, 1924 – December 15, 1972
Trumpeter/composer Kenny Dorham was very much on the jazz scene from the mid-1940s through most of the 1960s. He worked and recorded with all the major figures in the modern jazz movement, which includes the legendary Billy Eckstine big band, Dizzy Gillespie, Art Blakey, Bud Powell, Charlie Parker, Thelonious Monk and Max Roach as well as Kenny Clarke, Sonny Stitt, Fats Navarro, J.J. Johnson and many other giants of that period. Read more...