Una Mas

– Kenny Dorham

A classic Latin jazz head with an edgy rhythmic vibe that makes it immediately distinguishable. Solo piano arrangement also available.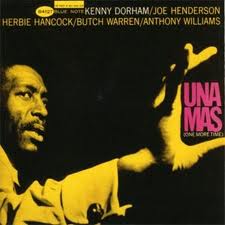 All selected items will be available for download after purchase.
Recording:

Kenny Dorham - Una Mas

Recorded on:

April 1, 1963

Label:

Blue Note (BLP 4127)

Concert Key:

B-flat

Vocal Range:

, to

Style:

Latin (Mambo)
Trumpet - Kenny Dorham
Tenor Sax - Joe Henderson
Piano - Herbie Hancock
Bass - Butch Warren
Drums - Tony Williams
Video
Roy Hargrove's Crisol band performing Una Mas
Steve Grossman's version from his album "Homecoming" (Steve Grossman, tenor sax; Tom Browne, trumpet; Bill Washer, guitar; Larry Willis, piano; Ruben Rodriguez, bass; Joe Farnsworth, drums; Roberto Quintero, congas; Ralph Irizarry, timbales)
Ben Paterson, organ; Peter Bernstein, guitar; George Fludas, drums playing Una Mas - Live at The Green Mill
Our audio excerpt starts with Kenny Dorham's classic horn melody. It's set up on the recording by an eight-measure introduction: four measures of solo piano, then bass and drums enter, setting up the groove. The intro is included in the C treble clef lead sheet.

As Kenny Dorham says of the recording in the original liner notes: "The groove was very good. And when you get that relaxing a groove, you just don't stop. Besides, the enthusiasm of the other guys seemed to be rising as we went along so there was no danger of losing freshness." Una Mas became the whole first side of the original LP (15 minutes and 16 seconds!). Now, thanks to Amazon, you can download it as a separate track.

Kenny's two-horn arrangement from the original album is available; the separate parts include his classic shout chorus.
"Una Mas"
was recorded at the legendary
Van Gelder Studio
in Englewood Cliffs.
In addition to being a Blue Note Records hit for Kenny Dorham, "
Una Mas
" was also Joe Henderson's first official recording date. The "Una Mas" rhythm section had already recorded together a month and a half earlier for Blue Note. That was Tony Williams's first recording ("Vertigo" / Jackie McLean). Pianist
Ronnie Mathews
had always told me that he played
Una Mas
with Kenny Dorham before Kenny's Blue Note recording. Thanks to a radio broadcast, an earlier performance (January 15, 1963) has now been released with Ronnie on piano, Kenny on trumpet and Joe Henderson on tenor sax. Interestingly, radio announcer Alan Grant calls it
My Injun From Brazil.
This track can be purchased on
Amazon
.
The landmark April 1, 1963, session produced many masterpieces, among them
Una Mas
.
Sao Paulo
and
Straight Ahead,
also from this session, are also available on jazzleadsheets.com.
Solo Piano Arrangement: Don Sickler: "We're also making a solo piano arrangement by Ronnie Mathews available. Ronnie did this arrangement for me several years ago, before I knew that the performance of Ronnie with Kenny Dorham had been preserved. Ronnie had played a lot of K.D.'s music with him over the years, and he was always interested in being part of any K.D. project I was working on. In addition to playing with me in the T.S. Monk Band, which played several Dorham titles, Ronnie also played at Kenny's 75th Birthday Celebration and the other Dorham festivals at the Jazz Standard, NYC."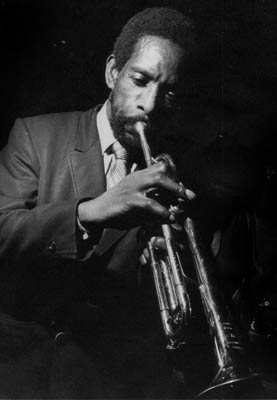 August 30, 1924 – December 15, 1972
Trumpeter/composer Kenny Dorham was very much on the jazz scene from the mid-1940s through most of the 1960s. He worked and recorded with all the major figures in the modern jazz movement, which includes the legendary Billy Eckstine big band, Dizzy Gillespie, Art Blakey, Bud Powell, Charlie Parker, Thelonious Monk and Max Roach as well as Kenny Clarke, Sonny Stitt, Fats Navarro, J.J. Johnson and many other giants of that period. Read more...