Horn Salute

– Kenny Dorham

A very intriguing Kenny Dorham composition, with lots of question-and-answer activity and interplay between the melody and rhythm section, plus a unique soloist challenge: K.D. continues his composition through the first 14 measures of each soloist, integrating a super-slick written rhythmic bass line with stop and go figures for the rest of the rhythm section. Our "K.D. Challenge" version has separate Minus You audio tracks for each instrumentalist.
All selected items will be available for download after purchase.
Recording:

Kenny Dorham - Jazz Contemporary

Recorded on:

February 11, 1960

Label:

Time (LPM 52004)

Concert Key:

E-flat minor

Vocal Range:

, to

Style:

Swing (medium)
Trumpet - Kenny Dorham
Baritone Sax - Charles Davis
Piano - Steve Kuhn
Bass - Butch Warren
Drums - Buddy Enlow
This lesser-known composition is one of the most advanced and highly arranged Dorham compositions. As with many other Dorham titles, the arrangement
is
the composition, particularly with regard to the rhythm section (see
About the K.D.Challenge
for more insights). The rhythm section parts are truly part of the composition. The melody is accompanied by a barrage of rhythm section figures and changes of feel, including stop-time hits, a 12/8 Latin groove, implied half-time feel, and pedal on beats 2 and 4. In fact, there is no point in the head where the rhythm section is just playing swing "time," though the bass does walk through piano and drum figures in some of the bridge. This activity continues for the solo section; at the beginning of each chorus, the soloist is accompanied by bass figures that fill breaks between piano and drum hits. On this recording, the B and C sections of the 42-measure solo chorus (E and F in our parts) are played with a 2-feel.
Over all this rhythmic activity, the melody is flowing and diatonic. The chord progression is also relatively diatonic, with diversions to a descending series of key centers in the bridge. We have chosen to use the key signature of E♭ major instead of E♭ minor to make it easier to read, especially for the piano and bass.
Check out K.D.'s use of his unique tonic minor chord, basically voiced (from bottom to top) root/minor 3rd/sharped 5th and 9th (NO 7th). Listen to how great the melody's natural 5th sounds above this voicing!
Don Sickler:
For years, pianists Cedar Walton and Ronnie Mathews, both of whom played extensively with Kenny Dorham, would bring up the uniqueness of this chord to me, calling it "
the
K.D. chord."
The form consists of three 14-measure sections, with the C section a variation of the A. The beginning of the C section, with its stop-time, has a push ahead feeling on this recording; we have honored this in our "
K.D. Challenge
" version, and indicate "lean forward" in the parts (as an opposite of "lay back").
Click on the Bass Corner tab for more information specifically regarding the bass part.
"
Jazz Contemporary
" was the first of Kenny Dorham's two albums for the Time label; the second was "Showboat," recorded in December 1960. Most of the quintet heard on "Jazz Contemporary," with Tommy Flanagan on piano instead of Steve Kuhn, had recorded a month earlier for the Jaro label, "
The Arrival Of Kenny Dorham
." We know drummer Arnold "Buddy" Enlow recorded on these two albums and a live James Moody album the following year, and his
discogs.com
profile says he also worked with Nina Simone, Dinah Washington, Billy Eckstine and others.
"Jazz Contemporary" was pianist Steve Kuhn's very first recording. It was Butch Warren's second recording; his first was on K.D.'s "
Arrival
" album the previous month. Kenny also had Butch on his classic "Una Mas" recording in 1963, and two months later they were both on Joe Henderson's "
Page One
" album, premiering Kenny Dorham's classic
Blue Bossa
. You can check out
Butch Warren
features on our site as well as all his other
jazzleadsheets.com
titles as well.
Saxophonist Charles Davis unfortunately passed away in 2016. Charles was an important baritone saxophonist; he also played on K.D.'s "
Arrival
" album.
Don Sickler:
Charles was very helpful to me in trying to preserve K.D.'s legacy through many conversations, and he gave me music he had kept from his recordings and rehearsals with K.D. I got to spend quite bit of time with Charles in the 1980s once I started to play in drummer
Philly Joe Jones
' group. Charles was playing baritone on my first gig with Philly Joe, then he became Philly Joe's quartet tenor saxophonist. I would get to join the group when the gig was for quintet. Charles also played the tenor sax chair in Philly Joe's group celebrating the music of
Tadd Dameron
,
Dameronia
, including Joe's two recordings of the band.
Note from Don Sickler:
This is a perfect example of why we feel it's so important to be able to see the melody while you figure out how your part works with the rest of the ensemble. Our parts show the melody on a smaller staff above the bass line (same for other rhythm section members). In preparing for our 2001 recording session of this composition, I remember discussing the solo choruses with my bassist, Tim Givens, and we decided that after the first 14 measures of bass line figures, he would essentially walk the rest of each chorus. You can do the same, or, you can get further stimulation and insight from studying Butch Warren's original complete bass line for Kenny Dorham's two solos choruses on the original recording. See below.
Butch Warren's transcribed bass lines behind Kenny Dorham's trumpet solo
One thing that makes the original recording special for bass players is Butch Warren's interpretation of the time beginning at letter E. Dorham originally wrote out the bass line for letter D while letter E was left open. Butch periodically hints at a walking feel for a measure or two while ultimately staying mostly in a two-feel. Furthermore, his use of syncopation and well-placed ghost notes is engaging for bass players while still supporting the soloist. This is a must-have for bass players looking to advance their two-feel and to study a written bass line for solos.
This song presents an unusual challenge for the bassist, as the ninth and tenth measures of both the A and C sections of the head are played
arco
while the rest of the form is
pizzicato.
Accordingly, "have bow ready" is indicated at the beginning of our Bass part. The coda also switches between
arco
and
pizz.
The bass plays a very important role in this song, particularly at the beginning of each solo chorus. Here, the time feel is really up to the bass in accompanying the soloist; the piano and drums have hits, with bass figures filling in between.
If you're ready for some real fun, learn the bass part to this K.D. masterpiece by playing with the minus bass track from "
The K.D. Challenge
" version. Click on the album cover above right.
All selected items will be available for download after purchase.
Recording:

Don Sickler - The K.D. Challenge

Recorded on:

October 6, 2001

Label:

jazzleadsheets.com (JLS 1033)

Concert Key:

E-flat minor

Vocal Range:

, to

Style:

Latin/swing (medium)
Trumpet - Don Sickler
Piano - Cecilia Coleman
Bass - Tim Givens
Drums - Vince Cherico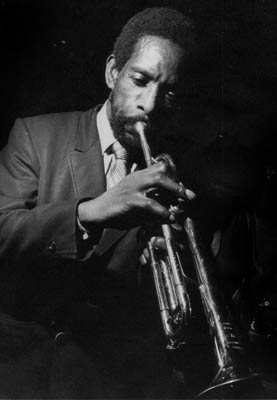 August 30, 1924 – December 15, 1972
Trumpeter/composer Kenny Dorham was very much on the jazz scene from the mid-1940s through most of the 1960s. He worked and recorded with all the major figures in the modern jazz movement, which includes the legendary Billy Eckstine big band, Dizzy Gillespie, Art Blakey, Bud Powell, Charlie Parker, Thelonious Monk and Max Roach as well as Kenny Clarke, Sonny Stitt, Fats Navarro, J.J. Johnson and many other giants of that period. Read more...