Pedro's Time

– Kenny Dorham

A classic Dorham song with a 12-measure form that's not quite a blues. Our "K.D. Challenge" version has Minus You tracks for all instruments plus second parts like saxophonist Joe Henderson played with Kenny on the classic "Our Thing" album.
All selected items will be available for download after purchase.
Recording:

Joe Henderson - Our Thing

Recorded on:

September 9, 1963

Label:

Blue Note (BLP 4152)

Concert Key:

C minor

Vocal Range:

, to

Style:

Latin/swing (medium)
Trumpet - Kenny Dorham
Tenor Sax - Joe Henderson
Piano - Andrew Hill
Bass - Eddie Khan
Drums - Pete La Roca
Pedro's Time
is a classic K.D. composition: concise, melodic and more complex than it initially seems. The form first appears to be twelve measures long, blues-like but not truly a blues, but with harmonically changing first and second endings it actually expands to a 24-measure form. The simple, flowing melody could certainly work over blues changes, but the IV chord is delayed until the seventh measure (and is F7 instead of F minor), with A♭7 to G7 on the fifth and sixth measures as well as the expected ninth and tenth measures. The result is more like an eight-measure form plus a four-measure tag. The first and second endings of this 12-measure form have different changes, turnarounds largely a tritone away from each other.
If you get to play Kenny's quintet arrangement with your group, you'll see the second part (originally played by Joe Henderson on tenor sax) adds an unexpected harmonic twist to the melody in the third measure, as well as enriching the the different harmonic movement in the first and second endings and the coda.
It is particularly unusual how much of this harmonic information is retained for the solos. The solo form is really two 12-measure choruses, one each with the first and second ending. The first four measures of the form in both head and solos start with even-8ths rhythm section figures with a Latin feel that breaks to start the fourth measure and transitions to swing within the fourth measure. The swinging parts of the melody have stop-time figures in the rhythm section, which introduce Kenny's magical independent roles of bass and piano (bass on the downbeat of the 4th measure, piano enters on the second beat; both play the syncopation at the end of the measure together.) A smaller melody staff is shown above each rhythm section line and cues for other rhythm section parts help each rhythm section player understand their role in this marvelously rich accompaniment.
Note that the lead sheets available here, under the Joe Henderson album cover, are the same ones available under "The K.D. Challenge" cover above and work for the Minus You tracks. The original second part (Joe Henderson's tenor sax part) is available separately under this album cover, as are transpositions of this part for other instruments.
See more from Joe's "
Our Thing
" album.
"Our Thing"
was recorded at the legendary
Van Gelder Studio
in Englewood Cliffs.
"
Our Thing
" was Joe Henderson's second album as a leader—recorded just three months after his first, "
Page One
." These two, as well as Joe's next album, "In 'N Out", feature Kenny as both a player and a composer; all three albums consist entirely of Henderson and Dorham songs.
Besides our "
K.D. Challenge
" version, available now for the first time on jazzleadsheets.com, we know of no other recordings of this song. It's a tasty song deserving of more recognition.
All selected items will be available for download after purchase.
Recording:

Don Sickler - The K.D. Challenge

Recorded on:

October 6, 2001

Label:

jazzleadsheets.com (JLS 1033)

Concert Key:

C minor

Vocal Range:

, to

Style:

Latin/swing (medium)
Trumpet - Don Sickler
Piano - Cecilia Coleman
Bass - Tim Givens
Drums - Vince Cherico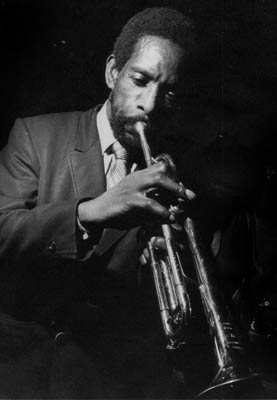 August 30, 1924 – December 15, 1972
Trumpeter/composer Kenny Dorham was very much on the jazz scene from the mid-1940s through most of the 1960s. He worked and recorded with all the major figures in the modern jazz movement, which includes the legendary Billy Eckstine big band, Dizzy Gillespie, Art Blakey, Bud Powell, Charlie Parker, Thelonious Monk and Max Roach as well as Kenny Clarke, Sonny Stitt, Fats Navarro, J.J. Johnson and many other giants of that period. Read more...