Aries

– Don Patterson & Sonny Stitt

A laid-back, swinging ballad, that almost sounds like a standard. It's been recorded several times, in two different keys.
All selected items will be available for download after purchase.
Recording:

Sonny Stitt - Black Vibrations

Recorded on:

July 9, 1971

Label:

Prestige (PR 10032)

Concert Key:

C

Vocal Range:

, to

Style:

Swing (slow)
Trumpet - Virgil Jones
Tenor Sax - Sonny Stitt
Guitar - Melvin Sparks
Organ - Don Patterson
Drums - Idris Muhammad
As you hear in our audio clip, this song grooves great at a heart-beat tempo. It's a good example of organ-based "soul jazz" that's not quite as bluesy as this style often is. In fact, it almost sounds like a standard. The form is AABC, with the C section similar to A but with a four-measure tag. The coda develops this tag into a set of hits and breaks for a soloist.
Don Sickler: "With the opening melody syncopations over a 2-feel so nicely setting up the short 4th beat melody note in the second measure, I can also hear this piece working great at an even slower tempo, so you can create even more space after the 4th beat stop. I find this such an engrossing melody I had a hard time stopping our audio clip at 40 seconds. Since Don Patterson's original recording of the song isn't available as a download, and the bridge has its own special character, here is a sample of the bridge from Don's recording."
bridgeclip
If you play baritone or alto sax, and you want to play this composition in the same key as Gary Smulyan's recording, you can read our C treble clef lead sheet—that would put you in E♭ concert.
"Black Vibrations"
was recorded at the legendary
Van Gelder Studio
in Englewood Cliffs.
The title of this song is frequently misspelled
Aires,
as it is on both the Sonny Stitt and Gary Smulyan recordings featured here.
Aries
is the correct spelling of the title: Don dedicated the song to his friend, drummer
Billy James
, whose astrological sign was Aries.
The first recording with the correct title was Don Patterson's 1978 Muse album "Why Not?" which had a lineup similar to Stitt's recording; tenor saxophonist Bootsie Barnes in place of Stitt and Eddie McFadden was the guitarist instead of Melvin Sparks. Eddie is featured on the Muse version; it's not available as a download but can be found on
YouTube
. More recordings with the correct title spelling include one by trombonist Al Grey and saxophonist Jimmy Forrest, with Patterson, from 1980 on their album "O.D.," and tenor saxophonist John Simon's version on his 1986 album "Legacy," also with Patterson.
All selected items will be available for download after purchase.
Recording:

Gary Smulyan - Smul's Paradise

Recorded on:

April 23, 2011

Label:

Capri (74113)

Concert Key:

E-flat

Vocal Range:

, to

Style:

Swing (slow)
Baritone Sax - Gary Smulyan
Guitar - Peter Bernstein
Organ - Mike LeDonne
Drums - Kenny Washington
This faster version in E♭ proves that, like many standards, this song works in more than one key. Gary plays the melody a bit straighter than Stitt, with more of the articulations as indicated in the bridge. The coda is slightly different: the bass notes in the fifth measure on beats 2 and 4 are omitted, and Gary blows over those two chords and then plays a cadenza. The rhythm section comes in with the last four measures, but without the second to last chord: B♭7♭5(♯9) here in the key of E♭.

If you are a baritone saxophonist (or alto saxophonist), and you want to play it in the key of Gary Smulyan's recording, you can read from our C treble clef lead sheet, which puts you in E♭ concert.
Gary's album "
Smul's Paradise
" is partially a tribute to organist Don Patterson. Besides
Aries
(misspelled as
Aires
again), there is also a version of
Up in Betty's Room
and Gary's own
Blues for D.P.
Though the combination of baritone sax and organ has been rather rare, this album shows just how effective this rich sonic combination can be.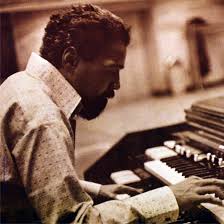 July 22, 1936 – February 10, 1988
Don Patterson was born in Columbus, Ohio and began his musicianship on the piano. At the age of twenty, he heard Jimmy Smith and decided to take up organ. He made his debut as an organist in 1959. His first recordings were in 1962 with Sonny Stitt and Gene Ammons. Read more...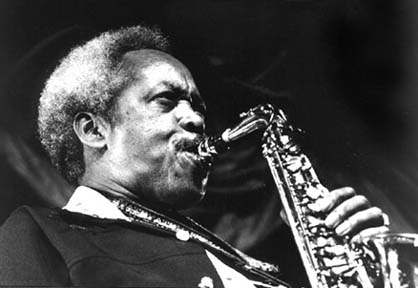 February 2, 1924 – July 22, 1982
Alto saxophonist Sonny Stitt was 3 1/2 years younger than Charlie Parker. When they met in 1943, each was surprised to find the other had developed a virtually identical style. Sonny was always frustrated when he was labeled as just another disciple of Charlie Parker, knowing he had already developed his style before hearing recordings of Charlie Parker with Jay McShann. Read more...