Alone With Just My Dreams

– George Duvivier

This early bebop-era ballad was not recorded during the composer's lifetime; fortunately he wrote it out! Trumpeter Joe Wilder first recorded it; we have two exclusive recordings available, in two different keys, with Minus You tracks for any melody instrumentalist.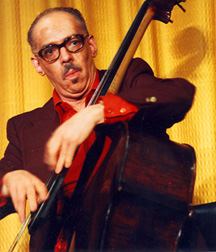 August 17, 1920 – July 11, 1985
Known primarily as a bassist, Duvivier was one of the top accompanists of the late swing and bebop eras, backing Coleman Hawkins, Bud Powell, and so many more. Later, he was steadily active in the New York recording studios, doing countless instrumental dates and recordings with singers from Frank Sinatra and Sarah Vaughan to Barry Manilow. George was invaluable in the studio as a bassist, always playing just the right bass lines with the right attitude. He occasionally would offer suggestions, when he felt it was necessary, that saved many a session from disaster. Duvivier was also a gifted composer and arranger who wrote for Jimmie Lunceford, Sy Oliver and others. Read more...