Yvette

– Gigi Gryce

Yvette shows Gigi Gryce's mastery of spinning out interesting and unusual phrases.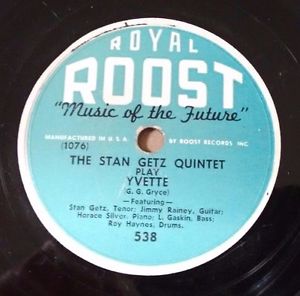 All selected items will be available for download after purchase.
Recording:

Stan Getz - Music Of The Future

Recorded on:

August 15, 1951

Label:

Royal Roost (538 [78 rpm])

Concert Key:

F

Vocal Range:

, to

Style:

Swing (medium up)
Tenor Sax - Stan Getz
Piano - Horace Silver
Guitar - Jimmy Raney
Bass - Leonard Gaskin
Drums - Roy Haynes
This is a 32-measure ABAC song form composition. The long form means that the composition has to keep evolving to keep your interest. Gigi is a master of spinning out long and interesting phrases, and he develops the melody over a full 16 measures. When the A section does repeat, Gigi takes it in a different direction for the last eight measures. Gigi's melodies and the chords he hears with them always fuse together beautifully. Hearing the start of this song, you might think that Gigi is using the chord progression of It Could Happen To You, but after four measures the chord progression moves away from the standard changes, as Gigi's melody goes in a different direction.
Stan Getz was the first major jazz recording artist to record Gigi Gryce compositions. Gigi got his compositions to Getz through Horace Silver, who was part of an all-Hartford (Connecticut) rhythm section that Getz hired. Although Horace hadn't met Gigi in person yet, the other two members of rhythm section, drummer Walter Bolden and bassist Joe Calloway, knew Gigi well and talked about him and his music a lot. See
Noal Cohen's Jazz History website
for more information. Getz recorded three of Gigi's compositions on the August 15, 1951, session:
Melody Express,
Yvette,
and
Wildwood.
To learn more about Gigi Gryce, see
Rat Race Blues - The Musical Life of Gigi Gryce
, a book by Noal Cohen & Michael Fitzgerald.
Check out other titles on the
album
.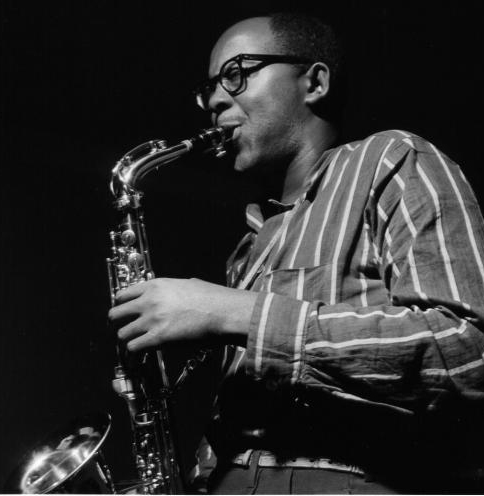 November 28, 1925 – March 17, 1983
Gigi Gryce was a fine altoist in the 1950s, but it was his writing skills, both composing and arranging (including composing the standard Minority) that were considered most notable. After growing up in Hartford, CT, and studying at the Boston Conservatory and in Paris, Gryce worked in New York with Max Roach, Tadd Dameron, and Clifford Brown. He toured Europe in 1953 with Lionel Hampton and led several sessions in France on that trip. Read more...