Melody Express

– Gigi Gryce

This uptempo swing has a charming, singable melody.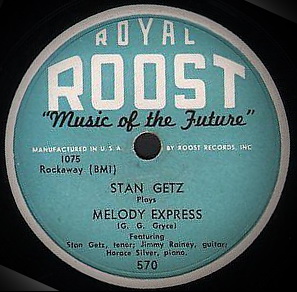 All selected items will be available for download after purchase.
Recording:

Stan Getz - Music Of The Future

Recorded on:

August 15, 1951

Label:

Royal Roost (570 [78 rpm])

Concert Key:

F

Vocal Range:

, to

Style:

Swing (uptempo)
Tenor Sax - Stan Getz
Piano - Horace Silver
Guitar - Jimmy Raney
Bass - Leonard Gaskin
Drums - Roy Haynes
Our audio excerpt starts with the melody, which is preceded by eight measures of rhythm section set up on the recording. This is an uptempo swinger with some rapid II-V melodic figures for the last four measures of the bridge (starting as our excerpt fades out).


Saxophonist Stan Getz was the first major jazz artist to record Gigi Gryce compositions. Gigi got his compositions to Getz through pianist Horace Silver, who was part of an all-Hartford (Connecticut) rhythm section that Getz hired. Although Horace hadn't met Gigi in person yet, the other two members of rhythm section, drummer Walter Bolden and bassist Joe Calloway, knew Gigi well and talked about him and his music a lot. On
August 15, 1951
, Getz recorded three of Gigi's compositions,
Melody Express,
Yvette,
and
Wildwood
. Only
Wildwood
isn't yet on jazzleadsheets.com.
Learn more about Gigi Gryce at
Noal Cohen's Jazz History website
. Also see
Gryce's discography
.
By this point in 1951, guitarist
Jimmy Raney
had been recording with Stan Getz in numerous contexts for over three years: a working relationship that is immediately apparent upon hearing the tightness of their phrasing and tonal blend on Gryce's tricky unison melody. Raney's entrenchment within the bebop language is also instantly noticeable during his solo chorus, which is filled with all the chromaticism and slippery, legato phrasing that lends a horn-like sound to his guitar.
The melody on our C lead sheet is written in the correct octave for guitar players to read from.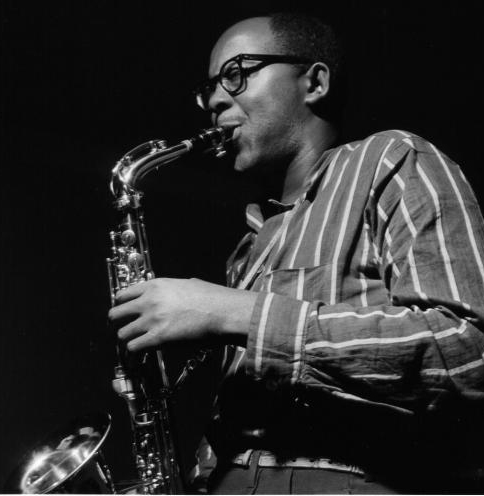 November 28, 1925 – March 17, 1983
Gigi Gryce was a fine altoist in the 1950s, but it was his writing skills, both composing and arranging (including composing the standard Minority) that were considered most notable. After growing up in Hartford, CT, and studying at the Boston Conservatory and in Paris, Gryce worked in New York with Max Roach, Tadd Dameron, and Clifford Brown. He toured Europe in 1953 with Lionel Hampton and led several sessions in France on that trip. Read more...