This One's For Bill

– Kenny Drew, Jr.

Kenny Drew, Jr.'s tribute to pianist Bill Evans is a warm-toned, lyrical 3/4 song with quite a long form. Kenny recorded it on three albums: two trios and one solo piano version.
Recording:

Kenny Drew, Jr. - Kenny Drew, Jr.

Recorded on:

June 6 & 7, 1991

Label:

Antilles (314-510303-2)

Concert Key:

G

Vocal Range:

, to

Style:

3/4 swing (medium)
Piano - Kenny Drew, Jr.
Bass - George Mraz
Drums - Al Foster
A fitting tribute to pianist Bill Evans—lyrical, warm-toned, and harmonically subtle without being too intricate. This medium-tempo 3/4 song has quite a long form, 80 measures in total: AABCD with each section 16 measures. The C section is similar to A but the last four measures are different, leading to a D section melodically similar to the B section.

Though this song is certainly in the key of G major, the tonic chord only appears once, at the end of the second A section. The A section changes are essentially an embellished, long circle of fourths starting from A7, with elegant contrary motion in the pickup at the beginning. The bridge is really in D major, but again without any D chords —this section is dominated by an A pedal. The D section has descending II-V7s ultimately resolving to an unexpected A♭maj7 for four measures.

In this original trio recording, Kenny plays the first A section of the in head alone and rubato, setting up the tempo in the last three measures for the bass and drums to enter. The melody has one note different from our lead sheet: the last note of the tenth measure is C♯ instead of C♮, making a more smoothly descending melodic shape leading to C♮ in the next measure. At the end of the out head, the final A♭maj7 is held out, not in time, followed by a final highly embellished chord based on Gm(maj7).
For another song from this
album
with a different personnel, check out
Third Phase
. Drummer Al Foster also played on Kenny's debut album as a leader, "The Flame Within" from 1987, while bassist George Mraz played on two more of Kenny's albums: "
A Look Inside
" in 1992 and "Autumn" in 2001. George and Al first recorded together on pianist Mike Nock's 1978 album "In, Out, And Around;" they played together on over 30 recordings including several by pianist Tommy Flanagan.
Recording:

Kenny Drew, Jr. - This One's For Bill

Recorded on:

November 20, 1995

Label:

TCB (99352)

Concert Key:

G

Vocal Range:

, to

Style:

3/4 swing (medium)
This solo piano version showcases Kenny's virtuosic harmonic embellishment, as he fills in many long notes of the melody with elegant counterpoint further connecting the changes. He again starts the head rubato, setting up tempo at the bridge. The ending is essentially the same as on the first recording. As with that version, the tenth measure of the melody ends with C♯ rather than C♮.
"
This One's For Bill
" was Kenny's only studio solo piano album. Later in November 1995, he recorded on trumpeter Jack Walrath's sextet album "Journey Man," also featuring
Bobby Watson
and
Victor Lewis
. A week later, he played on a recording by another trumpeter: Michael Mossman's "Mama Soho."
Recording:

Kenny Drew, Jr. - Coral Sea

Recorded on:

February 10 & 11, 2012

Label:

Random Act (RAR 1009)

Concert Key:

G

Vocal Range:

, to

Style:

3/4 swing (medium)
Piano - Kenny Drew, Jr.
Bass - Jon Burr
Drums - Marty Morell
This second trio recording is arranged the same as the first, but is slightly faster. The feel in the drums is rather different, with the hi-hat only on beat 2 of each measure rather than 2 and 3. Kenny embellishes the melody a bit more. The tenth measure has C♮ as in the lead sheet, unlike the other versions. The last four measures of the out head begin in time, but ritard into the final Gm(maj7) chord.
Kenny's second to last album as a leader, "
Coral Sea
" includes several songs associated with Bill Evans, including Bill's classic composition
Very Early.
Drummer Marty Morell had played with Bill Evans in the '70s; this was Kenny's only recording with him or with bassist
Jon Burr
. Kenny and Marty were both living in St. Petersburg, Florida, at the time, where this album was recorded.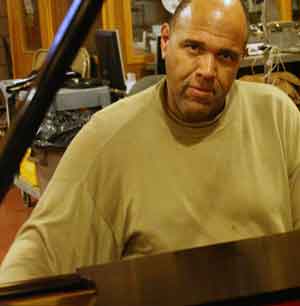 June 14, 1958 – August 3, 2014
Kenny Drew, Jr., son of pianist/composer Kenny Drew, Sr., started music lessons at the age of four. He studied classical piano with his aunt Marjorie, but soon found he enjoyed playing jazz as well. He performed worldwide with a comprehensive variety of musicians, including Stanley Jordan, OTB, Stanley Turrentine, Slide Hampton, the Mingus Big Band, Steve Grossman, Yoshiaki Masuo, Sadao Watanabe, Smokey Robinson, Frank Morgan, Daniel Schnyder, Jack Walrath, Ronnie Cuber and many others. Read more...