Swingin'

– Clifford Brown

A bluesy tune at a breakneck speed, based on the changes of I Never Knew (I Could Love Anybody Like I'm Loving You). Clifford Brown transcribed trumpet solo available in B-flat and C editions.
All selected items will be available for download after purchase.
Recording:

Clifford Brown and Max Roach - Study In Brown

Recorded on:

February 23, 1955

Label:

EmArcy (MG 36037)

Concert Key:

A-flat

Vocal Range:

, to

Style:

Swing (uptempo)
Trumpet - Clifford Brown
Tenor Sax - Harold Land
Piano - Richie Powell
Bass - George Morrow
Drums - Max Roach
Our audio excerpt starts with Clifford's clever intro (which is also the coda). Both the intro and the coda are notated in all the lead sheets. The melody flies by and is a great etude-like line for building both technique and tongue-and-slur agility. This is an AABA form: the A sections are major workouts, the bridge is a minor workout. Based on the changes of I Never Knew (I Could Love Anybody Like I'm Loving You).
Unfortunately Clifford wasn't in the recording studio much in 1955. Although he started out the year by recording his "Clifford Brown and Strings" project on January 18, 19, and 20, his only other official recording sessions were in the following month when the quintet went into the studio in NYC for three days (February 23, 24 and 25). The entire LP "
Study In Brown
" comes from these three February dates. However, before "Study In Brown" could be released, two of the tracks from the 1955 NYC sessions were used to complete the LP "Clifford Brown And Max Roach" (EmArcy MG 36036), with the rest of the tracks coming from the August 1954 LA sessions.
Transcribed Tumpet Solo: As you can tell from our audio clip teaser trumpet, Clifford and everyone else on the session were swingin' hard and completely focused. A great take, and obviously no need for them to do a second one!
All selected items will be available for download after purchase.
Recording:

Kenny Burrell - On View At The Five Spot Cafe

Recorded on:

August 25, 1959

Label:

Blue Note (CDP 46538-2)

Concert Key:

A-flat

Vocal Range:

, to

Style:

Swing (uptempo)
Tenor Sax - Tina Brooks
Guitar - Kenny Burrell
Piano - Bobby Timmons
Bass - Ben Tucker
Drums - Art Blakey
Kenny Burrell takes Swingin' a little slower than Clifford Brown's version—but it's no less swinging. On this recording the intro and coda are repeated twice, with the rhythm section hitting beats 2 and 4 instead of just 2. Otherwise, this version is quite close to the original.
Kenny Burrell's version of
Swingin'
comes from the fifth set of a legendary performance at the Five Spot Cafe, featuring saxophonist
Tina Brooks
, pianist
Bobby Timmons
, bassist Ben Tucker and drummer Art Blakey. Pianist Roland Hanna played on the first set instead of Timmons, and Brooks was not on this set.
Swingin'
was first released on the CD reissue in 1986.
On his version of Clifford Brown's
Swingin'
from his album as a leader ""
On View at the Five Spot Cafe
," guitarist
Kenny Burrell
does justice to both the trumpeter and the song's title. Taking an inventive, fiery five-chorus solo following saxophonist Tina Brooks, Burrell kicks the song into high swinging gear. While he makes a few alterations to the melody and throws in a chord here and there, our C lead sheet provides guitarists with all the necessary material to follow Brown and Burrell. As is, the lead sheet comes in the appropriate octave for guitar.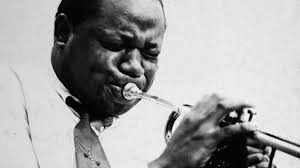 October 30, 1930 – June 27, 1956
Clifford Brown was a legendary and influential trumpet player who had everything going for him: an incredible sound, dazzling technique and ideas, and a great compositional gift. Brown was in the limelight for just five years (he died in a car accident at age 25) yet his mark on jazz is indelible. Early performances at jam sessions with Dizzy Gillespie, Charlie Parker and Fats Navarro (his major influences) led to work with R&B bandleader Chris Powell, which included his first commercial recording (March 21, 1952). His second commercial recording was with Lou Donaldson for Blue Note Records (June 9, 1953), a session that also included Philly Joe Jones and Elmo Hope (Carvin' The Rock, De-Dah and Bellarosa). On this session, Clifford also got to record one of his own compositions (Brownie Speaks), which became his first recorded composition. Read more...