Splittin'

– Ray Bryant

A very fun, bluesy uptempo tune that takes a long time to resolve to the tonic chord. Three different interpretations: two trio, one with horns (and second parts).
Recording:

Ray Bryant - Ray Bryant Trio

Recorded on:

April 5, 1957

Label:

Prestige (PRLP 7098)

Concert Key:

E-flat

Vocal Range:

, to

Style:

Swing (uptempo)
Piano - Ray Bryant
Bass - Ike Issacs
Drums - Specs Wright
We're making available three different C treble clef lead sheets for three different recordings of Splittin'. Each arrangement is different, so it's great to compare them and get insight into the creative world of pianist/composer Ray Bryant.

The Ray Bryant Trio lead sheet is from the first recording of the composition. As you hear in our excerpt, which starts as the recording does, right on the melody, this is an uptempo cooker, with the melody flying over a double whole note feel.

Ray Bryant first recorded
Splttin'
with his
own trio
for Prestige Records on April 5, 1957. On the same session he also recorded Clifford Brown's
Daahoud
. This was his first Prestige album as a leader; he had previously recorded on that label with Miles Davis, Sonny Rollins and Art Taylor. At the time of this recording, this trio played together a lot accompanying vocalist Carmen McRae.
George Shearing recorded
Splittin'
in August, 1957 (titled
Later
on his recording):
Later - In the Night (iTunes)
Recording:

Gigi Gryce - Donald Byrd - At Newport

Recorded on:

July 5, 1957

Label:

Verve (MGV 8238)

Concert Key:

E-flat

Vocal Range:

, to

Style:

Swing (uptempo)
Trumpet - Donald Byrd
Tenor Sax - Gigi Gryce
Piano - Hank Jones
Bass - Wendell Marshall
Drums - Osie Johnson
The Newport version features horns (The Gigi Gryce [alto sax] -Donald Byrd [trumpet] Jazz Laboratory quintet). The B-flat and E-flat lead sheets come from this version—a different treatment of melody and rhythm, as the fourth beat of every measure is held over the barline. The intro of this arrangement is also different, starting with eight measures of the whole rhythm section, then adding sixteen measures of the horns answering in harmony. All of this is clearly notated in each lead sheet. Second parts available.

This, the second recording of
Splttin'
, was on July 5, the first recording of the Gigi Gryce-Donald Byrd Jazz Laboratory, which was done live at the Newport Jazz Festival. Donald Byrd and Gigi Gryce's Jazz Lab Quintet only existed in 1957; during that year, however, they made five studio albums as well as this live recording. They focused on a refined form of hard bop, not unlike the Modern Jazz Quartet in their aesthetic. Their Newport performance takes up half of an album, the other half of which is by Cecil Taylor's quartet with Steve Lacy. An article about the Jazz Lab was recently posted on the blog
JazzWax
by journalist Marc Myers.
Recording:

Jo Jones - Jo Jones Plus Two

Recorded on:

April 30, 1958

Label:

Vanguard (VRS 8525)

Concert Key:

E-flat

Vocal Range:

, to

Style:

Swing (uptempo)
Piano - Ray Bryant
Bass - Tommy Bryant
Drums - Jo Jones
This trio lead sheet reflects Ray playing the melody, again, but this time as part of
Jo Jones
's trio. Our audio excerpt starts with the melody, but the lead sheet and the full recording begin with the drums: eight measures of brushes on the hi-hat as notated in our lead sheet, followed by sixteen more measures of introduction, adding the piano (also fully notated). The bass enters with the melody, a two-feel, which is also notated on the C lead sheet.
Five of the songs on the "
Jo Jones Plus Two
" album are by Ray Bryant; in addition to
Splittin'
, there are
Bicycle For Two, Little Susie, Spider Kelly's Blues
and
Cubano Chant
. Jones' subtle drumming, especially his brushwork, gives this album a sparer sound than the Bryant-led trio that first recorded this song. Listen especially to the way Jo catches certain notes of the melody of this song in a way that Specs Wright, on the "Ray Bryant Trio" version, purposely does not.
Drum transcriptions for two additional Bryant titles recorded by drummer Jo Jones are available:
Bebop Irishman
and
Philadelphia Bound
in our
Drum Corner
.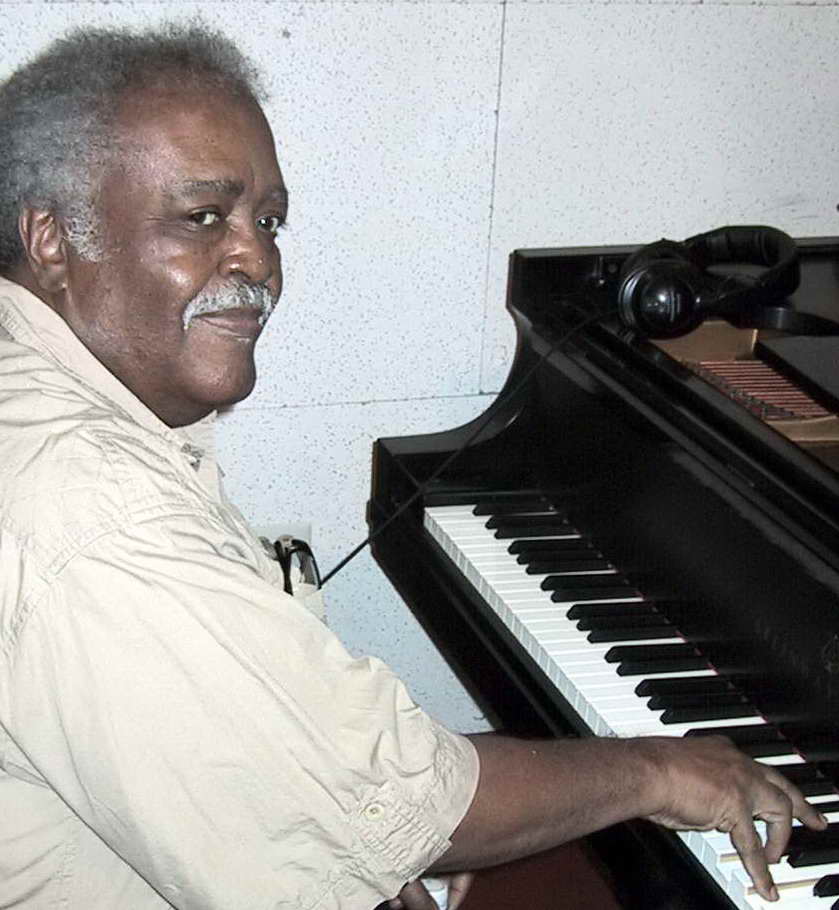 December 24, 1931 – June 2, 2011
Following performances in his native Philadelphia with guitarist Tiny Grimes and as house pianist at the Blue Note Club with Charlie Parker, Lester Young, Miles Davis and others, Ray Bryant came to New York in the mid-1950s. His first jazz recording session in New York was with Toots Thielemans (August, 1955) for Columbia Records. That session led to his own trio sessions as well as sessions with vocalist Betty Carter for Epic Records in May and June ("Meet Betty Carter and Ray Bryant"). On August 5, 1955, Ray recorded with Miles Davis, and on December 2, 1955, with Sonny Rollins, both for Prestige Records. Read more...