Song Of Praise

– Fritz Pauer

A warm ballad, recorded in a rubato duo setting. A solo piano arrangement is also available, by pianist Fritz Pauer.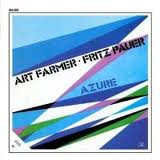 All selected items will be available for download after purchase.
Recording:

Art Farmer - Fritz Pauer - Azure

Recorded on:

June 26 & 26, 1987

Label:

Soul Note (1212126)

Concert Key:

C

Vocal Range:

, to

Style:

Ballad
Flugelhorn - Art Farmer
Piano - Fritz Pauer
A ballad with a warm sound, this song has an AAB form with eight-measure A sections and a 12-measure B section. The melody is very lyrical and flowing, as in other Fritz Pauer ballads. Though the changes establish a C major key center, there are several unexpected cadences in the A section connected by common tones in the melody. The last four measures of the B section are melodically the same as the previous four measures, with only slightly different changes. The end of the melody lands on A, the 6th in the key of C—in fact no melody phrases in this song end on a C, with most going to the third of the chords. This emphasis on 3rds and 6ths accentuates the poetic, reflective qualities of this song.

On the recording, the head is rubato throughout. Art Farmer plays the melody on the A sections; Fritz Pauer starts the B section alone, and Art comes in for the last four measures. Fritz and Art then solo in time, playing one A section each, and the out B section is rubato arranged the same as on the in head. Our audio excerpt starts on the repeat of A.
For another Fritz Pauer composition from the duo album "
Azure
," check out
A Sound Within An Empty Room
. This album also includes a version of
Al Cohn
's
Danielle
.
Art Farmer's discography shows that in 1987 he recorded in seven different cities around the US and Europe. "Azure" was recorded in Vienna; earlier that year Art was in New York to record "Something To Live For," an album of Billy Strayhorn songs by his quintet including saxophonist
Clifford Jordan
and pianist
James Williams
.
Fritz Pauer's two-page solo piano arrangement has not yet been recorded. It's a dramatic arrangement full of dynamic contrasts, for example the crescendo into the third beat of the first measure followed by subito p for the pickup to the next measure. In general the chords are filled in with the right hand below the melody, while the left hand holds down the roots and occasional sevenths; in a few places there are two-handed rolled chords such as in the second to last measure. This arrangement is rubato throughout, but in the B section there's a little more steady eighth-note movement; this section could be played in time instead.

If you record it, please let us know!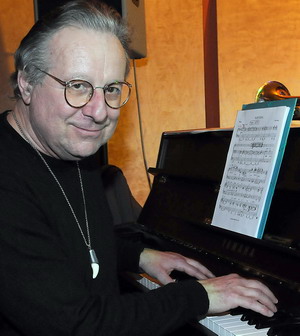 October 14, 1943 – July 1, 2012
Born in Vienna, Austria, acclaimed European pianist and composer Fritz Pauer began his career in the early 1960s, making his first recording (at age 19) with the Hans Koller quartet in 1962. He moved to Berlin, Germany, 1964-68, and played at Dug's Night Club & Jazzgalery as accompanist for Herb Geller, Johnny Griffin, Don Byas, Booker Ervin, Dexter Gordon, Leo Wright, Carmell Jones, Pony Poindexter, Jimmy Woode and vocalist Annie Ross, recording with many of them. Read more...