Silent War

– Kenny Drew, Jr.

An impassioned ballad, full of the subtlety and detail characteristic of the Kenny Drews (Senior and Junior). See the video of Kenny playing a solo piano version recorded by Rudy Van Gelder; the audio is available.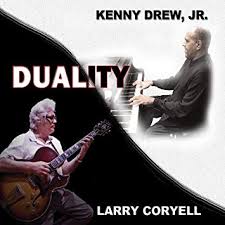 All selected items will be available for download after purchase.
Recording:

Kenny Drew, Jr - Duality

Recorded on:

2011

Label:

Random Act (RAR 1004)

Concert Key:

No key center

Vocal Range:

, to

Style:

Ballad
Guitar - Larry Coryell
Piano - Kenny Drew, Jr.
This dramatic, impassioned ballad is full of the subtle detail that is a Kenny Drew, Jr., trademark. The melody and harmonies of A Silent War are quite intricate while still being logical. Though the key center is established as F minor at the end of the A and C sections, many other tonalities are visited throughout; our lead sheets have no key signature. The A section melody is full of dramatic leaps in a Billy Strayhorn-esque vein. On the bridge, a twisty bass ostinato (piano left hand on the recordings) fills in the long notes of the melody. The form is 36 measures long: two 10-measure A sections, eight-measure B and an eight-measure C section which is a variation of A.

The first chord of the A section is an unusual double triad, G augmented over A♭ augmented; the scale associated with this harmony is a symmetrical "augmented scale" (A♭ B C E♭ E G) alternating minor thirds and half steps. The A section changes visit C minor and G major before landing on F minor. In the bridge, major seventh chords with sharp 5ths shift around before a final resolution to E major; the last two chords of the bridge are the same as the last two of the first A. The C section changes turn the A section's resolution to G major into a turnaround back to F minor.

On this recording, Kenny plays the melody; guitarist Larry Coryell comps at A and C and doubles the bridge melody. Click on the video for an exclusive solo piano version by Kenny, recorded on the famous Steinway "B" at the Van Gelder Studio.
"Kenny Drew Jr., At Van Gelder's"
was recorded at the legendary
Van Gelder Studio
in Englewood Cliffs.
For more from
this album
, check out
Goodbye, Mr. Jones
and
Farmer's Waltz
; all three also have videos of Kenny playing solo piano
Kenny Drew Jr. at Van Gelder's
.
Starting in 2009, whenever Kenny was in the New York area and had free time, jazzleadsheets.com's Don Sickler invited him to play at Rudy Van Gelder's Englewood Cliffs, NJ studio. For this session, in 2010, we had video cameras and were able to film his performances. For this one, Kenny played Rudy's concert D, the Steinway that he acquired in 1992.
According to discographies, our 2010 recording of Kenny playing
A Silent War
was the first recording, as he didn't record it with Larry Coryell until 2011.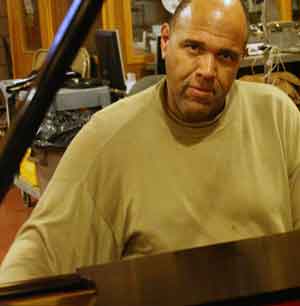 June 14, 1958 – August 3, 2014
Kenny Drew, Jr., son of pianist/composer Kenny Drew, Sr., started music lessons at the age of four. He studied classical piano with his aunt Marjorie, but soon found he enjoyed playing jazz as well. He performed worldwide with a comprehensive variety of musicians, including Stanley Jordan, OTB, Stanley Turrentine, Slide Hampton, the Mingus Big Band, Steve Grossman, Yoshiaki Masuo, Sadao Watanabe, Smokey Robinson, Frank Morgan, Daniel Schnyder, Jack Walrath, Ronnie Cuber and many others. Read more...