Farmer's Waltz

– Kenny Drew, Jr.

A lyrical 3/4 song in Kenny Drew, Jr.'s signature style, with a long form and intricate changes.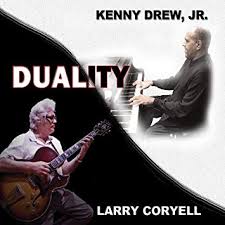 All selected items will be available for download after purchase.
Recording:

Kenny Drew, Jr - Duality

Recorded on:

2011

Label:

Random Act (RAR 1004)

Concert Key:

No key center

Vocal Range:

, to

Style:

3/4 swing (medium)
Guitar - Larry Coryell
Piano - Kenny Drew, Jr.
A gentle, lyrical 3/4 song with a long form and intricate harmonies. The form is 52 measures long with no repeated sections, each section eight measures except B and E which are six measures. There is no single key center, so our lead sheets have no key signature. The melody connects the various tonalities very smoothly.
The A section is essentially in D major, with some colorful maj7♯5 chord qualities. The B section melody starts the same as A but a half step higher; however, the changes don't imply E♭ major here but descend stepwise toward the next section. This harmonic descent continues all through the C and D sections (essentially the "bridge"). At C the changes alternate between Gm7 and F♯7, and then F7 and E7; the D section has shifting triads over pedals which go down in whole steps to A to resolve back to D. The E section begins like A, but with melody and harmony rising in the fifth and sixth measures to resolve to A major in the next section. The F and G sections, which have almost the same melody (related to the C section), establish an A major tonality.
On the recording there is an eight-measure intro which repeats a chord cycle similar to the start of the A section (essentially a "
Tadd Dameron
" turnaround). On the out head the F section is repeated as a vamp, with the melody played twice followed by guitar and piano trading. After the trading, F is played twice again ending on Amaj7; this could also fade out.
Kenny plays the A and B section melody on the recording, with guitarist Larry Coryell comping; Larry doubles the piano melody on C and D in unison. E again has piano melody alone; the guitar doubles the piano an octave lower starting on the third measure of F, going into unison (in harmonics) in the last phrase of the G section.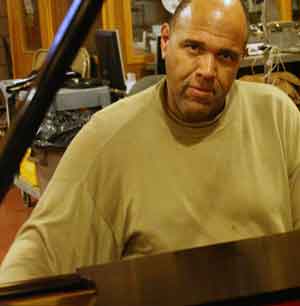 June 14, 1958 – August 3, 2014
Kenny Drew, Jr., son of pianist/composer Kenny Drew, Sr., started music lessons at the age of four. He studied classical piano with his aunt Marjorie, but soon found he enjoyed playing jazz as well. He performed worldwide with a comprehensive variety of musicians, including Stanley Jordan, OTB, Stanley Turrentine, Slide Hampton, the Mingus Big Band, Steve Grossman, Yoshiaki Masuo, Sadao Watanabe, Smokey Robinson, Frank Morgan, Daniel Schnyder, Jack Walrath, Ronnie Cuber and many others. Read more...