Goodbye, Mr. Jones

– Kenny Drew, Jr.

Kenny Drew Jr.'s tribute to Hank Jones is a sophisticated medium swinger with bebop influences. In addition to the duo recording with Larry Coryell, there are two videos of Kenny playing this song.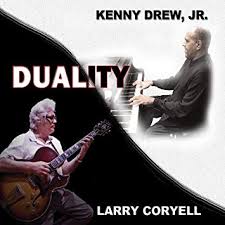 All selected items will be available for download after purchase.
Recording:

Kenny Drew, Jr - Duality

Recorded on:

2011

Label:

Random Act (RAR 1004)

Concert Key:

G

Vocal Range:

, to

Style:

Swing (medium)
Guitar - Larry Coryell
Piano - Kenny Drew, Jr.
Video
Kenny Drew, Jr.'s, tribute to the great pianist Hank Jones. Recorded by Rudy Van Gelder at the Van Gelder Recording Studio on July 10, 2010, on the Steinway D. Hank passed away just a few months before this recording (May 16, 2010).
"This is an original composition written after the death of Hank Jones. I'm playing it at Tom Becker's house on his beautiful 9-ft. Steinway. Joe Porter is on bass with John Jenkins on drums." - Kenny Drew, Jr.
With this song Kenny Drew, Jr., pays tribute to master pianist Hank Jones. Goodbye, Mr. Jones has all the bebop-ish sophistication associated with Hank. The melody has many triplet figures and embellishments; the faster melodic phrases come to rest on longer notes, and the bridge melody is contrastingly simpler. The two A sections start similarly but end up in different places by the third measure. They begin with a break on the tonic chord, followed by descending II-V7s from C♯m7b5; the first A section winds up in A major, leading to a descending progression into E major. The second A section, by contrast, gets to A♭ major and then descends to C minor; this last chord begins the bridge, making the second A section six measures long instead of eight like the first A.

The bridge features a bass line that pedals on C, alternating two measures each of Cm6 and A♭7. This bass line is actually the line that Hank Jones played on the intro of Cannonball Adderley's version of Autumn Leaves. The C section is related to the first A, but melodically slightly different at first; an unexpected Cm7 in the fourth measure leads to six measures of descending triads over a D pedal. These triads descend to chromatic approach II-V7s (B♭m7-E♭7-Am7-D7) and a two-measure break for the first soloist, resulting in a 14-measure section. The break is played for each new soloist, but within solos it is left out and the C section is 12 measures long. There is an eight-measure intro with descending changes.

We have a guitar lead sheet and a piano lead sheet. On the recording, Kenny and guitarist Larry Coryell play most of the melody together, but only Kenny has the melody in the intro, the last two measures of the first A section, and some of the C section. In the guitar lead sheet (as well as the transposed lead sheets), these parts are written with smaller notes. The piano lead sheet also shows the bass line in the bridge. This song has only been recorded in this piano/guitar duo setting, but there is a video of Kenny with bass and drums, as well as our solo piano video, recorded at Rudy Van Gelder's Studio.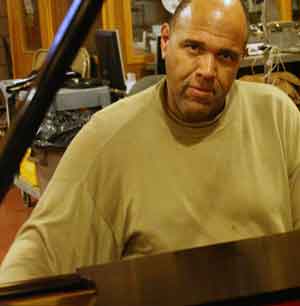 June 14, 1958 – August 3, 2014
Kenny Drew, Jr., son of pianist/composer Kenny Drew, Sr., started music lessons at the age of four. He studied classical piano with his aunt Marjorie, but soon found he enjoyed playing jazz as well. He performed worldwide with a comprehensive variety of musicians, including Stanley Jordan, OTB, Stanley Turrentine, Slide Hampton, the Mingus Big Band, Steve Grossman, Yoshiaki Masuo, Sadao Watanabe, Smokey Robinson, Frank Morgan, Daniel Schnyder, Jack Walrath, Ronnie Cuber and many others. Read more...