Reminiscing

– Gigi Gryce

A tender, passionate ballad. It's been recorded several times, including a vocal version by Earl Coleman.
Recording:

Art Farmer - Farmer's Market

Recorded on:

November 23, 1956

Label:

New Jazz (LP 8203)

Concert Key:

A-flat

Vocal Range:

, to

Style:

Ballad
Trumpet - Art Farmer
Piano - Kenny Drew
Bass - Addison Farmer
Drums - Elvin Jones
Here is a ballad that really deserves to be better known! It is very singable, and in fact Jon Hendricks wrote lyrics to it; it was first recorded by vocalist
Earl Coleman
. The melody has a passionate and tense quality due to its outlining of upper extensions and unexpected passing chords. For example, the first phrase lands on F♭ (E natural), the flat 9th of E♭7, with the next one using D natural in a G major chord instead of the expected A♭ major. The bridge modulates down to E major, moving through A and D major to return to the tonic through stepwise root motion.
This song was recorded five times in the late '50s and early '60s. Our lead sheet has the basic melody and chord progression with some substitute chords and alterations used in many of these recordings. Art Farmer's recording begins with B♭m7♭5 instead of E♭7(♭9), with the latter chord appearing on beats 3 and 4 of the first measure. This version has no intro, and a brief rubato "tag" at the end. The A and C sections of the in head are played rubato, without drums; the bridge is in time.
All lead sheets for
Reminiscing
are identical, regardless of the album covers above. So if you click on the B-flat lead sheet, for example, all will show checkmarks, but you'll only purchase one.
"Farmer's Market"
was recorded at Rudy Van Gelder's legendary
Hackensack Studio
.
This is the first instrumental recording of
Reminiscing
. Although Art Farmer and Gigi Gryce played and recorded often, Gigi was not on this recording, which took place just five months after vocalist Earl Coleman's
version.
Recording:

Dizzy Gillespie - The Greatest Trumpet Of Them All

Recorded on:

December 17, 1957

Label:

Verve (MGV 8352)

Concert Key:

A-flat

Vocal Range:

, to

Style:

Ballad
Trumpet - Dizzy Gillespie
Trombone - Henry Coker
Alto Sax - Gigi Gryce
Tenor Sax - Benny Golson
Baritone Sax - Pee Wee Moore
Piano, Celeste - Ray Bryant
Bass - Tommy Bryant
Drums, Percussion - Charli Persip
Dizzy Gillespie's octet version features an arrangement by Gigi, somewhat similar to his own sextet recording. Both begin the head slightly rubato, with trumpet melody and bass fills. Dizzy's version adds celeste (taking the place of vibes) on the first A section, going to piano and arco bass accompaniment in the second A. Dizzy continues the melody through this section (which is still rubato) and the bridge, in time, and Gigi solos on the C section. This is followed by a double-time swing interlude largely different from the one in Gigi's sextet arrangement, but like the latter version it leads to a rubato solo piano bridge. Dizzy takes the melody out two measures before the C section, and the ending is essentially the same as on Gigi's version.
There is an intro added
CLIP
which, like the ending of both arrangements, features a steady beat on woodblock and triangle like a clock ticking and ringing. Harmonically, the one difference Dizzy's recording has from our lead sheet is A♭maj7 at the beginning of the last measure of the bridge (in the ensemble figures) instead of A♭7. It is A♭7 in Gigi's own recording as well as Art Farmer's version; in the latter, the first chord of the previous measure is Amaj7 instead of A7 as in all other recordings.
This is the third recording of
Reminiscing.
The first was a
vocal version
by Earl Coleman, recorded in June 1956 and also featuring
Art Farmer
. Art recorded it himself in November of that year on his album "
Farmer's Market
", with a quintet including pianist
Kenny Drew
and saxophonist
Hank Mobley
. After Dizzy recorded it, trombonist Jimmy Cleveland recorded a version in February 1959 on the album "Rhythm Crazy," with a septet also including Art Farmer. This version has the same intro as Dizzy's, but the arrangement is only one chorus long and ends on a tonic chord instead of going to the longer coda.
Recording:

Gigi Gryce - Reminiscin'

Recorded on:

November 10, 1960

Label:

Mercury (MG 20628)

Concert Key:

A-flat

Vocal Range:

, to

Style:

Ballad
Trumpet - Richard Williams
Alto Sax - Gigi Gryce
Vibes - Eddie Costa
Piano - Richard Wyands
Bass - George Duvivier
Drums, Percussion - Bobby Thomas
Gigi's own recording has a subtle and very effective arrangement, as shown in our Concert Condensed Score. The trumpet and alto sax alternate sections of the in head. The two A sections contrast in texture: the first has trumpet melody, accompanied by vibes and an active pizzicato bass line, while the second A section's alto melody is backed by piano comping and bowed bass mostly in half notes. Both these sections are only slightly rubato. Gigi embellishes the second A section freely and improvises on the C section.

After the head there is a double-time swing interlude full of rhythmic hits. This interlude features mostly dominant seventh chords with ♯9ths, and leads back to the bridge. This second bridge starts with solo piano, entirely rubato until the pickup to the seventh measure, where the trumpet takes over the melody in time. The last C section begins with the alto soloing for four measures, after which the trumpet finishes the melody. There is a four-measure coda with descending changes; it features a pedal-like bass line and steady eighth notes on triangle and woodblock—like a clock ticking and ringing.

A Concert Condensed Score is available for this version, in addition to lead sheets for the composition as shown on the other albums.
The "
Reminiscin'
" album is the last studio recording of Gigi Gryce as a leader. It was also only the second recording of drummer Bobby Thomas, whose recorded debut was only two weeks earlier on a Junior Mance trio album. "Reminiscin'" was also the only studio recording with both
Eddie Costa
and
Richard Wyands
; a live broadcast of Gigi's sextet from 1961 also featured Costa, Wyands, and trumpeter Richard Williams, with Julian Euell on bass and Mickey Roker on drums.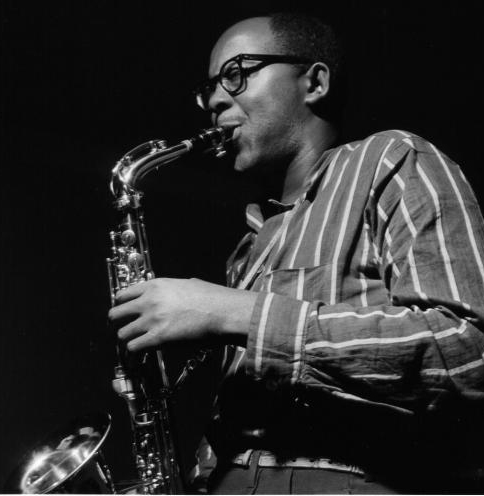 November 28, 1925 – March 17, 1983
Gigi Gryce was a fine altoist in the 1950s, but it was his writing skills, both composing and arranging (including composing the standard Minority) that were considered most notable. After growing up in Hartford, CT, and studying at the Boston Conservatory and in Paris, Gryce worked in New York with Max Roach, Tadd Dameron, and Clifford Brown. He toured Europe in 1953 with Lionel Hampton and led several sessions in France on that trip. Read more...