Quiet Cathedral

– Kenny Drew, Sr.

An impressionistic ballad that packs a lot of unexpected harmonic twists into a relatively short form. Kenny recorded both trio and solo versions.
All selected items will be available for download after purchase.
Recording:

Kenny Drew - Afternoon In Europe

Recorded on:

November 29, 1980

Label:

Baystate (RJL 8014)

Concert Key:

No key center

Vocal Range:

, to

Style:

Ballad
Piano - Kenny Drew
Bass - Niels Henning Orsted Pedersen
Drums - Ed Thigpen
An impressionistic ballad, full of colorful and unexpected harmonies. The form is 18 measures long, divided into two 9-measure sections. The melody is very smooth, using stepwise motion and common tones to connect the unpredictable changes. The root motion is also often stepwise, sometimes through the use of inversions. For example, the last three measures of A have a sort of "V of V" into G major with chromatic bass motion: A/C♯, D7/C, G/B. This is followed by Gm/B♭ to get to D/A, which starts the B section; the first four measures of this section are a pedal point alternating D and E♭ triads over A.

On the G/B and Gm/B♭ chords, the melody is the same in the two measures and answered two beats later by the bass. The B section melody begins with a variation of that of the A section a whole step lower, and the fifth through seventh measures of B are a transposition of the seventh through ninth measures of A up a minor third, again with bass answering the melody. B♭m/D♭ in the last of these measures resolves to F and finally to D minor. The coda makes this a Dm6 chord to resolve to a final E major triad to end—the first chord of the form.
""
Afternoon In Europe
" was the second of Kenny Drew Sr.'s albums with this trio lineup; they recorded eight albums together as well as two with large ensemble accompaniment and one with guest Toots Thielemans on harmonica. One week after the "Afternoon In Europe" session, Kenny recorded on two albums on consecutive days featuring quartets led by tenor saxophonists: Teddy Edwards' "Out Of This World" on December 5th, and Jesper Thilo's "Swingin' Friends" on December 6th.
Kenny Drew, Jr.
recorded this song on his 1996 trio album "Reverie".
All selected items will be available for download after purchase.
Recording:

Kenny Drew - It Might As Well Be Spring

Recorded on:

November 23, 1981

Label:

Soul Note (SN 1040)

Concert Key:

No key center

Vocal Range:

, to

Style:

Ballad
Kenny's solo piano version is even more impressionistic, with a slow intro alternating forceful low-register chords and light high fills
clip
. This intro could be a reference to Debussy's
La Cathedrale Engloutie.
The head is played rubato, without the bass responses to the melody figures. Kenny then improvises a chorus with a triplet-based feel, and continues this until the fifth measure of the next chorus which becomes rubato again. He plays the melody out from B, playing the "bass" responses in the same octave as the melody. Instead of the coda from the original version, he returns to the texture from the intro at the end.
Kenny recorded "
It Might As Well Be Spring
" in Milan, Italy. In the remaining seven days of November 1981, he recorded three more albums in Milan, all with Mads Vinding on bass and Ed Thigpen on drums: vocalist Kim Parker's "Havin' Myself A Time," Kenny's own trio album "Your Soft Eyes", and
Art Farmer's
"
Manhattan.
" Kenny first recorded with Mads Vinding in 1973 with tenor saxophonist
Johnny Griffin
.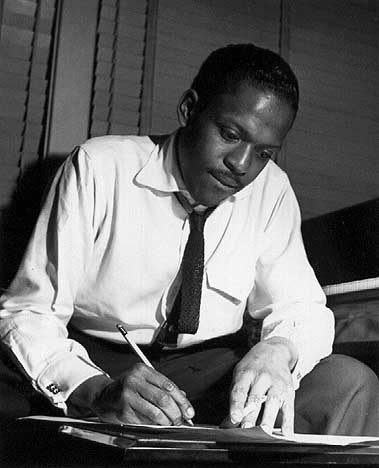 August 28, 1928 – August 4, 1993
Kenny Drew was born in New York City. He studied classical piano but soon turned to jazz. His recording career started in 1950 at age 22, first with Howard McGhee for Blue Note, then Sonny Stitt for Prestige. These two 1950 recordings plus a surviving radio broadcast with Charlie Parker (December 8, 1950) put him in the company of jazz greats J.J Johnson, Max Roach and Art Blakey. Read more...