Pleasure Bent

– Roland Alexander

Melody and harmony parts are available for this fun medium swing.
All selected items will be available for download after purchase.
Recording:

Roland Alexander - Pleasure Bent

Recorded on:

June 17, 1961

Label:

New Jazz (LP 8267)

Concert Key:

C

Vocal Range:

, to

Style:

Swing (medium)
Trumpet - Marcus Belgrave
Tenor Sax - Roland Alexander
Piano - Ronnie Mathews
Bass - Gene Taylor
Drums - Clarence"Scoby" Stromen
As you'll hear from our audio excerpt, this is a two-horn arrangement, so second parts are available. However, both the melody and the harmony parts are in the C treble clef lead sheet. In a quartet situation, a pianist (or guitarist) could also play the second horn part. The audio excerpt starts at the melody. On the recording the melody entrance is preceded by an eight-measure intro for the whole group, with the horns in harmony. The same eight measures are also used as the ending.
The composer is on this recording, as well as pianist/composer
Ronnie Mathews
.
We've provided links to Amazon and iTunes which go to the compilation album "Charles Persip And The Jazz Statesmen."
It's available as an ALBUM ONLY, but it's a longer cut, a great 11:10 stretched-out version, in a 2-album compilation CD, along with Ronnie Mathews' own "Doin' The Thang" album. Get the album at
Amazon
.
All selected items will be available for download after purchase.
Recording:

Junior Cook - Junior's Cookin'

Recorded on:

December 4, 1961

Label:

Jazzland (JLP 58)

Concert Key:

C

Vocal Range:

, to

Style:

Swing (medium)
Trumpet - Blue Mitchell
Tenor Sax - Junior Cook
Piano - Ronnie Mathews
Bass - Gene Taylor
Drums - Roy Brooks
The arrangement on this version is the same as for Alexander's, so it is particularly interesting to compare these two recordings. Both have
Ronnie Mathews
on piano and Gene Taylor on bass, but the different horn players and drummers phrase in subtly different ways. The tempos begin very close to each other, but Cook's recording ends up a little faster. The combination of Blue Mitchell and Junior Cook, the longest-standing trumpet/tenor sax combination of Horace Silver's quintet, is not only tighter than that of Marcus Belgrave and Roland Alexander but also more lightweight in timbre. Drummer Roy Brooks's time feel is a little more even (less swung) than Alexander's drummer, Clarence "Scoby" Stroman.
This was Junior Cook's first album as a leader, for the Jazzland label, and the only one of the '60s; his next album as a leader was not until 1977. "Junior's Cookin'" was one of two albums that featured this particular lineup of the Horace Silver quintet under another member's leadership and with another pianist replacing Horace; the other one was Blue Mitchell's 1962 Riverside "
The Cup Bearers
", on which the pianist was Cedar Walton. This would lead to a series of Blue Note albums under Mitchell's leadership in which the personnel grew progressively farther from Silver's quintet: "Step Lightly," "The Thing To Do," "Down With It," "Bring It Home To Me," "Boss Horn," and "Heads Up!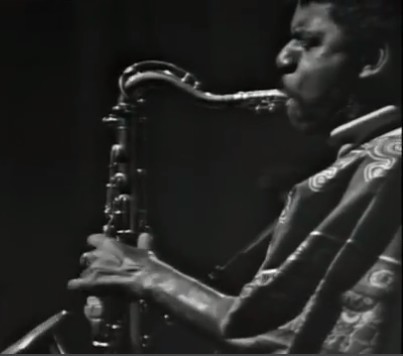 September 25, 1935 – June 14, 2006
Although he never received the credit he was due, the versatile tenor saxophonist Roland Alexander started his career with an unexpected break at age twenty when he made his recording debut—on piano. Born and raised in Boston, Massachusetts, Roland was trained both formally at Boston Conservatory and through day-to-day gig experience, so he was skilled enough to step in when the scheduled pianist (believed to be Red Garland) didn't make a Paul Chambers session that Roland was observing on April 20, 1956. He was asked to sit in on piano for the blues Trane's Strain, which was quite a break for the young musician, as the other players on the session were well-known names like John Coltrane, Curtis Fuller, Pepper Adams, and the rest of Miles Davis' current rhythm section, Paul Chambers on bass and Philly Joe Jones on drums. Read more...