Ovals

– Jimmy Raney

An elegant medium-up song with a 40-measure AABCD form. A transcription of Jimmy Raney's solo is available as well as a condensed score showing the guitar/piano/bass trio arrangement.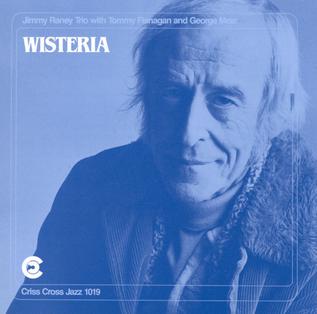 All selected items will be available for download after purchase.
Recording:

Jimmy Raney - Wisteria

Recorded on:

December 30, 1985

Label:

Criss Cross Jazz (1019)

Concert Key:

No key center

Vocal Range:

, to

Style:

Swing (medium up)
Guitar - Jimmy Raney
Piano - Tommy Flanagan
Bass - George Mraz
This medium-up song's elegant melody and II-V7 based chord progression make it sound tonal even though it doesn't have a definite key center. The middle of the song (B and C) is essentially in D major, but this key is not implied in the A and D sections; the second A and D resolve to E♭. The melody builds evenly from mostly half- and quarter-note lines at the beginning to bebop-styled eighth-note figures in the C section of the 40-measure AABCD form.

Solos use slightly different changes from the head, with resolutions in different places—for example Emaj7 in the 7th measure instead of B♭m7-E♭7.

Click on the Guitar Corner tab for a description of the Concert Condensed Score.
"
Wisteria
" was recorded just a week after Jimmy Raney appeared as a sideman on saxophonist Ted Brown's album "
In Good Company
". Listeners should take note of Raney's deftness at switching roles from an accompanist to a soloist/leader: a product of many years of experience.
In 1990 Jimmy Raney recorded again with bassist George Mraz on his album "
But Beautiful
", in a trio setting with drummer Lewis Nash. This was Jimmy's last recording as a leader. Check out
Blues Cycle
and
Elegy For Ray Parker
from this session.
clip
On his medium-tempo composition
Ovals
from his album "
Wisteria
",
Jimmy Raney
turns in a graceful pair of choruses, navigating a series of distant modulations with ease. Featuring long, winding eighth note lines, shorter, syncopated phrases that make ample use of quarter notes and plenty of his signature slurs, this solo transcription provides direct insight into Raney's liquid touch and bebop-infused melodies. Intermediate guitarists will find plenty of hours of practice here that will help with their feel, tone and vocabulary.
Our Concert Condensed Score shows the arrangement from this recording. Within the head, the guitar, piano, and bass all alternate roles as soloist and accompanist. The guitar and bass start out playing the melody in octaves, while the piano comps; the guitar switches to a countermelody in the third measure, but returns to octaves with the bass for the second A section.

In the B and C sections the guitar continues the melody, this time with a piano countermelody "dancing" around the melody over bass walking. D returns to the guitar/bass octave melody.

Piano comping rhythms and notable walking bass lines are shown, as they are consistent in the in and out heads and complement the melody.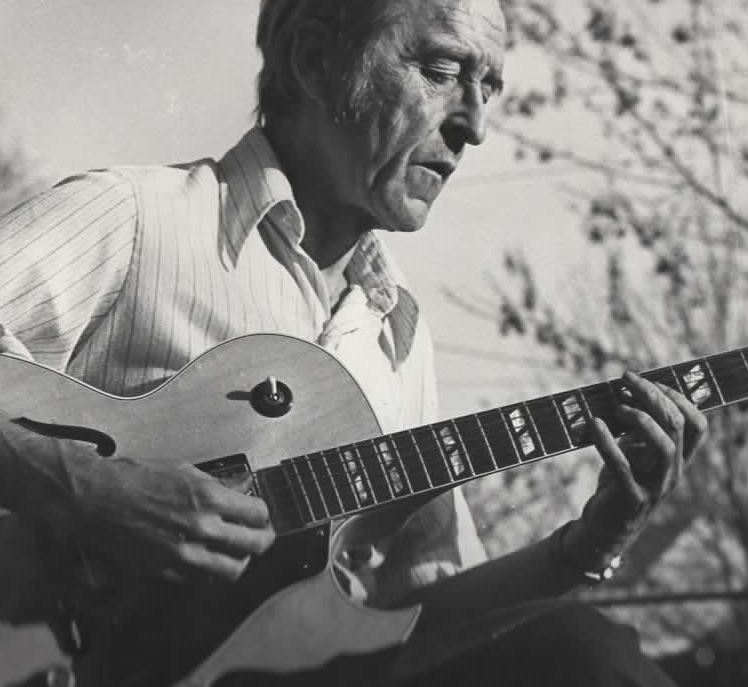 August 20, 1927 – May 9, 1995
Jimmy Raney was one of the most fluent and deft bebop players of all time, having assimilated the language of musicians such as Charlie Parker, Bud Powell, and Dizzy Gillespie in such a thorough manner that pianist Barry Harris, one of the world's foremost bebop masters, once remarked that "Man this cat (Jimmy Raney) plays like Yard (Charlie Parker)!"' Read more...